I honestly have no idea what to call this recipe! I wanted to make something for a brunch and I saw a lot of recipes that were quiches. I thought to myself, "Well, yeah, quiche. Everybody has quiche for brunch." I don't like being one among numbers. I am a Sagittarius through and through and enjoy being in the spotlight. That's why I played center field in softball and was a point guard in basketball. I had to do something different!
The name comes from my not so creative mind that combines a typical quiche with potatoes. Since in all honesty, that is what it is. Instead of using a pie shell, I used potatoes and created a casserole.

PoQuiche
Ingredients:
4 potatoes; peeled and sliced
baby spinach
4 breakfast sausage links cooked and sliced
8 oz. Swiss Cheese sliced
8 slices of bacon cooked and crumbled
4 oz. shredded mozzarella cheese
3 eggs
1 cup light cream
Directions:
1- coat the sliced potatoes in olive oil and season with salt and pepper to taste
2- spray a casserole dish with cooking spray
3- layer the potatoes to cover the bottom of the casserole dish
4- add a layer of baby spinach
5- add the breakfast sausage
6- add a layer of sliced Swiss cheese
7- create a second layer of potato, followed by spinach
8- add the crumbled bacon
9- add a second layer of Swiss cheese
10- cover with shredded mozzarella
11- mix eggs and cream together and pour to cover
12- cook in a preheated oven. 350o for 40 minutes
13- let cool for 10 minutes and serve
We paired this brunch with a non-vintage Blanc de Noir from Gloria Ferrer.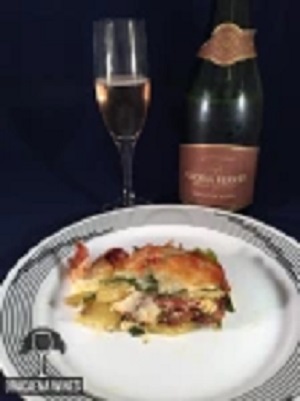 ~Sláinte!