Gruyere and Broccoli Rabe Bakes
Prep Time: 30 minutes
Cook Time: 25 minutes
Ingredients:
Vegetable oil cooking spray
1 Tbs. extra virgin olive oil
6 slices of bacon
1 clove garlic
salt & pepper to taste
2 slices Country style bread; cubed
6 large eggs, beaten at room temperature
1/2 bunch of broccoli rabe
1 1/2 grated gruyere cheese
1/4 cup milk at room temperature
4 10 oz. ramekins
Directions:
1. Preheat oven to 400oF. Spray ramekins with vegetable oil cooking spray.
2. Cook bacon until crispy. Drain on paper towels.  Add the garlic, salt and pepper in the same skillet. Cook over medium-high heat until soft.
3. In a medium bowl, mix all ingredients together until everything is moistened.
4. Spoon the mixture into the ramekins. Place the ramekins on a baking sheet and bake until golden brown. About 25 minutes.
5. Cool the ramekins, and then using a paring knife, loosen the edges of the ramekins and unmold onto dish. Serve warm.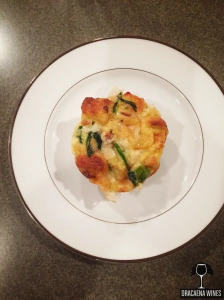 We paired this meal with a 2013 Hahn SLH Pinot Noir.