We were in the mood for some "Mexican" food but Fresno being way too hot in the summer to turn the oven on, I opted for an alternative. A little less healthy, but still all the yumminess. Be aware that you need to place the Chimichangas in the freezer for about an hour prior to cooking!
I must admit that this is going to be a pretty bad recipe in terms of specifics.  I typically am one to follow a recipe to a "T," but when it comes to things like this, I don't really have a recipe, I go by my eye and ease of preparedness.  I started off with a can of black beans. That is pretty much all that I have a measurement on. (because what are you going to do with a half a can of black beans?) I then put the other ingredients in by how much color they add.

Southwestern Chimichangas
Prep time: 30 minutes plus about 1 hours in the freezer
Cook time: Depending on how many you make and how big of a pot you have. Each cooks for about 3 minutes.
INGREDIENTS:
1 can black beans drained and cleaned (run water over beans until runs clear)
1 red bell pepper, diced
chicken breast – depending on how much chicken you want. I used 3 small pieces
frozen corn – probably around a cup
frozen chopped spinach – probably about a half a cup
green onions – probably about a half cup (I like green onions!)
chili powder
cumin
Cholula Chili Lime hot sauce (if you don't have this, leave it out, no biggie)
olive oil and vegetable oil
Mexican cheese, shredded – I use the Kraft pre-shredded cheese
salt and pepper to taste
burrito size flour tortillas (this makes about 12 chimichangas)
DIRECTIONS:
1- mix together the black beans, red bell pepper, corn, spinach and green onions. Set aside.
2- Heat about a tablespoon of olive oil in a large pan. Cook chicken breast until no longer pink inside and the juices run clear. (don't want to get Salmonella, do we?)
3- set chicken aside to cool.
4- Without cleaning pan, place black bean mixture in and cook for about 5 minutes on low heat. (just making sure everything is defrosted and edible, we will be deep frying.)
5- Add the cumin, chili pepper, salt and pepper, and Cholula sauce to your taste.. Stir to incorporate.
6- Shred the chicken, and add to mixture. Remove from heat.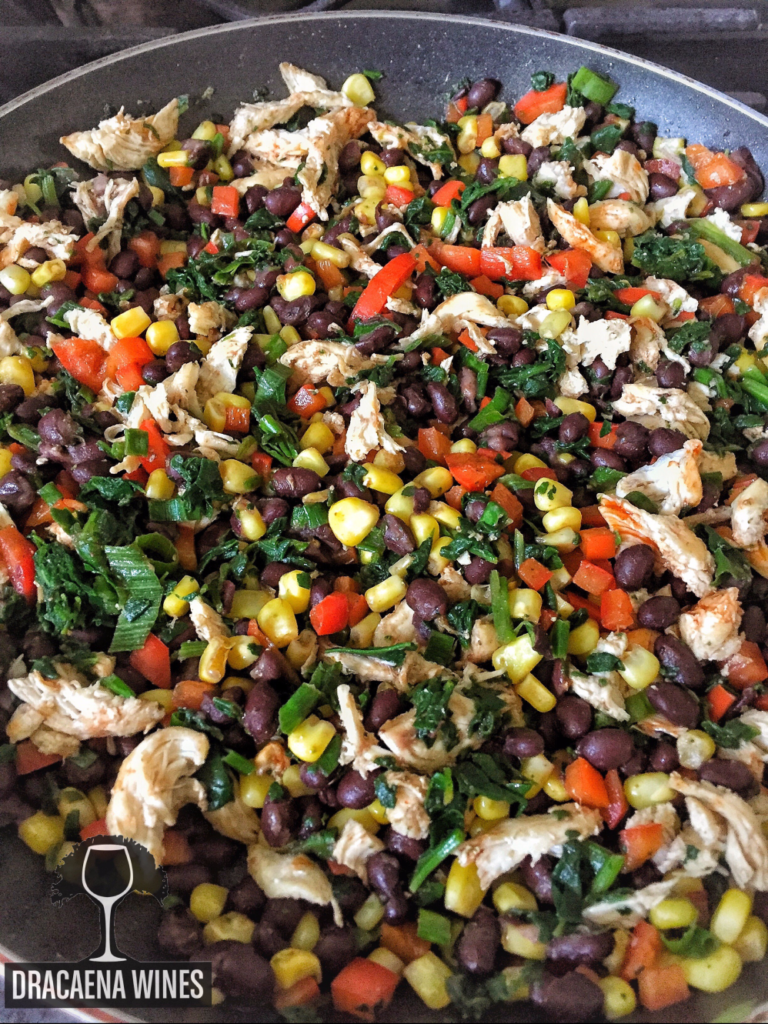 7- Take one tortilla and microwave on high for 10 seconds to make it easier to roll.
8- Spread a few Tablespoons of mixture onto the tortilla, close to one side. NOT in the middle.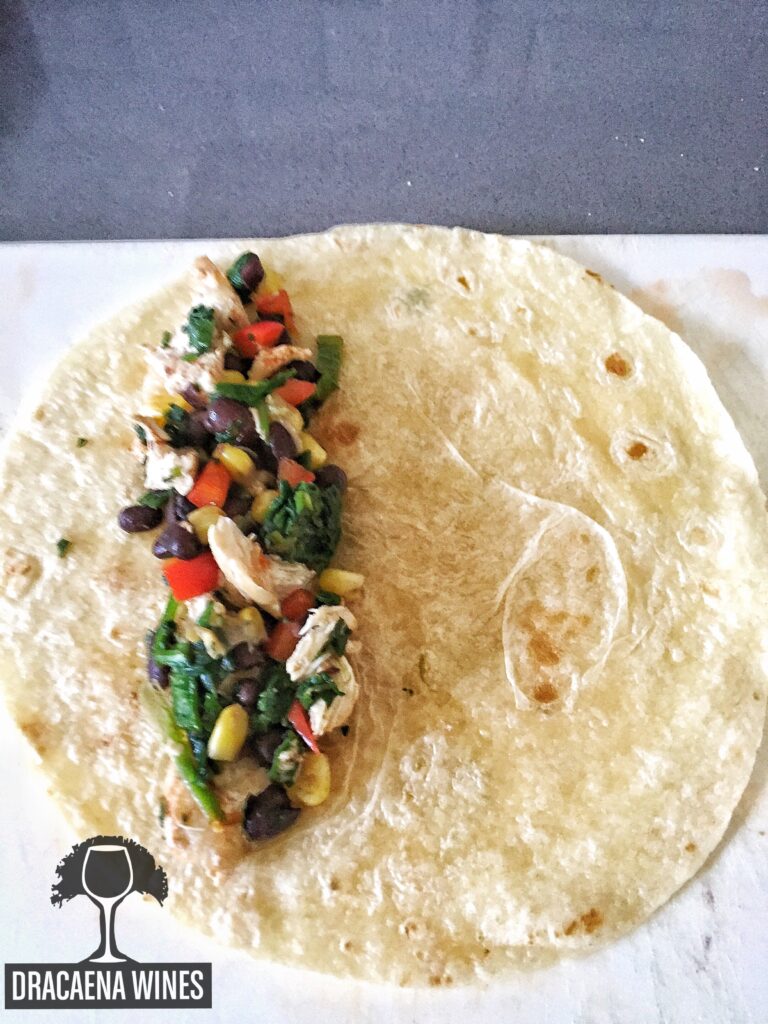 9- Fold the sides of the wrap onto the mixture, and tightly roll the wrap while continuing to fold in the sides. You want it to be small and tight. If you would like to see a video to demonstrate how to roll the chimichanga click here.
10- insert toothpick into chimichanga and place in freezer for at least an hour
11- keep chimichangas in freezer until ready to be cooked.
12- In a large, deep skillet, heat oil for deep frying to 375 degrees F (190 degrees C). Deep fry frozen, stuffed tortillas 3 minutes each, or until dark golden brown. Drain on paper towels before serving.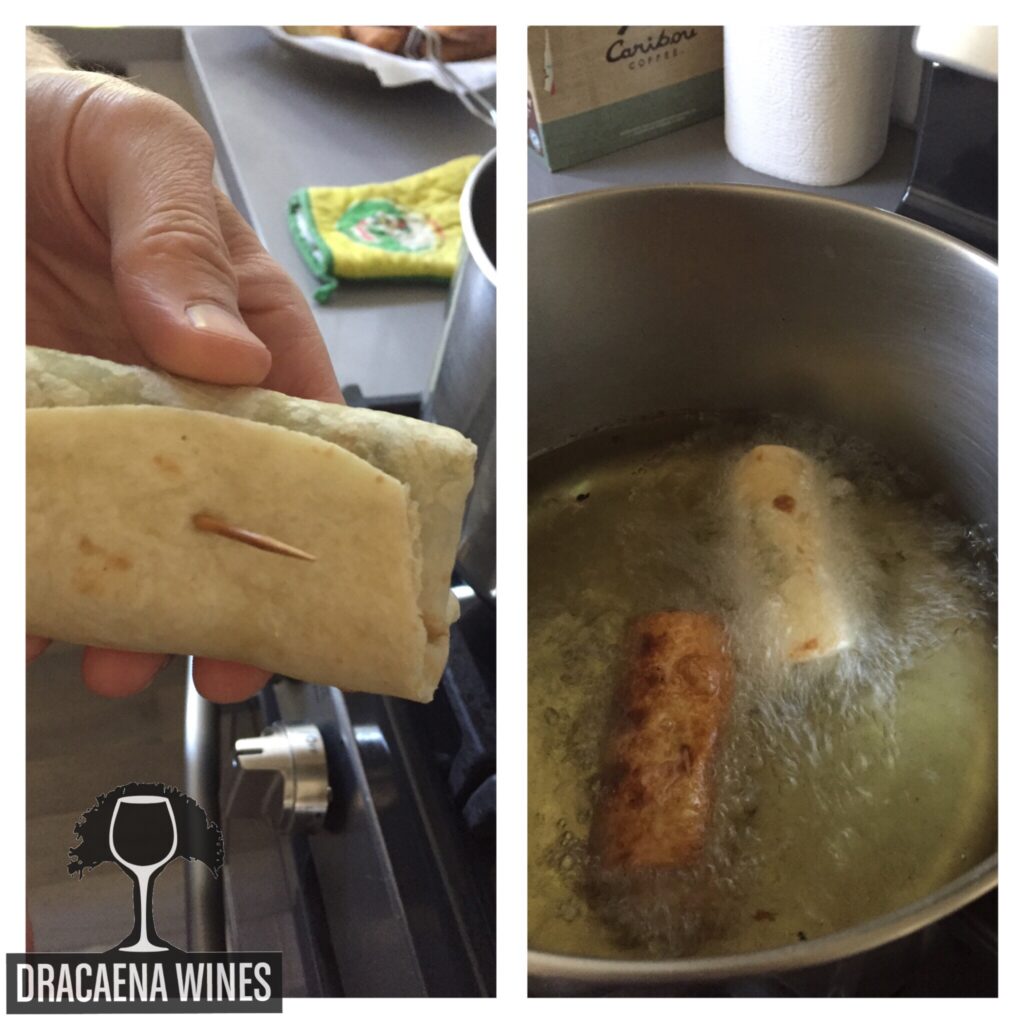 We paired our Chimichangas with a 2013 Imagery Estate Winery Grenache