Frittata Primavera
Ingredients:
5 slices of bacon
1/2 pound pasta cooked al dente
1 small onion sliced
1 clove of garlic chopped
1 cup chopped broccoli
1/2 cup carrots
1/2 cup peas
6 eggs beaten at room temperature
1/2 cup milk
1/4 cup Parmesan cheese
salt & pepper to taste
Instructions:
1. Cook bacon (well done), drain and leave a little reserve in pan for onion and garlic. (use a oven safe non-stick frying pan)
2. Sauté onions until translucent, add garlic and sauté for minute or two. Do not let brown.
3. Add peas, carrots and broccoli, cover and warm through.
4. Add drained pasta, toss all together then add egg, Parmesan and milk mixture. Coat ingredients thoroughly.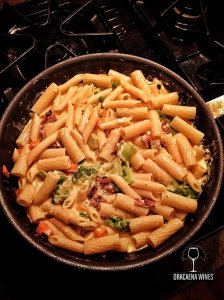 5. Cover and cook on low heat until eggs are set.
6. Remove cover and place in broiler to brown the surface.
7. Remove, allow to cool then flip onto plate to serve.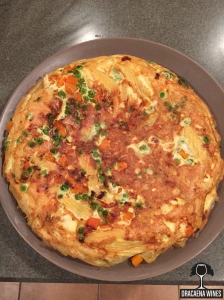 We paired this with a 2012 Lichen Estate Blanc de Gris. I discuss this wine in further detail along with the pairing in my blog post  #WIYG this #NationalDrinkWineDay? I'm Lichen This Sparkling!