When it is summer and the temperatures are topping off in the triple digits, you really don't want to be inside cooking. The grill is your best friend and since we LOVE pizza, I had to work at finding a great dough for the grill. I have several dough recipes. Want a flaky dough, like the one at Pizzeria Uno or how about a deep dish version? Well, those are great recipes, but they don't work well on the grill. You need the dough to be more pliable and less sticky.

Pizza on the Grill Dough
Servings: makes 8 small pies
INGREDIENTS:
2 tsp active yeast
1 2/3 warm water
1 Tbs maple syrup
5 cups all purpose flour
1 tsp salt
1/4 cup olive oil
DIRECTIONS:
1- in a large mixing bowl (I use a KitchenAide) combine water and maple syrup.
2- stir in the yeast and let sit for about 10 minutes (until frothy)
3- stir in salt and olive oil
4- gently stir in one cup of flour at a time until all flour is used
5- make sure dough is dry and spongey
6- cut dough into 8 small balls
7- roll in additional olive oil to coat and cover with a damp cloth for 2 hours
8- sprinkle flour on surface and flatten out dough into pizza rounds
COOKING:
1- heat grill thoroughly
2- lower heat and place pizza on the grill to get dough slightly browned
3- flip over and get slight browned (usually around 5 minutes)
4- remove from grill use whatever topping you want
5- reheat the grill to high heat
6- turn off all heat and place pizza on the grill until cheese is melted.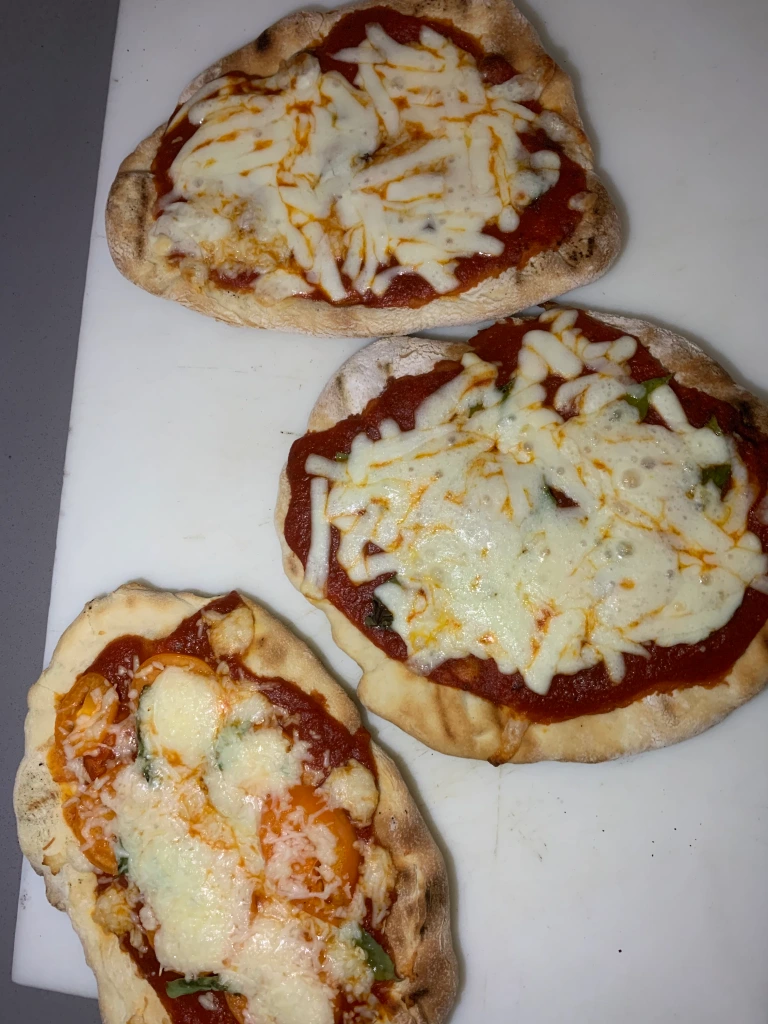 We paired this pizza with a fantastic Petite Sirah! I like to add garlic and Cholula Hot Sauce , so the big bold Petite Sirah is perfect!