Fàilte! Welcome to the next installment of Exploring the Wine Glass. Mike and I are big proponents of you should drink what you like and you are the only one who can taste like you. We advocate the fact that everyone experiences the wine differently, so in these posts we do not discuss our tasting notes.  Instead we include basic information about each of the wineries, and/or a bit about what was happening in our lives while we were enjoying them. With that said, if you are interested in reading our tasting notes and our ratings head on over to Delectable and check us out.  We tell it as we taste it over there.  Click here to see the chart we use to describe the color or if you want to see the wines themselves as they are poured, visit our YouTube Channel and watch for yourself. As always, since as oenophiles we love to celebrate #WineWednesday, our week runs from one Wednesday to the next. 
Week 1
This Saturday, [Dec. 12th] is the monthly chat on twitter for the #WinePW and the theme was Sparkling Wine and Festive Holiday Dishes. I was very enthusiastic about this concept!  I love Sparkling wine.  Mike is not really a fan. He can take it or leave it, but typically leaves it.  I mean, if a bottle was opened, he would not pour himself a glass or two, but when choosing a wine for an evening Sparkling isn't even on his radar.  So, sadly I don't really get to drink it too frequently. 
One of the things I love about #WinePW is that it allows you to be creative with your pairings. The themes never handcuff you so you can go traditional or completely go outside the box.  I would say, this month we were somewhere in the middle.  We chose one of my favorite bottles of sparkling. 'Etoile by Domaine Chandon. Unfortunately, this was my last bottle, so I guess I'm going shopping. But maybe I'll wait a couple of weeks since Santa is soon to arrive!  We paired it Asian lettuce wraps. I don't think lettuce wraps scream out festive holiday dish, but I think they are elegant looking and even better, super easy to make. I can very easily see them on a New Year's Eve table as an appetizer. Plus, they pair phenomenally with Sparkling wine!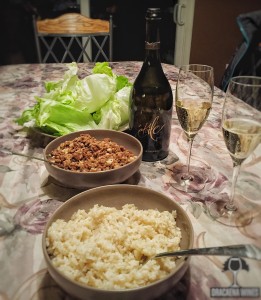 Domaine Chandon was founded in 1973 by Moet & Chandon and became the first French-owned Sparkling company in the United States. By creating a partnership with the cognac producer, Hennessey, they sought out and purchased prime grape growing land in Mt. Veeder and Carneros. Their inaugural release was in 1976 and they opened the doors to their tasting room in 1977. They are true trailblazers in the US Sparkling industry, being the first to introduce smaller containers to preserve delicate grapes during harvest and the first California winery to use Pinot Meunier in its sparkling wines. 
Mike and I built our home in NJ. We are part of a development of 24 homes. The frustrations of dealing with the builder [ who after our development went out of business], the ups and downs you go through during the whole process, including delays and changes and just having a common goal created a bond between the neighbors. Several people within the development have since moved away, but we still get together every so often.  Last night [Friday] was one of those nights.  My neighbor across the street had  a Christmas party.  I love parties that I can walk to and home from!   
I was asked to make an appetizer, so I went to the local bakery and got a French baguette and toasted the slices until golden and then added some brie, a slice of Granny Smith apple and topped with shelled walnuts and drizzled honey.  I think they went over very well. A super easy appetizer that looks like it takes a lot of time. For the wine there were several bottles to choose from including a 2012 Chateau St. Jean Sonoma County Merlot, so that is what I chose.  

Chateau St. Jean, in my opinion, is one of the most beautiful wineries in Sonoma. The 1920s Chateau was originally built as a summer home for Ernest and Maude Goff and their children. They made their fortune in Michigan dealing with iron mines and Pacific Northwest lumber. In 1973, When Chateau St. Jean purchased it, they wanted to preserve as much of the history of the home as possible and is now listed in the National Trust for Historic Preservation. It has beautiful views of the vineyards and has a fantastic mountain backdrop. It is like the best of two worlds. As you walk in you are immediately transported to another world and the gardens are breathtaking. 
Happy weekend everyone!  It's Saturday and Mike left yesterday for Paso Robles and believe it or not he is returning tonight. I think his feet will be on California soils for 18 hours. Crazy, right? But that is part of owning a winery 3,000 miles away and having commitments on both coasts.
While he was away I didn't feel like eating alone so Mom and Dad to the rescue!  I called and asked if they wanted to meet for dinner at my favorite restaurant and they agreed. So they picked me up, and we went to Nadie's Touch of Pasta. [I know, how spoiled am I?] I may be spoiled, but I also know how lucky I am to have such an amazing relationship with my parents. I love spending time with them.
I ordered my typical Rigatoni in Vodka sauce with extra peas, and my dad thought that sounded good, so ended up ordering it also. Mom went with eggplant rollatini. Everyone loved the food, of course, and I brought along a Trione Primitivo.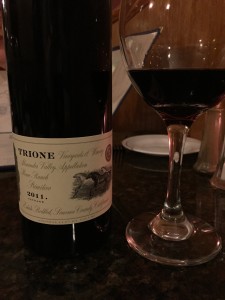 Trione is dedicated to producing small batch wines from Alexander Valley, Russian River, and Sonoma Coast. Their winery is beautiful and when Mike and I visited in November we got to taste in the 1908 landmark stone winery. Trione family members have been farmers in Sonoma county for three generations and today continue to keep it a family affair maintaining the positions of President, Vice President, sales and marketing and Vineyard Operations.
Week 2
Another Wednesday is upon us. This week has been a long one. It may be because I
stayed up to almost midnight watching my Dolphins lose to the Giants. [seriously, I don't think we can get any worse] Or it may be the fact that next week is a short week because of Christmas break, but whatever the reason, I am dragging. But tonight, Mike and I sat down to enjoy a nice midweek meal. Mike made bacon and onion pasta with Parmesan cheese and we paired it with a Byron Clone 95 Chardonnay.
Byron has recently undergone a change. They are now Nielson by Byron but still specialize in Pinot Noir and Chardonnay.  Uriel Nielson planted the first commercial vineyards in 1964 and Byron winery wanted to honor him by producing a brand bearing his name. Apparently, they are dividing their wines into Nielson Wines and Byron Wines.  The more common wines that have become synonymous with Byron will now be produced under the Byron label while the new Byron Winery will focus solely on exclusive, small-lot single-vineyard Pinot Noir and Chardonnay from some of the best vineyards throughout the region including Rita's Crown, Bien Nacido and La Encantada.
Tonight's wine [Friday] is brought to you buy A. Rafanelli. Their story begins way back in the early 1900s when Alberto Rafanelli settled in Healdsburg and began to grow grapes and make wine. Then Prohibition came… and thankfully left. At this point, Alberto's son, Americo moved the winery to Dry Creek Valley and began growing Zinfandel. In 1970, about twenty years later, he created the label and started to sell his wine commercially. Eventually, David and his wife took over the business to begin the fourth generation of grape growers and winemakers.  Today, the fifth generation has taken the helm with Dave's oldest daughter Shelly being the winemaker and her sister Stacy in charge of all the daily operations.
We paired the 2012 Dry Creek Valley Zinfandel with homemade tomato soup and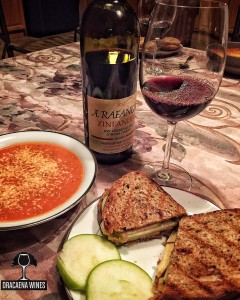 grilled gouda, blackberry and apple Panini. This is a typical meal for Mike and I during the winter. I think by this time last year, we must have made it about 5 times already. But with this year's weather being the way it is, this was our first time.  It has been unusually warm [not that I'm complaining.. just in case Mother Nature is reading this] I will take 65o the entire winter. Last year we were under a huge amount of snow and in the single digits for a month. So, I'm ok with this, but I did miss my soup and sandwich. 
It's Saturday and there is Football! Too bad its the Jets, but that at least opens up tomorrow for another game to be on. There is a very ancient and horrible media law here in the tri-state area that no other game can be shown when the Giants or Jets are playing and are home. So we only get one game at 1pm and one at 4pm. But if they are away, the other channel can show a different game. What's worse is if Giants/Jets are on and go into overtime or is just running late, the other game on that channel can't start until it's over! Talk about horrible stupid laws! 
Anyway, I digressed there. Sorry about the rant. Today was an exciting day, at least in the morning. A local magazine is doing a profile on Dracaena Wines, and the photographer came over to the house today to do a photo shoot.  It was fun, but very weird at the same time.  It's kind of weird to have a camera on you and you act like you are looking at a wine bottle. But it was a cool experience. She absolutely loved Vegas, and he of course hammed it up. He is in many of the shots and he gave her loads of kisses! 
After all the excitement of the morning, neither Mike nor I had any great ideas for dinner and it was the first chilly day of the year so we didn't feel like going out.  So we ordered a bacon and pineapple pizza. My favorite! I had just posted an infographic on twitter that had the best wine and pizza pairings.  According to them, ham and pineapple should pair with a Riesling, while bacon and sausage pairs with a Sangiovese. So what did we pair with bacon and pineapple? Something that the infographic didn't even include; a Petite Sirah.
We enjoyed a 2008 Vincent Arroyo Greenwood Ranch Petite Sirah.  The winery is located in Calistoga and we have been on his mailing list for as long as I can remember. In the early 1970s Vincent was a mechanical engineer in the Silicon Valley and he decided it was time for a change. He decided he wanted to be closer to the land, where as he puts it, "Can see and taste the fruits of his labors." He purchased the 23 acres of Greenwood Ranch in 1974. Today, Greenwood Ranch totals 85 acres with 9 different varietals growing on it.  He put in a lot of blood sweat and tears ripping out the existing prune trees and unhealthy vines to plant the vines that currently produce on this vineyard site.  He began with just a few hundred cases of Petite Sirah and Cabernet, while selling the majority of the fruit to other Napa wineries. Today, he produces over 8.000 cases of seven different varietals. 
Hope you have had some great wines and times these past two weeks. Remember, always Pursue Your Passion. We would love for you to leave a comment telling us what your favorite recent wine was.
~Sláinte