I know instapot is the new kitchen gadget, but we still use the good old fashioned crock pot! Make it for two or for a party, This delicious meal takes no effort and is a crowd pleaser!

Slow Cooker BBQ Pork
INGREDIENTS
1 1/2 pounds pork loin
One can diced pineapple
1/2 bottle of your favorite BBQ sauce (we use Kraft Sweet Honey)
1/4 cup brown sugar
Dash of ginger
DIRECTIONS
Cook on low in slow cooker for 5-6 hours till fork tender
Take pork out, shred it
Use immersion blender on remaining liquid to thicken sauce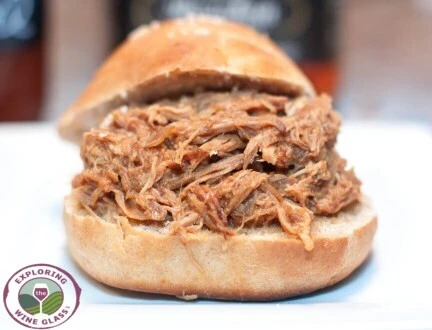 We paired this delicious and easy to make meal with Dracaena Wines 2017 Classic Cabernet Franc. With the 10% Petite Sirah, it was the perfect match for the ginger and kick in the BBQ sauce. The wine received a 92 in Wine Enthusiast.