Yes, I know… Another pizza recipe. But in all honesty, can you ever have too many pizza recipes? I don't think so. This one is a summer time pie. It can be made using the oven or the grill.

Arugula and Balsamic Glaze Pizza
Dough Ingredients
6 cups flour, all purpose
2 ¼ cups water
1 teaspoon instant dry yeast
1 teaspoons salt
1 Tablespoon maple syrup
1 tablespoon olive oil
Dough Directions
1. Combine water and maple syrup and warm in microwave for one minute
2. Add the instant dry yeast and stir; allow to sit for five minutes
3. Combine flour and salt in large bowl. (I use a Kitchen Aid mixer with bread blade.)
4. While blending, add the olive oil then slowly add the water/syrup/yeast until fully incorporated.
5. Roll dough out into a log; cut into three equal parts
6. Roll each part into a ball, coat in olive oil and put in a zip lock back in the refrigerator for at least 24 hours before using. I've kept the dough in the refrigerator for up to a week. If longer, you can freeze the dough AFTER it has been in the refrigerator for 24 hours.
Pizza Ingredients
fresh arugula
fig jam
balsamic vinegar glaze
plum tomato (small)
1 cup shredded mozzarella
Pizza Directions
1. Pull pizza dough out of refrigerator about one hour prior to cooking
2. Preheat oven to 500 degrees making sure the pizza pan is in the oven and on top shelf
3. Roll out the dough, using extra dough to keep it coated.
4. When oven is preheated, pull out the pan, carefully place dough on pan, pinch to make crust
5. Cook for 5 minutes
6. Add fig jam and 3/4 cup of mozzarella cheese and return to oven for another five minutes
7. Add arugula, remainder of cheese and balsamic glaze (as much as you like), TURN OVEN OFF, and return pizza for another five minutes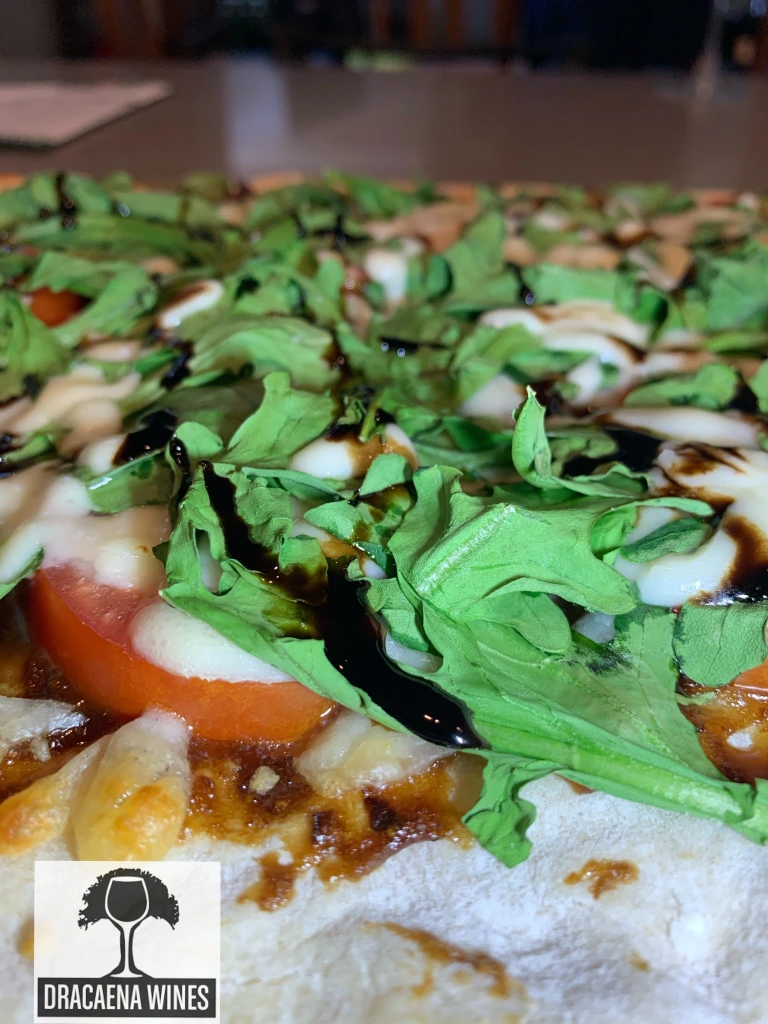 8. Remove from oven and let sit for five minutes before serving

We paired this pizza with Dracaena Wines Reserve Plummer Vineyard Cabernet Franc.