If you know me, you know I love pizza and Mike loves pizza even more. So there is a lot of it in our lives. I don't like ordering out all the time, so I started making homemade dough.  I rotate through about six different recipes.
You can use the dough recipe to make your favorite pizza, but tonight, I decided I wanted something a little different, so I made a white pie.

White Pizza
Ingredients for dough:
For the crust:
2 cups all-purpose flour, plus more for kneading and dusting pizza peel
1 tablespoon granulated sugar
1 teaspoon salt
2 ounces (1/4 cup) unsalted butter, cubed and chilled
2/3 cup warm water
1 teaspoon instant yeast
olive oil for coating
for the topping:
2 cups balsamic vinegar
1 pint of part skim ricotta cheese
olive oil
3 cloves garlic chopped
1 8oz bag of fresh spinach
1 small Vidalia onion sliced
4 oz. of shredded mozzarella cheese
Directions:
1. In a large bowl, whisk together the flour and salt. Add the cubed, chilled butter and, using your fingers, work the butter into the flour mixture until it is mostly incorporated and looks like coarse sand.
2. In a large measuring cup or small bowl, combine the warm water, sugar and instant yeast. Let sit for about ten minutes or until frothy.
3. Add water/sugar/yeast mixture to the flour mixture and using a folding method, combine until the mixture is evenly moistened. Turn out onto a floured surface and knead for a minute or so until the dough comes together and is smooth. Coat bowl with olive oil, roll the dough in the oil. Cover with a dish towel and let sit for at least an hour, allowing to double in size.
4. Scoop out the ricotta cheese and put into a strainer lined with a paper towel, to help remove some of the extra water and let sit.
5. Pour balsamic vinegar into a pot and heat over medium heat until reduced to about 1/4. (you can reduce it to the thickness you like)
6. Put a Tablespoon of olive oil in a pan and heat over medium heat. Put in garlic and cook. Do not let brown.  When garlic is cooked, add the fresh spinach and let wilt. Remove from heat and put aside.
7. Put another Tablespoon of olive oil in a pan and heat over medium heat. Put in onion and cook until translucent. Remove and put aside.
8. Preheat oven to 500 degrees F (or as hot as your oven will get). If using a pizza stone, preheat it along with the oven.
9. Stretch and shape the dough to fit your pan or baking stone.  I use my hands so that there is a light touch. With a fork, prick the surface of the dough and bake for approximately 5 minutes. Remove from the oven.
10. Mix the wilted spinach into the ricotta cheese.
11. Spread the reduced balsamic vinegar over the top of the pizza crust.
12. Cover with the onions and then with the ricotta/spinach mixture.
13. Sprinkle the mozzarella cheese over the top. Use as much or as little as you like.
14. Cook for about 8 minutes or until the cheese is melted. (I like it just a little brown on top)
15. Pull out of oven and let sit for at least 10 minutes to allow the cheese to solidify prior to cutting.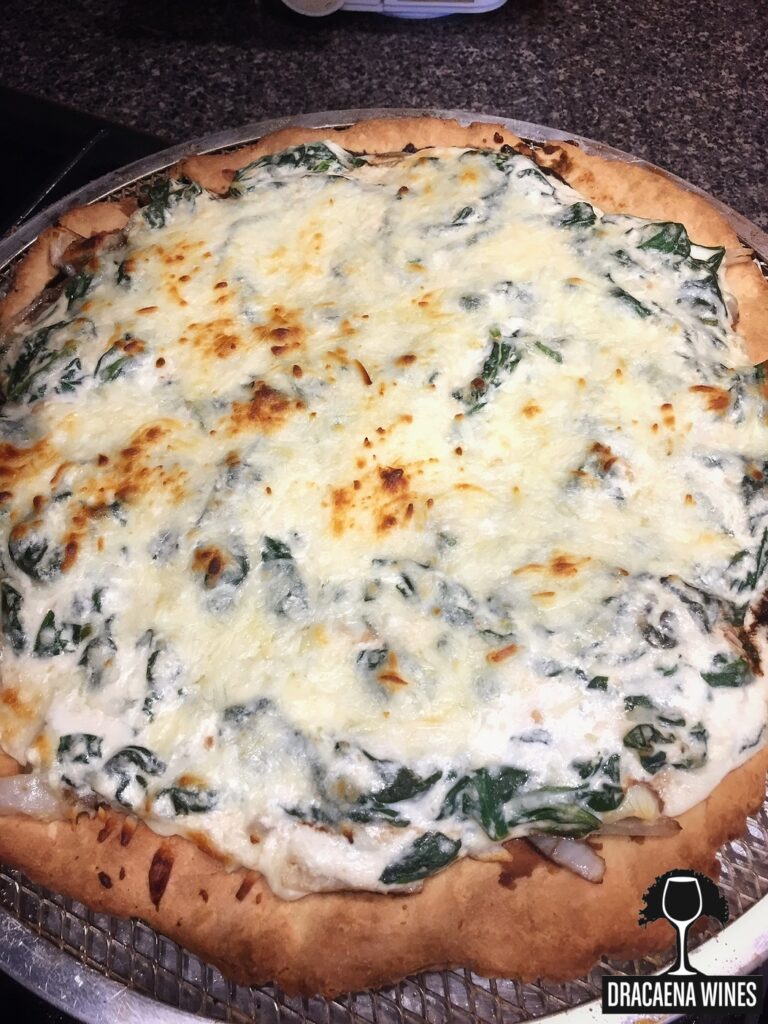 I paired this pie with a 2015 Botani Moscatel. The wine received an 88 in Wine Enthusiast and I would rate it similarly. I thought the pairing was quite good, toning back the lychee and enhancing the white peach.