Yes, another pizza recipe! We do love our pizza and when you are pizza-holics like we are, you need some variety. This is a recipe I use to make all the time, but we realized last night that it has been about five years since I made it. So we decided it was time to try it again.
Focaccia Pizza
INGREDIENTS
~1 1/3 cups warm water
~3 1/2 cups all purpose flour
~1 tsp salt
~1/4 cup olive oil; plus extra for drizzle and coating
~1 1/3 cup warm water
~2 tsp active dry yeast
~1 Tbs. honey or agave
~2 plum tomatoes diced
~1 1/2 cups mozzarella cheese shredded
~fresh rosemary – I just sprinkle on top so no set amount
~parmesan cheese – again, just sprinkle on top so no set amount
~1 medium onion sliced and deflamed
DIRECTIONS
1- In a large mixing bowl add warm water, honey and yeast. Give a slight swirl and let sit until frothy.
2- Slowly add flour, olive oil and salt until fully mixed. If dough is too sticky add a little more flour until dough is not sticky.
3- Remove dough ball from mixing bowl and coat with olive oil. Place dough back in bowl, cover with a damp cloth and place in a warm spot to rise for one hour
4- Coat a 9 x 13 inch cookie tray with olive oil and gently shape the dough into the pan. Use a wooden spoon handle to put creases (not holes) into the dough.
5- Cover with a damp cloth and let sit for another 20 minutes.
6- Preheat oven to 400 degrees F.
7- Place cookie tray with dough on the top shelf of the oven. On the shelf directly below, fill a second 9 x 13 inch cookie tray with water. Bake for 20 minutes or until slightly brown.
8- Take out of oven and let cool for five minutes. Carefully cut the focaccia horizontally in half (slice so you get two thinner pieces )
9- Coat each top with olive oil, put tomatoes, onions, parmesan and mozzarella cheeses and rosemary on top of each piece and return to oven until cheese is melted. About ten minutes – but pay attention!
10- Enjoy!
We paired this meal with a 2020 Tablas Creek Bourboulenc which is more commonly used as a blending grape in Chataeunuf du Pape Blanc. When I heard that Tablas Creek was producing this wine as a single varietal, I had to give it a try.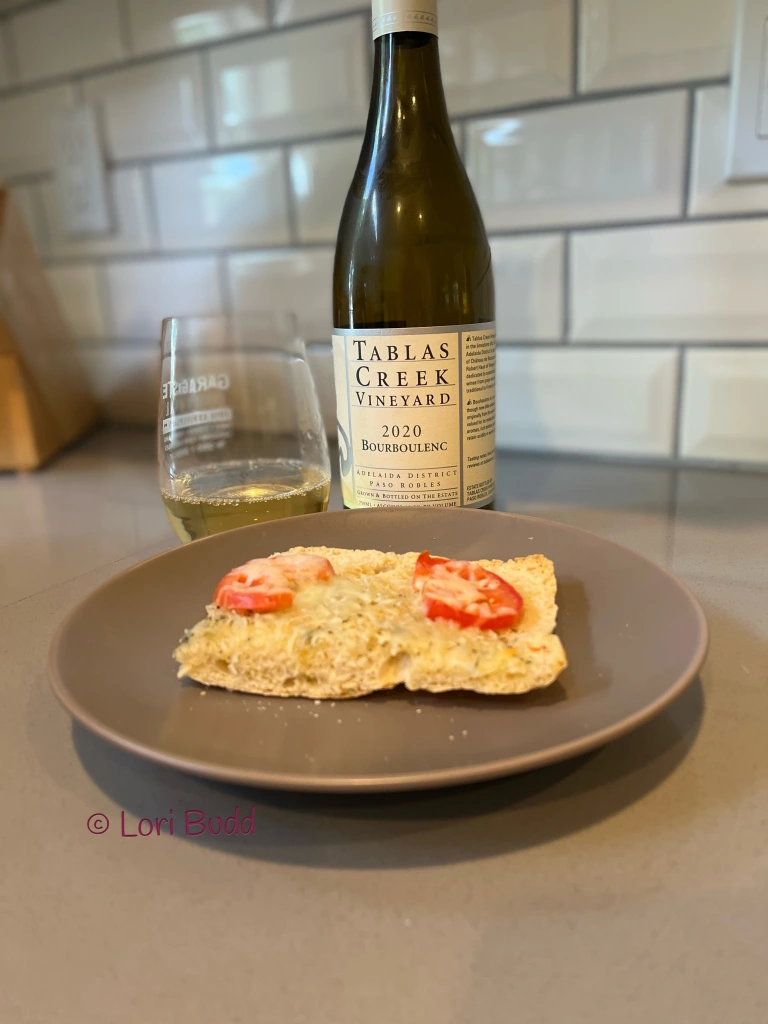 ~Slàinte!