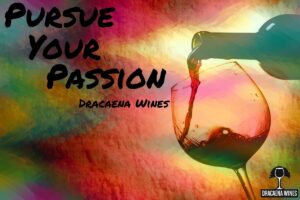 What is the definition of being successful? Is it making more money than you know what to do with? Is it having letters after your name that people aren't even sure what they mean? Or is it simply being happy? When Mike and I decided to enter the wine business, we knew it wasn't going to be an easy road. We were realistic. We understood that we would neither be an overnight sensation, nor ever be as recognized as Robert Mondavi. That's not why we entered the business. We entered the wine industry because we love wine and it was our dream to own a winery. We chose to not just wish or dream about it, we made a conscious decision to make it happen. We chose to Pursue Our Passion.
It's a scary thing chasing down your dreams, but if you don't enter the race you are never going to win. One of my favorite sayings about Pursuing Your Passion was made by "The Great One," Wayne Gretzky. He very eloquently stated, "You miss 100% of the shots you don't take." He knows you need to take risks. You need to leave the safety net that tethers you to your comfort zone so that you can experience what happens next.
In this, what has become a monthly tradition, a guest blogger will tell you their story of how they pursued their passion in the wine industry. These people understood what Van Gogh meant by "I would rather die of passion than of boredom."
This past November, I spent four days in Santa Rosa, California for the annual Wine Bloggers Conference. As I am sure you know, it was a little touch and go there for a while with the fires breaking out in October, but the conference organizers reassured us all was still on.  I was more than a bit curious to see "all the destruction" that the fires caused.  
I think the media did a huge injustice during the fires. They led with panic and propaganda as opposed to making sure what they were reporting was correct. There was destruction, and a lot of it, but the picture they portrayed was of apocalyptic proportion and I am so happy that I decided to attend and see first hand that wine country is definitely open for business. If you would like to learn more of our thoughts of the wine region after the fires, please listen to my podcast Ep. 34 Wine Bloggers Conference 2017 Wrap Up.
There were so many highlights of the conference, and we discussed many of them in the podcast. There was also a lot of wine. (Gee, who would have thought?) But some wines stood out more than others.  On our first night in Santa Rosa, I was invited to attend an off premise party sponsored by Rodney Strong Vineyards. What a party it was!  We were able to sample some amazing wines from not only RSV, but from Ramey Wine Cellars and I was introduced to a new producer, Robert Larsen of The Larsen Projekt. I fell in love with his wines and immediately knew I wanted to share his story. 
~Sláinte! 
You graduated from Sonoma State University. What was your degree in? Did you know you wanted to be in the wine industry?
I received a BA in Business with a marketing emphasis. My minor was in Environmental Studies. I didn't know I wanted to be in the industry until it was suggested by my girlfriend at the time, who worked in the career development office. She suggested I check out a public relations internship at Glen Ellen Winery, then owned by the Benziger family.
You began your career in the wine industry as a PR Manager for Beringer. Tell us about that position. What does a PR Manager do?
My first gig was the internship at Glen Ellen Winery, then I moved on to Buena Vista Winery in Carneros, then Chateau Souverain, which was owned by Beringer Wine Estates. A PR manager does a lot of writing, correspondence with journalists and management of publicity efforts with the aim of delivering the winery's unique quality message in a variety of outlets. The discipline has changed a great deal over the years.
You then moved onto Diago, the world's leading premium drinks company. Did you live in London where they are located? Was working for Beringer, who focuses on wine, different than working for an international company that focuses more on beer and hard alcohol?
While at Diageo, I worked at Beaulieu Vineyard as a trade relations manager, overseeing a guest house and programs aimed at positively influencing visitors (distributors, media, sommeliers, etc.) about BV. My experience there was a bit different from traditional PR, though it morphed into a PR role overseeing the BV brand for a few years. It included quite a lot of travel and some interesting events, including the winery's centennial celebrations and the unveiling of a statue of André Tchelistcheff.
After years of working for someone, you decided it was time to break out on your own and start your own company and began Larsen Public Relations. 
What made you decide it was time to be your own boss? I got a bit itchy reporting to an office all the time, answering to people all the time, rather than pursuing my own ways of working.
It is a scary thing giving up a "real job" to pursue your passion and start your own business. How difficult was it to go out on your own and try to make connections to wineries?
I had the good fortune of having pretty good relationships, so clients kind of just appeared.
As someone who acts as their own PR and sales person, I will attest how difficult it is to secure an appointment to meet with restaurants/retailers. What type of preparation did you need to do prior to meeting with a winery in order to try to sign them to your PR firm? Any odd stories to share?
I think the biggest bummer about pitching ideas is that there are times when some business people don't hire you, but they DO utilize your ideas. That was troubling to me back then. These days, I don't share too much and when I do, I think age has softened me a little… only a little, though. ?
You ultimately decided to leave self employment and accepted the Director of Communications job with Rodney Strong. Were you representing them when this opportunity presented itself? Why did you decide to go back to work for someone else?
See my answer to question 6. And, I got a divorce and my cat provided very little in the way of creative contributions. While that statement is somewhat true, I wanted to work more with a team and on projects than selling my services. We did some pretty amazing things during my time at Rodney Strong; a major social media coup with Rodney Strong Rockaway Cabernet in 2008, a cookbook in 2009, significant outreach and program developments with sommeliers, which continue today and a multi-city simultaneous dinner featuring 20 celebrity chefs, four celebrity hosts, broadcast live and trending #1 throughout the evening on Twitter.
Jump ahead, and you now have your own winery, The Larsen Projeckt. First off, what's up with the spelling? There has to be a story behind it.
My wife and I have several things going on in our life; our pursuits, if you
will. I have a marketing communications business again. We have several home improvement projects going. I love to barbecue and thought I might create something of that someday. Laura has a graphic design business and she's an artist. She also teaches yoga and TRX, a strengthening exercise class. The Larsen Projekt encompasses it all and did so before the wine brand, but we knew that someday I might make wine commercially. I wanted a company name that could include all our stuff, including the eventual wine brand. AND, I did NOT want a traditional wine name. No "estate". No "chateau". No "vineyards". None of that. Laura and I agreed that The Larsen Project sounded cool and REAL. I suppose we could have used that name, but I found a cartoonist in the north east, who used the same name. At that point, I gave up on the idea, but Laura didn't. She looked up the Danish spelling of project because my Larsen heritage is Danish. Turns out it's PROJEKT. Sold!
What made you decide to start your own winery? You spent your career in PR, what triggered in you to take the plunge into winemaking?
I feel like having a wine brand allows me to continue stretching myself in new directions, both in the area of creativity and having something tangible to share.
You produce a Grenache and a Grenache Rose'. Why did you choose Grenache as your flagship? (Not that I'm complaining, I love Grenache and your is killer!)
I LOVE Love love Grenache and Rosé. I love wines from Provence, Chateauneuf du Pape, Gigondas, Vacqueyras and most Grenache based wines, blanc, rosé and red. I love other Rhone style wines too, even if they don't have Grenache in them, though I love those a little less. ? I love Grenache regardless (mostly) of where it's from. Australia, Spain, France and the US. I also think, while the grape variety is one of the most widely planted in the world, it hasn't taken hold in the US the way I think it should. It is so versatile, more so than Pinot Noir in my opinion.
What is your case production? Where do you see yourself in 5 years in terms of production? How about expansion? Will you stick to Grenache or expand your brand?
The 2016 vintage is 420 cases total. The 2017 will be around 300 – 350 cases. I will stick with Grenache for sure and it will remain my flagship regardless of what other Rhone wines I do. I plan to stick with only Rhone wines, but Laura likes Zinfandel, so that may happen one day. In 5 years I'd like to maybe produce 1,000 – 1,500 cases… we'll see.
You are a judge for the San Francisco Chronicle Wine Competition. How did you get the gig and what is it like to be part of such a prestigious competition? Submissions for this year's competition were just due. Did you submit your wines?
Having been in the biz for so long, I came to know a number of the judges and requested they suggest me being added to the roster. Come to find out, the organizer was one of my son's instructors at Santa Rosa Junior College, Bob Fraser. It's a great way to meet folks from all walks of the industry, including buyers, media, winemakers and more. I did not enter my wines. I don't make enough, really, and I'm relying, for now at least, on word of mouth and my own efforts to introduce people to my brand.
What would you say is your favorite aspect of the wine industry? Your least favorite? Why?
I've made some pretty amazing friends in this business. The nature of the industry and the culture of its surroundings are rich in a soul-filling way. All the senses are awakened and treated to delights regularly. My least favorite aspect is not unique to the wine industry and I'm aiming to focus on the good stuff these days, so no need to bring it up… perhaps a sign of growing up…? DAMN!
One of our tag lines is "Pursue Your Passion." You obviously have passion for wine. If you were to give advice to someone entering the wine industry to pursue their passion, what would you tell them?
I had to interview with nearly the whole darn Benziger family when I applied for an internship. In hindsight, it was a brilliant move for both them and me to have that experience to make sure it was a good fit, but it felt tough to break into the business. It is a unique business for sure. Stick to it. Education is key and there are several opportunities for wine studies these days. Take advantage of that and BE persistent in whichever aspect of the business you're most attracted to. Also, have a good sense of humor, remain humble and evolve with the times…
Tell us where people can connect with you? Where can they find you and your wines?
My wines are mostly sold in Santa Rosa, California, in restaurants, small wine shops and specialty grocery stores. Or, you can visit my website and contact me for a direct purchase. www.thelarsenprojekt.com