Bacon, Onion and Broccoli Pasta
Prep Time: 20 min.
Cooking Time: 25 minutes
Ingredients:
two medium onions, sliced
6 slices of bacon
3/4 pounds of pasta; cooked according to directions
1 1/2 cups chopped broccoli
tsp of fresh rosemary
1/2 tsp dried oregano
1 cup of chicken broth; with 1 tsp cornstarch mixed
1 clove garlic, diced
2 Tsp olive oil
Parmesan cheese
Directions:
1. Cook bacon until crispy; remove and place on paper towels to drain excess oil. Remove oil from pan but leave cooked bits in pan.
2. Add olive oil to pan and sweat the onions until translucent. Add garlic until browned. Add rosemary, oregano and chicken broth. Bring to boil, reduce heat and concentrate stock to about half.
3. Toss in cooked pasta to coat.
4. Add crumbled bacon, top with parmesan cheese and serve warm.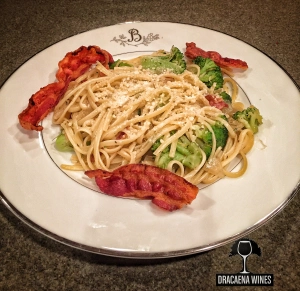 We paired this meal with a 2014 Rosé of Pinot Noir.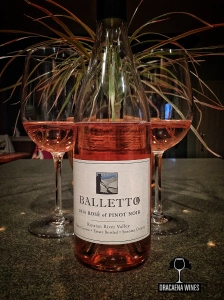 You can read about the pairing in my post Need a Valentine's Wine? As You Wish .