This is one of my favorite meals to make. It is so simple and quick to pull together and it is always a crowd pleaser.  Another fantastic thing about this meal, is that it is super easy to modify the amount of ingredients to make it as a single serving or for a full family.
Pasta Carbonara
Prep Time: 10 minutes
Cook Time: 15 minutes
Ingredients
1 pound thick spaghetti
1/2 bag frozen peas
1 Tbs olive oil (plus extra to pour over pasta)
8 slices bacon, cooked and chopped
1 onion, chopped
3 cloves garlic minced
6 eggs
1/2 cup Parmesan cheese
salt and pepper to taste
Directions
1- In a large pot bring enough salted water to cover pasta to a boil.
2- While water is boiling, cook bacon (I use a microwave) until crispy and set aside. Put one Tbs olive oil in pan and cook chopped onion until translucent. Add minced garlic and cook for 1 minute. Remove from heat and add chopped bacon.
3- Prepare eggs by cracking and mixing in with salt and pepper. ALL INGREDIENTS MUST BE READY TO GO AS SOON AS PASTA IS OUT OF WATER. IT IS IMPERATIVE THAT THE PASTA IS STILL HOT WHEN YOU ADD THE EGGS.
4- Cook pasta according to directions to al dente. With one minute left, drop frozen peas into boiling water with pasta. Drain and immediately return to same pot you cooked it in. Pour enough olive oil over so the pasta does not stick. Quickly mix in the bacon, onion and garlic. Add Parmesan cheese and then immediately pour the eggs over. Stir to mix completely. Serve immediately.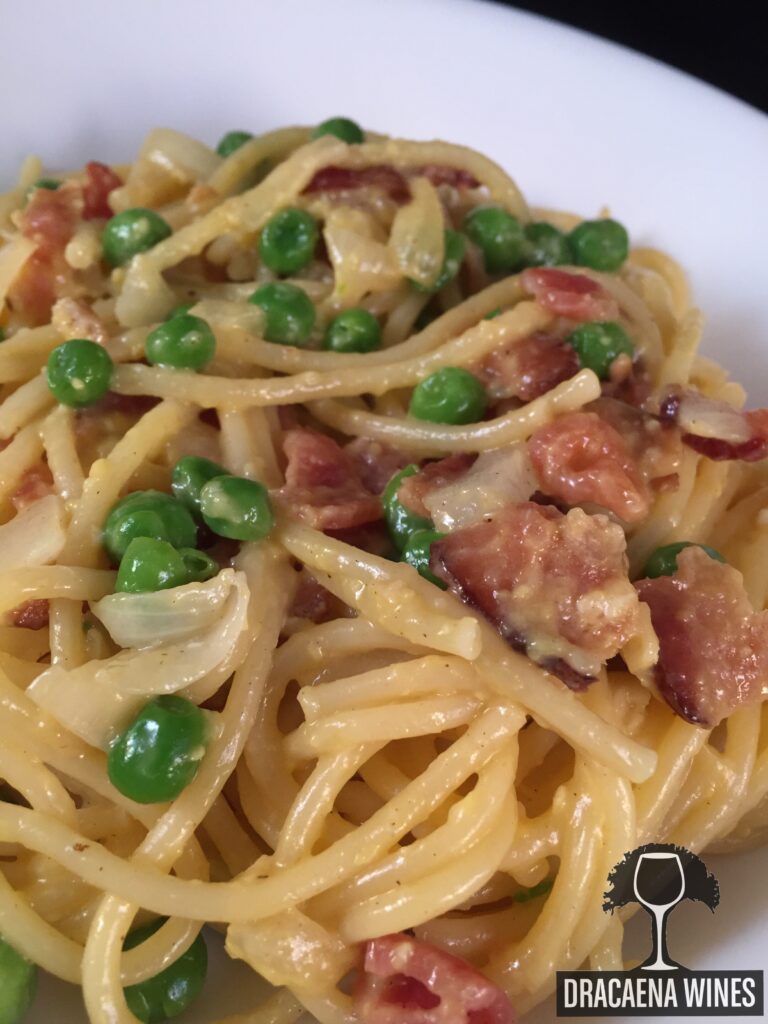 We paired this meal with a Cabernet Franc from Lang and Reed in Napa California. The is a lighter body Cab Franc so it did not over power the meal. In addition, the smokiness of the bacon was ideal to bring out the earthiness flavors of the wine.