Is there anyone who thought that when Robin Bell Renken chose Back to School as the theme for the September #WinePW chat, that I would not be talking about Cabernet Franc?! We were asked to pick a subject on wine and put together a fun educational piece to expand your wine knowledge! I thought a video would be the best way to get fun facts about Cabernet Franc out there.
One of our favorite Cab Franc Pairings:
Pasta Carbonara
Prep Time: 10 minutes
Cook Time: 15 minutesIngredients
1 pound thick spaghetti
1/2 bag frozen peas
1 Tbs olive oil (plus extra to pour over pasta)
8 slices bacon, cooked and chopped
1 onion, chopped
3 cloves garlic minced
6 eggs
1/2 cup Parmesan cheese
salt and pepper to tasteDirections:1- In a large pot bring enough salted water to cover pasta to a boil.2- While water is boiling, cook bacon (I use a microwave) until crispy and set aside. Put one Tbs olive oil in pan and cook chopped onion until translucent. Add minced garlic and cook for 1 minute. Remove from heat and add chopped bacon.3- Prepare eggs by cracking and mixing in with salt and pepper. ALL INGREDIENTS MUST BE READY TO GO AS SOON AS PASTA IS OUT OF WATER. IT IS IMPERATIVE THAT THE PASTA IS STILL HOT WHEN YOU ADD THE EGGS.4- Cook pasta according to directions to al dente. With one minute left, drop frozen peas into boiling water with pasta. Drain and immediately return to same pot you cooked it in. Pour enough olive oil over so the pasta does not stick. Quickly mix in the bacon, onion and garlic. Add Parmesan cheese and then immediately pour the eggs over. Stir to mix completely. Serve immediately.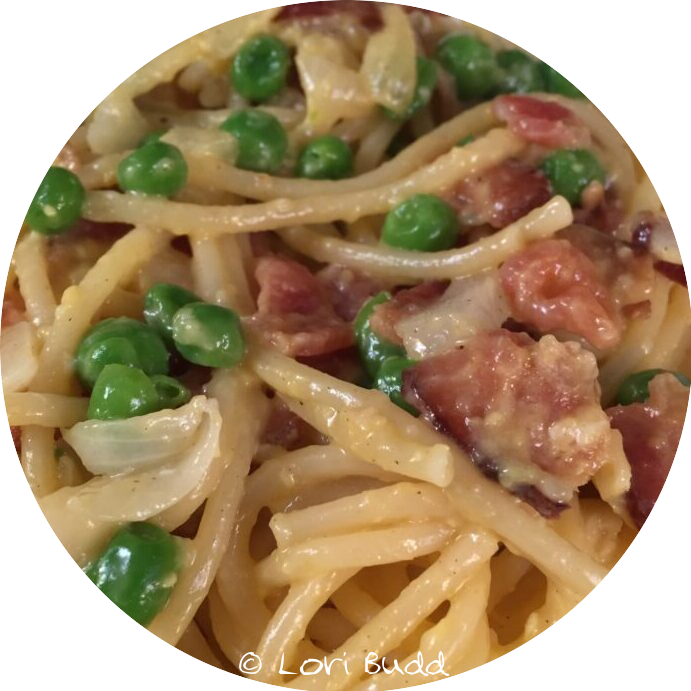 You can join the fun
Do you think you might want to join us?  Do you have some wine education to throw down?
Here's how you can join in.
Saturday, September 10th, join us on Twitter at 8 am Pacific Time (11 am Eastern). Join the conversation and answer the questions using the hashtag #WinePW.
Then read and comment on the other writers' posts and share on social media!
Make sure to come back and include the final HTML to your post, when everyone's links are live. If you don't have a blog, no problem, join in the conversation anyway!
* You are welcome to tie in a winery and use samples for your piece, just be sure to disclose that!
Here are the articles the #WinePW writers have in store for you!
~Slàinte!
Please support our sponsor:
Try the 90+ rated and multiple Double Gold medal winning wines of Dracaena Wines and get a 10% discount off your first order. Click the banner below and use code "Explore" at checkout.