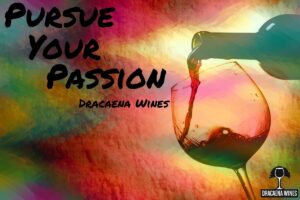 What is the definition of being successful? Is it making more money than you know what to do with? Is it having letters after your name that people aren't even sure what they mean? Or is it simply being happy? When Mike and I decided to enter the wine business, we knew it wasn't going to be an easy road. We were realistic. We understood that we would neither be an overnight sensation, nor ever be as recognized as Robert Mondavi. That's not why we entered the business. We entered the wine industry because we love wine and it was our dream to own a winery. We chose to not just wish or dream about it, we made a conscious decision to make it happen. We chose to Pursue Our Passion.
It's a scary thing chasing down your dreams, but if you don't enter the race you are never going to win. One of my favorite sayings about Pursuing Your Passion was made by "The Great One," Wayne Gretzky. He very eloquently stated, "You miss 100% of the shots you don't take." He knows you need to take risks. You need to leave the safety net that tethers you to your comfort zone so that you can experience what happens next.
In this, what has become a monthly tradition, a guest blogger will tell you their story of how they pursued their passion in the wine industry. These people understood what Van Gogh meant by "I would rather die of passion than of boredom." 
Snooth recently hosted a virtual tasting focused on Murrieta's Well wines. We tasted through five of their wines in one hour and had the opportunity to ask winemaker, Robbie Meyer questions as we sipped.
Sauvignon Blanc 2017: $35
There were only 30 barrels of this wine produced. The fruit was harvested in early September. The first non-drought season in Livermore Valley in 6 years, the vines were able to create a strong canopy, and exquisite fruit development. The wine was fermented in neutral French oak and aged on sur lies for four months.
The Whip 2016: $26
Just under 300 cases of their flagship white was produced in this vintage. The wine is a blend of 33% Sauvignon Blanc, 24% Semillon, 21% Chardonnay, 12% Orange Muscat and 10% Viognier. Portions of the Chardonnay and Sauvignon Blanc were fermented in small oak barrels while the rest of the wine saw stainless steel. After blending, the wine was aged for fourteen months, with some seeing more oak treatment while the majority remained in tank. 
Dry Rosé 2017: $30
The Rosé is a blend of 42% Grenache, 39% Counoise and 19% Mourvedre. Just over 2000 cases were produced. The Grenache and Counoise are from the Hayes estate vineyard, while the Mourvedre was from the Raboli vineyard. The fruit was hand harvested and then saw a whole cluster press. Fermented and aged separately for a month before blending and aged for an additional two months in stainless steel. 
The Spur 2015: $35
Just over 300 cases were produced. The blend consists of 48% Cabernet Sauvignon, 20% Petite Sirah, 18% Merlot, 8% Petit Verdot and 6% Cabernet Franc. The fruit is grown on three of their vineyard sites; the Sachau Louis Mel and the Hayes vineyards. All varieties were fermented independent of each other in stainless steel tanks with multiple pumpovers. After blending, the wine saw further aging in 50% new, 25% once used and 25% third use French oak. 
Cabernet Sauvignon 2015: $58
Small Lot is right when you see this wine. Only 27 cases produced for this vintage. 2015 was the fourth drought vintage in a row for the Livermore Valley which led to the early ripening of the fruit. Made up of 87% Cabernet Sauvignon, 11% Petit Verdot and 2% Malbec, all fruit was harvested on the same day in mid-October. Fruit was hand sorted and fermented separately for approximately twelve days in stainless steel tanks, each seeing three pumpovers a day. Once in barrel, the wine was aged for an additional eighteen months in 80% new and 20% second and third use French oak barrels.
If you would like to watch the tasting event, and hear about these wines in Robbie's own words, click here. 
After the chat, I reached out to Robbie and asked if he would be willing to share his story in a guest post. I was thrilled when he said yes. Robbie is truly an amazing wine maker and it was a privilege to be able to interview him and see his perspective on the wine industry. 
~Sláinte! 
You were introduced to wine and food in your hometown of Marietta, Georgia at a rather young age. How does an 18 year old become a wine steward?   It was a long process, working at the restaurant for years, I tasted, read books, learned about virtually every wine on the list, and where there was finally an opening, I took it.
Your undergrad degree from University of Georgia was in Biology. (woo hoo! Mine too!) As you entered college, what was your career goals?

Well, I was always interested in the sciences.  Biology and Chemistry. Those were my interests. I wasn't thinking about winemaking, but I definitely wanted to use my degrees.

After graduation, did you immediately attend UC Davis to pursue your graduate degree in Enology? At what point in your life, did you realize that you wanted to work in the wine industry? I took a year off between UGA and UCD.  After becoming interested in wine when I was younger, the thought about the wine industry was there. I just didn't personally know anyone working. It was really my senior year at UGA that I started thinking about Davis.
While you were still in graduate school, you began working at Peter Michael Winery in Sonoma. What did your job entail? How long were you there and how long before you started making your own label?  

I began working at Peter Michael in 1998 as a harvest intern. The offered me a permanent position in the lab, and I eventually worked my way up to Assistant Winemaker. I left in 2003. I began producing Peirson Meyer wines in 2002.

What made you decide to make your own wine? Do you still produce your own label? What is a major difference between producing wine for yourself and being the winemaker for a winery?  I love making wine. Ultimately, each wine that I make is a reflection of the vineyard block that it comes from. Yes, I still make my own wines under the Peirson Meyer label.
Tell us about your first vintage as a winemaker. Were you nervous? Excited? Terrified? All of the above? Has those emotions changed over the years?  I was more nervous as a harvest intern than as a winemaker. My first harvest I wanted to be sure I wasn't letting anyone down. It wasn't as much about the vineyard and the wines, per se.  Just wanted to do my job right. These days I get very excited about the particular vintage, what the challenges are, what we might have learned from previous vintages and what we might work with this year.  Excited, challenged, not nervous.
It was at Peter Michael Winery that you first met Karl Wente. You had to have been aware of the family name. Did you ever think that friendship would lead to the winemaking opportunity at Murrieta's Well?  

Of course I both knew of the Wente Family from a winemaking perspective, as well as the famous Wente clone of Chardonnay. Karl and I were very like-minded about many things. Did I think 20 years later I would be at Murrieta's Well?  No, but I would have been excited about the prospect.

Prior to coming to Murrieta's Well, you worked at wineries in Napa Valley, Sonoma County, and Santa Barbara, with your goal of creating wines that inspire people to think about where the grapes are grown." How would you compare the various regions? I don't think so much about regions any longer.  It's down to acre by acre farming. What is the rainfall, wind, orientation, aspect, soil type, plant material…figuring out what is going on right there. Each region has so many pockets and corners and differences within them, its ultimately too big to talk about.  I'd rather focus on the individual vineyard block.
You are hands on for the entire process; from growing fruit in the vineyard, caring for it in the winery, and ultimately crafting it into the wine and bottling it. Do you have a favorite part of the winemaking process? What draws you to that particular part of the operation? 

Not really.  It really is just one ultimate project.  There are pieces to the puzzle, but the real beauty is the completed puzzle.  It's all connected.

The vines at Murrieta's Well are cuttings brought over from Chateau d'Yquem and Chateau Margaux. That is like having descendents of royalty in your vineyard. How did these vines come to be planted and so you treat these vines differently than other vines on the site? It's a special thing and shows the tradition of what has gone on at the property for 135 years.  The cuttings were first planted in 1884 by Louis Mel who purchased the estate and built his home and gravity flow winery there (both of which are still on the estate today). Over that long history, the original plant material has been propagated and planted in new vineyard blocks. We farm all our vineyard blocks in a manner that is sustainable and ensures the best possible health of the vines.
How much interaction do you have with the Wente wines line? Are the two endeavors kept completely separate or is there interaction between the two?  

The creation of Wente Vineyards wines and Murrieta's Well wines are independent, but everyone from the viticulture team to the winemaking team collaborate and are collegial.   We all have great respect for one another's opinion.

You must feel so much pride working for a winery for the country's oldest, continuously operated family-owned winery. What is the environment around the winery while it is celebrating its 135th anniversary?  There is no doubt a sense of tradition. And with that tradition comes responsibility. We certainly feel like we have something to live up to.
What would you say is your favorite aspect of the wine industry? Your least favorite?  I greatly appreciate when people in the industry are of the mind that a high tide raises all ships.  We learn from one another and that makes us all better. I wouldn't say it's my least favorite part, but I think of grape growing and winemaking in such a cultural fashion that I have to remind myself to stop and realize that it is a business as well.

One of our tag lines is "Pursue Your Passion." You obviously have passion for wine. If you were to give advice to someone entering the wine industry to pursue their passion, what would you tell them? 

It is best if you can identify what styles of wines you are interested in pursuing.  It is indeed a big wine world out there. If you know which varietals you enjoy, which producers you enjoy, look to those areas to find work experience and great mentors.  And when in doubt, follow your heart. There is plenty of space for lots of people to be happy in the wine industry.