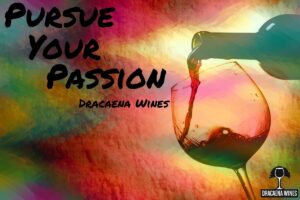 What is the definition of being successful? Is it making more money than you know what to do with? Is it having letters after your name that people aren't even sure what they mean? Or is it simply being happy? When Mike and I decided to enter the wine business, we knew it wasn't going to be an easy road. We were realistic. We understood that we would neither be an overnight sensation, nor ever be as recognized as Robert Mondavi. That's not why we entered the business. We entered the wine industry because we love wine and it was our dream to own a winery. We chose to not just wish or dream about it, we made a conscious decision to make it happen. We chose to Pursue Our Passion.
It's a scary thing chasing down your dreams, but if you don't enter the race you are never going to win. One of my favorite sayings about Pursuing Your Passion was made by "The Great One," Wayne Gretzky. He very eloquently stated, "You miss 100% of the shots you don't take." He knows you need to take risks. You need to leave the safety net that tethers you to your comfort zone so that you can experience what happens next.
In this, what has become a monthly tradition, a guest blogger will tell you their story of how they pursued their passion in the wine industry. These people understood what Van Gogh meant by "I would rather die of passion than of boredom." 
A few years ago, I wrote a scientific post titled the Science of Tasting Wine. Shortly afterwards, I received a message from Madeline Puckette asking me if I would be ok with Wine Folly publishing the post on their site. I'm pretty sure my response to her was, "Mind? Heck no, I don't mind! Thank you!" I was so honored that I was going to see my post on their site with those "patented" pictures.
I am a fan of Wine Folly. I think that there is so much wine information out there and it can be extremely overwhelming for many. Wine Folly has found their niche. They take the information and present it in a fun way. 
In 2015, Madeline Puckette and Justin Hammack, the brains behind Wine Folly, released their first book; Wine Folly: The Essential Guide to Wine. I purchased that book for two reasons. First, I like to support my social media friends, but secondly, and more importantly, I liked the concept. I liked the idea of having a reference book that didn't weigh more than I did and can present information in an entertaining way. I have used the book multiple times.
Yesterday, Madeline and Justin released their second book. The Magnum Edition; The Master Guide. I received the book as a sample from Avery Books, and immediately scanned through the pages. What did I look for first? Any guesses?  Of course Cabernet Franc! 
The book is chock full of information. Wine Basics? You got it! Food and wine pairings? Yep, it's in there! Grapes and wine regions? Well, of course that's in there! So do yourself a favor, head over to Amazon and place an order. I really don't think you will be sorry! It even comes in a Kindle Edition. 
In case you aren't familiar with Madeline, let me tell you something about her. Her passion exudes out of her. So I reached out to her and asked if she would be willing to answer a few interview questions for this month's Pursue Your Passion post.  I know I was intrigued by her answers and I hope you are too.
~Sláinte!
It isn't surprising, (at least to me) that you grew up in the Pacific Northwest and was into music. I mean Jimi Hendrix, Kurt Kobain, and Pearl Jam to just name a few monster names. Who was your inspiration growing up?
It's cold and rainy throughout winter in the PNW so a lot of our energy goes into indoors!  As a kid, I played flute and baritone saxophone and then when I was in 6th grade I started teaching myself guitar.  Remember Silverchair, Green Day, Elastica, and The Pixies?  These were some of my early inspirations.  
Then, when my band broke up in the 10th grade, I started getting into music production.  My dad got me a subscription to Future Music Magazine and I discovered Plaid, Royksopp, Aphex Twin, and some of the other early electronica innovators at the time.   
You say your music belongs in Berlin. What do you mean by that? Where can we hear some of your tracks?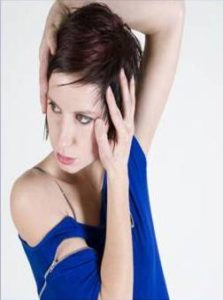 Sure you can!  Just search "Madeline Puckette" on Spotify for my actual published album, Madworld.  Here's the link.  Right before I stopped writing music I posted my latest tracks on soundcloud.  I managed to snap up soundcloud.com/madeline/ – here's one of my favorite tracks on there.  https://soundcloud.com/madeline/tsar-bomba
I like it because of the raspy vocals and whacky time signatures.  (The "chorus" is in 6/4 and it feels majorly syncopated!)
You also were a graphic designer 

for Star Trek conventions

. Exactly how did that work? Did you work for Star Trek or for the conventions? What did you like about that path and what did you dislike?
I was a production designer for a business out of Glendale, CA called Creation Entertainment.  They were/are big in the entertainment convention scene.  I made visuals for Stargate, Star Trek, Supernatural, Fangoria (a horror convention) and even a bodybuilding/MMA show.  You've never really understood body building on a visceral level until you've zoomed into an award-winning body to photoshop it.  It's discombobulating. 
Did you continue your music while you were a graphic designer? How are the similar? 
Yeah.  I'd always thought of being a graphic designer more as a helpful skillset to help me achieve my musical dreams. I also felt like the music I was into was part of a larger movement of digital/minimalist art, so it seemed important to understand both. 
Art and wine go hand in hand. Why do you think this is so? 
This is a question I've spent a lot of time thinking about.  Most wine isn't art, it's more like an artisan consumable.  Also, a lot of art inspired by wine is a bit misguided! 
 If you search "wine art" on google, you'll see exactly what I'm talking about. 
That said, the moment when wine transcends artisan consumable is when it becomes part of a mindful, artistic expression of experience.  The philosophy of John Dewey, "The Art as Experience," is probably the closest thing I've found to what it's like. Dewey came up with this in 1934.  He questioned the popular beliefs of what fine art is and presented a case that being and doing could be an expression of art.  I like this idea.  It's populist.  It suggests we're all capable of art in whatever we do, see, and experience.  
Although you drank wine previously, it is your father who got you your first wine subscription. How do you feel that changed your life? 
It was a bottle that came in the mail.  My boyfriend and I were trying to figure out what it smelled like and he blurted out, "olives!" It broke my model that wine is supposed to be fruity.  It was a Côtes du Rhône.  
Your first wine job was really by sheer luck. Being in the right place at the right time. They say as one door closes another opens. You walked into a bar (sounds like the beginning of a dirty joke) and walked out with a career in wine. Tell us about that night.
It was actually in the middle of the day! I suspect Rick would remember it better than me.  Not much to tell actually.  I went in, tasted some wines, asked a ton of questions, so much so, that I think Rick saw that even without any wine education, I was thinking about wine actively.  Honestly, it's the only difference between someone who simply consumes wine and someone who is a connoisseur.  Doesn't matter how much you know, it's how you think about it. 
Tell us what it is like to study for the 

Court of Master Sommeliers. What made you choose that route? 
My friend Amelia in Reno told me that if I wanted to go anywhere outside of Reno and work in wine I should get accredited.  At the time, Jay-Zs track "Empire State of Mind" had just come out and I was burning to move to New York City and "do wine for real."  In retrospect, I'm super thankful I ended up moving to Washington State instead! 
You were named in Wine Enthusiast's 40 Under 40 Tastemakers. Wow! That is impressive! How did you find out and what is it like to be part of that elite group? 
I love that Wine Enthusiast does this program.  So much of wine seems a bit dusty and tired, so I really appreciate their work to champion the up-and-comers.  I look up every person when they come out!  
When I found out, they just sent me an email and I hired a photographer to take a photo.  I never met the other people in my group because I couldn't travel at the time, so I'm not sure I was able to get the whole benefit. Too bad really.

You have said that appreciating wine is similar to art and music appreciation. How do you think you previous experiences in those fields help enhance your wine career?
I'm going to reference John Dewey again for this question.  And the mindfulness movement. 
Tell us what was so special about 

December 25, 2011. What happened on this day that led to the launch of Wine Folly?
We were really late setting up the business and the blog.  What I've learned in running a business is when you do things for the first time, they take at least 5 times longer than you expect!  I was also working full-time at a restaurant.  That day was the soonest we could launch.  
I can scroll through the onslaught of photos on social media, but I can always tell when it is a Wine Folly graphic. Do you do all the designs? How did you arrive at that as your style?
Yes.  At the moment, I've created all the graphics.  
My style is a combination of personal aesthetic and pressure to put out works.  "Great artists ship."  –Steve Jobs
I was in Bordeaux drinking a 1949 Couvent des Jacobins and all that kept going through my mind was "I can't believe I'm drinking this!" Do you have a "I can't believe I am drinking this wine?" What was it and when?
I was at the top of the Mandarin Oriental Hotel sitting in front of Robert Parker drinking a Tawny Port from the 1800s at "Matter of Taste."  Of all the sessions that day, this was the most empty.  It was then that I realized, that dry wines have nothing on stickies when it comes to age-ability.  And, Tawnies just keep getting better and better as they age. 
I have a lot of respect for what Robert Parker did even though most focus on the negative impact of the "Robert Parker" style.  It's likely that he's contributed over one hundred thousand tasting notes to the world, and he made wine important to Americans.  Sure, wine is important to French people and Italians.  But, we Americans tend to prefer beer.  Robert Parker made the pie bigger. 
What is your "unicorn wine?" The wine you yet have had, but would give almost anything to sip? What draws you to that wine? 
I had a Pinot d'Alsace several years ago that broke my brain.  I've never tasted anything like it since.  I'm a pretty big fan unoaked white wines that can age.  They evolve over their entire lifespan.  
What was the original goal of Wine Folly? How have those goals evolved? Where do you see it in the future?
We were going to be a wine club.  Actually, the closest thing I've seen to what we were going to do is Verve Wine Club by Dustin Wilson.  I'm really glad he's carrying the torch and doing a fantastic job! 
I realized in starting (and pivoting) that business that my job is to be a wine communicator.  I am a user experience engineer.  That is my skill.  
How do you choose what articles are posted on your site? I am extremely honored to be included in the list of guest posts. 
They have to help people learn something and be useful.  There must be a takeaway that expands and welcomes people into an idea about wine.  Also, visuals are paramount.  They have to visually communicate in some way.  
Your graphic 

"Different Types of Wine" was picked up by the Washington Post. Do you think that was a turning point in the Wine Folly story? 
Yeah, actually it was.  I was approached by a publisher who saw that article who asked me about making a book.  We didn't end up using that publisher (they are too fine! Too awesome!) we needed something that could be cheap and go to the masses.  So, Justin reached out to Seth Godin for advice about a literary agent. That got me to Writer's House and Penguin books.  
What is your favorite wine region? Why? 
I don't have a favorite.  There are amazing things about every wine region I've visited.  And my "not visited" list is still too long! 
Do you have a "go-to" wine? The wine that is always in your cellar? How did it become your "house wine?"
Nope. Always looking.  
One of our tag lines is "Pursue Your Passion." You obviously have passion for wine. If you were to give advice to someone entering the wine industry to pursue their passion, what would you tell them?
Passion keeps you in the game when you are defeated.  Attitude helps you see your weaknesses objectively and make the right choices to achieve the right goals.