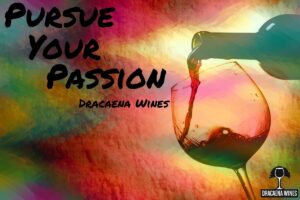 What is the definition of being successful? Is it making more money than you know what to do with? Is it having letters after your name that people aren't even sure what they mean? Or is it simply being happy? When Mike and I decided to enter the wine business, we knew it wasn't going to be an easy road. We were realistic. We understood that we would neither be an overnight sensation, nor ever be as recognized as Robert Mondavi. That's not why we entered the business. We entered the wine industry because we love wine and it was our dream to own a winery. We chose to not just wish or dream about it, we made a conscious decision to make it happen. We chose to Pursue Our Passion.
It's a scary thing chasing down your dreams, but if you don't enter the race you are never going to win. One of my favorite sayings about Pursuing Your Passion was made by "The Great One," Wayne Gretzky. He very eloquently stated, "You miss 100% of the shots you don't take." He knows you need to take risks. You need to leave the safety net that tethers you to your comfort zone so that you can experience what happens next.
In this, what has become a monthly tradition, a guest blogger will tell you their story of how they pursued their passion in the wine industry. These people understood what Van Gogh meant by "I would rather die of passion than of boredom."
Although it is typically said that opposites attract, in this situation, it was the likeness that brought this social media friendship together. What's that similarity you ask? It is Cabernet Franc, baby! As the founder of #CabFrancDay, I am on a mission to find as many producers as possible who want to help celebrate this grape. One of the first people I came across who has a strong passion for this varietal is David Stannard from Paradise Rescued. 
I think it is rough living a bi-coastal life, splitting my time between New Jersey and California. But David splits his time between Australia and France! A quick Google search for distance between Melbourne and Bordeaux show it to be over 17,000 miles! That makes my mere 3,200 miles pretty much non-existent. I can no longer complain at my 5 1/2 hour flight cross country. His is over 30 hours! That is Passion! 
I have not officially met David in real life, but we have Skyped a few times. (You have to love technology!) And I loved hearing his story. I hope you do too!
~Sláinte!
At Paradise Rescued, one of the compliments that I love and we get given the most is "You guys have so much Passion here!"
It's natural, not a forced attitude. If you see the size of our Mission and Vision, then it becomes very easy to understand why we need so much passion. Without it, we could not achieve the seemingly impossible. With it, work becomes pleasure, generating more desire to excel and realise a higher level of human achievement.
I describe Passion as the hidden secret ingredient. It is the leadership glue that can transform an organisation and its results. It is quite simply a difference maker, a culture transformer, that extra something that separates excellence from average.
But passion is not automatic. It cannot be bought like a software package. It can't be inoculated or taught by a consultant. It is a leadership quality. It is an intrinsic value; it comes from within. You have to find inside of you; you have to create the attitude yourself.
But where does it come from? How do you get it?
One of our tag lines or mantras at Paradise Rescued is "Mission Vision Passion". We find that this describes and motivates us pretty damn well. Our start-up as an organisation came about from our desire to sustain the land around our family and our neighbours' homes as a vineyard rather than have more housing constructed which would have removed our rural existence. Hence our goal therefore was to maintain the heritage of our village that is overlooked by a small 12th century church. Our WHY – our Mission – had been easily defined.
We worked hard to create a strong physical and mental picture of what Paradise Rescued would look like in the future. We drew our (now) well known Vision picture which reminds us every day of where we are going and what our future will look like. The WHAT was clear.
And the combination of our Mission and Vision inspires us to give the project every ounce of energy we have got. Where we lack in skill, knowledge and experience we compensate with energy, research and diligent hard work. And that's what is called Passion. We also found our HOW.
But it doesn't quite end there. The greater the passion, the energy, the commitment we give, the greater the desire to fulfill our Mission and realize our Vision. And so a small mutually supportive loop – our Trifecta for Success – has been established.
And slowly over time that passion grows with our team. When we started operations, we were told that our first vineyard block was planted in Merlot. Just days before signing the final legal papers we learnt that the vines were actually Cabernet Franc. Once we got over the initial shock and disappointment, we worked out that we had a unique opportunity. We started to get to work on converting our so-called "Cabbage Patch" into one of the best Cabernet Franc vineyard blocks and full varietal wines in Bordeaux. The handcrafted passion and skill that has gone into resurrecting that small Cabernet Franc vineyard is very evident in the taste of the B1ockOne wine that it now produces. We are now proud to be participating, leading and promoting the global renaissance of one the world's most versatile and beautiful wine varieties.
Passion is pretty difficult to fake. As it comes from within, it always on display. And leaders, if you want passion within your organisation, it starts with and inside you! When you have passion, so much more becomes possible. The ideas flow, the innovation kicks in and a focus for success is established.
Passion really is the secret ingredient.
You can read more about Paradise Rescued at www.paradiserescued.com. "Passion – the secret ingredient" is also the title of a chapter in David Stannard's second book entitled "It's not about the Dirt", just released through Kindle on amazon.com.
David Stannard is the Founder Director of Bordeaux based niche micro wine business Paradise Rescued. He is also a successful author and recognised public speaker advising business on wine marketing and the power of a (picture)Vision.