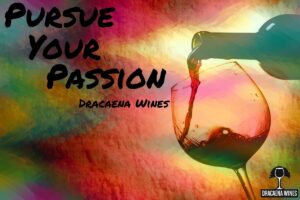 What is the definition of being successful? Is it making more money than you know what to do with? Is it having letters after your name that people aren't even sure what they mean? Or is it simply being happy? When Mike and I decided to enter the wine business, we knew it wasn't going to be an easy road. We were realistic. We understood that we would neither be an overnight sensation, nor ever be as recognized as Robert Mondavi. That's not why we entered the business. We entered the wine industry because we love wine and it was our dream to own a winery. We chose to not just wish or dream about it, we made a conscious decision to make it happen. We chose to Pursue Our Passion.
It's a scary thing chasing down your dreams, but if you don't enter the race you are never going to win. One of my favorite sayings about Pursuing Your Passion was made by "The Great One," Wayne Gretzky. He very eloquently stated, "You miss 100% of the shots you don't take." He knows you need to take risks. You need to leave the safety net that tethers you to your comfort zone so that you can experience what happens next.
In this, what has become a monthly tradition, a guest blogger will tell you their story of how they pursued their passion in the wine industry. These people understood what Van Gogh meant by "I would rather die of passion than of boredom."
Unlike Brangelina, brunch; the consummate combination of breakfast and lunch eaten usually during the late morning to early afternoon, is here to stay. I mean, is there anyone who doesn't enjoy brunch; A combination of the best of two food worlds? I personally think it great anytime of year, but there is something about the pairing of warm weather and brunch that make it extra special.
I received a beautiful brunch ensemble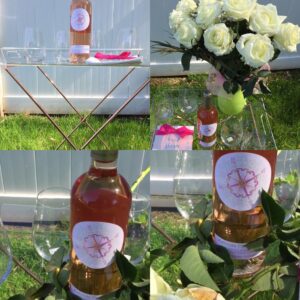 including rosé from Mathilde Chapoutier to welcome the summer from Terlato Wines. Honestly, life doesn't get much better than rosé and roses. The fruit for Mathilde's wine was harvested from vineyards located at the foot of the Saint-Victoire mountains. It is a luscious blend of Grenache, Syrah, Cinsault and Rolle. 
After tasting the wine, I reached out to Terlato Wines and asked if it would be possible to get in contact with Mathilde to ask if she would be willing to share her story of passion in the wine industry. I was thrilled when I opened the email stating that she had agreed.
In case you are unaware, Mathilde Chapoutier is the daughter of renowned winemaker Michel Chapoutier. She traveled to many wine regions throughout the world looking for her inspiration. She is determined to make a name for herself, and this rosé proves winemaking is in her blood. 
~Sláinte!
Travel and wine have been two of my greatest passions.  I grew up in a winemaker family
with a tradition for prestigious wines.  For the last seven years, I have been running my family's domaine, M. Chapoutier, but creating my own wine is a personal passion project.
For inspiration I explored various wine regions
in France and around the world.  I wanted my wine selection to reflect my way of life. I have always loved the South of France, the way of living in Provence, Mediterranean food, the landscapes and of course their wines.   
Provence, is the world's largest wine region specializing in rosé.  The region has a rich rosé tradition, and winemakers today are the beneficiaries of the region's collective knowledge and time-honored techniques.
It is no surprise that I decided on an estate in Côtes de Provence.  Half-way between Aix-en-Provence and Saint-Maximin, Château des Ferrages is one of the four fortresses that shaped the history of Pourcieux. Surrounded by wooded parklands, this traditional Renaissance building overlooked the village. Most of the building has been lost over time and only the tower and a few architectural remains still exist today.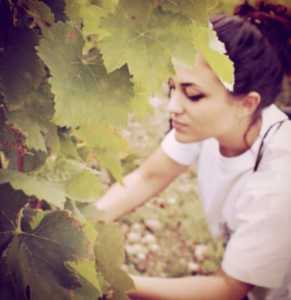 For me wine has always been about family and friends.  I remember gathering around the table to enjoy a home cooked meal and great wine.  This is how I selected my wine, because rosé is a perfect wine for all kinds of occasions, especially being with the ones I love.  Creating the perfect wine to share with family and friends allowed me to truly pursue my passion.
Thank you to Will Rogers and Donna White Communications for arranging this post. The wine and brunch server were provided as samples free of charge, however, the opinions are my own.