It's been a while since I have talked about my  beloved Cabernet Franc. I thought today I would dive into the Bordeaux region that is best known for its production, Libournais. The region is located on the "Right Bank" of Bordeaux and is named after the historic capital of Libourne. As a reminder, Bordeaux wines are typically blends. On the Left Bank, those regions on the left side of the Garonne River are Cabernet Sauvignon dominant. The wines produced on the right side are known for their Cabernet Franc (and Merlot) blends. 
There can be some confusion when discussing Bordeaux and the banks. I remember when I first starting my education of Bordeaux, I would look at the map and saw that there are two rivers and an estuary. I asked myself, which river am I suppose to be looking at to determine the right side, which direction should I be traveling in order to be looking in the right direction. (am I the only one who had this confusion?) Then I found the term  "The Libournais" and it made it simpler for me, because I I now had a reference point.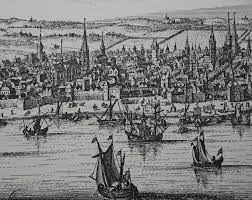 Bordeaux's wine history dates back to the 12th century when thanks to a royal wedding, Bordeaux was placed under English rule. When "William the Troubador" grand-daughter Eleanor, who was originally married to Louis VII, King of France divorced and in order to "settle disturbances" married Henry II, Duke of Anjou who later named Duke of Normandy and ultimately King of England in 1154. In return for being exempt from taxes by the King, Bordeaux vignerons supplied England with "Claret." Twice a year, hundreds of ships would enter Bordeaux and return to England with with the " liquid payment." In order to aid in this movement, the Dutch created a series of canals to allow the wine to reach its destination before spoiling. 
Libournais was established in 1270 under King Henry III leadership. Sir Roger de Leyburn was charged by the King to oversee its construction
. The city was then named Leyburn, which has, over time, changed to Libournais. It is situated at the beginning of the Gironde estuary, lending itself to be the main maritime navigation port on the Dordogne. This location is arguably the main reason for its existence and its success in transporting wine to England. Libournais is approximately 40 km (25 miles) east of Bordeaux city and is the home of 10 AOCs. Three of these AOCs, Saint Émilion, Pomerol and Fronsac focus their wines on Cabernet Franc dominant blends. 
It has been documented that vineyards have been in the Libournais since 56 BC and today, as you joyfully meander through the region, you notice that they have successfully blended their history with current. It is here that we find Saint Émilion, a UNESCO's World Heritage Site, where you can visit the site where an 8th century hermit Émilion stopped off on his pilgrimage, yet we also find cooperative cellars that only began in the 1930s. In Pomerol during the16th and 17th century, Dutch traders established a flourishing wine trade with Northern Europe, is also the site where the famous Château Petrus just had a case of wine in space. (see my rant about that here) And where we find Fronsac, the place where in mid-1970s real estate investors stepped in and the chateaux began vinifying under more controlled conditions. This is the same area where in 1633 the father of Cabernet Franc, Cardinal de Richelieu, bought land for his family. So, is it is any wonder that this region produces wines that are Cabernet Franc dominant?
On the Left Bank, you gasp in awe at the enormity of the chateaux. As opposed to being more corporate, the left bank finds itself more cozy with many smaller chateaux right next to each other. It has been called "The land of 1000 chateaux," however this may have come at a price, since of the ten appellations, only Saint Émilion is classified and that only happened in 1954. Together, all the appellations of Libournais make up only about 10% of the wine production of Bordeaux. 
What makes Libournais special? The terroir. Terroir is more than just soil. It is the entirety of climate; weather, amount of sunlight, daily temperatures, not only in the air but also in the ground. It includes the elevation he vines are grown in, the ability of the soil to drain, how much water is available and the number of days with an average temperature over 50 degrees F. In Libournais, you find clay. Limestone, sandy and siliceous clay. Fronsac's full body, robust wines are grown in clay limestone soils. Pomerol possesses clay, sandy soils and soft sandstone rich in iron oxide. These soils lead to wines that are silky with smooth tannins. While Saint Émilion is rich in limestone bringing minerality to the wine. Geographically, Saint Émilion is divided into two regions. The first is the limestone plateau under the city itself, and the gravel bank created by glacial movement along its northern ridge. 
Loosely translated, Cabernet Franc is Latin for "black vine of France." It is believed that the varietal was brought to the Loire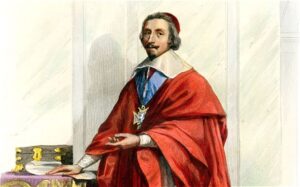 Valley region of France by Cardinal Richelieu in the 17th century. An abbot called Breton (a reason Cabernet Franc is also known a Breton) planted cuttings of these vines at the Abbey of Borgueil and during the 17th and 18th centuries, it found its way to various regions of Bordeaux including Saint-Émilion, Fronsac, and Pomerol. It is in this region of Bordeaux, that Cabernet Franc is recognized as more than a blending grape. Many chateaux recognize it's quality and produce Cabernet Franc dominant wines. It is here that Cabernet Franc found is place having its first notable appearance in the 1600's. By the 18th century, its plantings were scattered around the right bank of Bordeaux, Libournais. It is here where Château Cheval Blanc has focused on Cabernet Franc, blending it with Merlot. Today, more and more chateaux on the right bank are following suit, recognizing Cabernet Franc's abilities to produce exceptional wines, and are increasing their use of Cabernet Franc. To me…. this is a beautiful thing
~Sláinte!
We've stacked the odds so that you can get our award winning wines without breaking the bank. Click the image to find out all of the benefits of joining the CHALK CLUB including free shipping and progressive discounts.