Quite some time ago, I heard a wine friend say they were a proud member of the ABC club. I asked what that was, and he laughed and claimed "Anything But Chardonnay." At the time, I was young in my wine experiences and laughed. I didn't really understand why someone would be so against a single variety, especially since the wine that got me into wine was a, I dare to say, Chardonnay, but I figured they knew more than I did. 
The movement technically wasn't started to be anti-Chardonnay, rather to be pro other white grapes. Wine lists and retail spaces were inundated with Chardonnay and wine professionals were desperately trying to open those spaces with varietals that were typically purchases of only Europeans and well educated wine enthusiasts. In 2008, there was even a book written by Laura Holmes Haddad titled Anything but Chardonnay: A Guide to the Other Grapes.
As with so much in our society, (think Sideways Effect) as the saying goes 'A little knowledge is a dangerous thing' the concept snowballed and it was if Chardonnay became Frankenstein being chased by villagers with pitchforks and flames.  According to the 2000 California Grape Acreage Report, California growers were reacting to the effects of the club. Prior to 1992 there were 48,881 acres of Chardonnay planted in California, by 2000 there was a mere 3,563 acres. But as time passed, I think the members of the ABC club started to dwindle as the over oaked, butter bombs diminished and people learned there was more expressions to this grape available. The U.S. Department of Agriculture's annual report states that in 2018, Chardonnay leads the pack with 93,148 acres planted. 
As I dove deeper into my wine game, I must admit that my palate did change a bit. That Chardonnay that I loved so much that my husband purchased  every bottle that was in the tri-state area for me as a post wedding gift (it totaled about a case since it was a three year old Chardonnay) became a bit too buttery and sweet for me. The increase in oak used in production made it more difficult to find a winner and I began thinking to myself; I get it… ABC. I found myself looking to other varieties and overlooking anything that said Chardonnay on the label. 
But Then….
But then Chablis entered my world. Chablis is located in the northern most region of Burgundy and it IS Chardonnay!  Chardonnay that is very different from it's California counterpart. The name is derived from the old Celtic words, 'Cab' meaning 'house' and 'Leya' meaning 'near the woods.' Locally it is known as Beaunois and is a small village on the banks of the Serein River. It is almost equidistant between Beaune and Paris. (less than a two hour drive to either) It's proximity is actually closer to Champagne than to Cote d'Or. This juxtaposition to Champagne plays a pivotal role in the expression of the grape. 
There are 379 estates located in Chablis with each one producing about 10,000 bottles per year. As an AOC, it is not large. Only 12.5 miles North to South and 8.5 miles East to West. It is experiences a modified oceanic climate with hot summers but a high potential for spring frosts and excessive fall rain. However, it is blessed with a very special soil; Kimmeridgian. When talking terroir, I honestly believe that you can't ask for more proof than in Champagne and Chablis. Both have the Kimmeridgian soil that makes the difference. 
Follow Dracaena Wines on Twitter, Instagram and Facebook for special offers.
The sedimentary basin, which was once under the ocean is now covered by soil and subsoil. The subsoil, Kimmeridgian, is made up of clay with small oyster shells and is responsible for that crisp minerality that makes Chablis so special. Named for the geological age Kimmeridgean in the Upper Jurassic, the subsoil that dates back to over 150 million years consists of gray marl with alternating limestone and pretty cool oyster (Exogyra virgula) and shelled cephalopod (ammonites) fossils. Adding to the terroir expression is younger limestone called Portlandian which has less clay than the Kimmeridgian. This results in a sandier and thinner soil. 
More than…
Chablis is more than a region. It is actually a generic name for the most basic wine from the region. In 1938, when the Chablis AOC laws were established the Institut national de l'origine et de la qualité (INAO) restricted the viticultural zone to areas containing only Kimmeridgian. Recognizing that higher quality vines were grown in Kimmerigian, all grand and premiers crus were from this soil. But since there are no exact lines to determine where one starts and one ends, this proved to be more difficult to execute and in 1944 the Petit Chablis AOP was established for those vineyards consisting mostly of Portlandian soils. The two "lower" tiers of the AOC Chablis and Petit Chablis have more of this soil. Sixty-six percent of all Chablis is from the generalize AOP Chablis while 19% is from Petit Chablis.  
Petit Chablis: On both sides of the Serein valley, the Appellation d'Origine Contrôlée of Petit Chablis forms one of the rings of the Chablis area, with soils dating from the Tithonian age, a little more recent than those of the other appellations in the region. 100% Chardonnay, there is nothing "little" about Petit Chablis. (Chablis wines)

Chablis: Located near Auxerre in the Yonne department, the Chablis wine region runs alongside a little river with the soothing name of the Serein. The Cistercian monks of Pontigny Abbey did much to develop the vineyards from the 12th century onwards. (Chablis wines)
The more exclusive AOPs include the Premeir Cru and Grand Cru making up 14% and 1% of total production respectively. Between these two AOPs, there are 47 climats. The term climat was coined in the 1500s and made official by the INAO in 1935 and are are specific designated plots of land that experience different geological and climatic conditions. Each climat is further divided into Lieux-dits (singular: lieu-dit), translated meaning 'named place'. These are small geographical areas. They may be may be uninhabited, or inhabited in which case they would be called an hameau (hamlet.)
There are 70 lieux-dits within the AOPs, but only 47 climats are recognized. There are 40 Premiere Cru climats and 7 Grand Cru climats that are allowed to appear on a label. Grand Cru vineyards are held to more strict requirements in both vineyard management and wine production. These include an increase in the minimum potential alcohol levels from 10% for Chablis AOP to 11% for Chablis Grand Cru AOP, a decrease in maximum yields from 60 to 54 hl/ha and extended bottled aging. (January 1 of the second year after the harvest) Additionally, the grand cru climats are the only vineyards routinely harvested by hand. Finally, in order to bear the seal of Grand Cru AOP the wines are subjected to blind tastings to guarantee quality. There is a wonderful 5 minute video that discusses the climats in more depth. 
Chablis Premier Cru: This village appellation is produced in the communes of Beines, Chablis, La Chapelle-Vaupelteigne, Chichée, Courgis, Fleys, Fontenay-Près-Chablis, Fyé, Maligny, Milly and Poinchy. Today, 40 Climats can be associated with the label Chablis Premier Cru, including 17 main "flag-bearing" Climats.

Chablis Grand Cru: Chablis Grand Cru can be found in the commune of Chablis and on the right bank of the Serein, the little river which runs through the region to the northeast of the village, and is at an elevation of between 100 and 250 meters. Enjoying an excellent sunny location, the Chablis Grand Cru appellation is unique. It is spread over seven Climats, whose names feature on the labels, each with a distinct character as the Chardonnay demonstrates its wonderful variations: Blanchot, Bougros, Les Clos, Grenouilles, Preuses, Valmur and Vaudésir.
Pure Bliss…
In late May, I was a participant in a #PureChablis tweetup in honor of Chardonnay Day. The event was moderated by Master of Wine Christy Canterbury. We tasted through four samples, a representative bottle from each AOP and each glass was pure bliss.
2018 La Chablisienne Petit Chablis
eye: pale lemon
nose: medium aromas pineapple, flint
palate: dry, medium acidity, low alcohol, light body, medium flavors minerality, pineapple, green apple, medium finish
facts: SRP: $22, ABV 12%, planting density 5,500 to 6,500 vines/ha, average age of vines 15 years, aged on lees in stainless steel
2018 Isabelle et Denis Pommier Chablis
eye: pale lemon
nose: light aromas green apple, mineral, lime
palate: dry, medium acidity, medium alcohol, medium body, medium flavors citrus peel, crisp apple, we stone, lime, medium finish
facts: SRP: $29, ABV 12.5%, certified organic, average age of vines 25 years, static settling for 24 hours, alcoholic fermentation on native yeasts, malolactic fermentation in stainless steel tanks, maturing on fine lees for 6 months 
2018 Chanson Chablis Montée de Tonnerre Premier Cru
eye: pale lemon
nose: medium aromas apple, peach, petrol and honey
palate: dry, medium acidity, medium alcohol, medium body, pronounced flavors pineapple, crisp apple, citrus peel, medium finish
facts: SRP: $47, ABV 13.5%, vinified and aged for 9-12 months in oak casks (demimuids), moderate new oak. 
Louis Michel & Fils Chablis Grand Cru Vaudésir
eye: pale lemon
nose: light aromas apple and peach
palate: dry, medium acidity, medium alcohol, light body, medium flavors salinity, oak, brown spice, minerality, crisp apple, long finish
facts: SRP: $85, ABV 13%, spontaneous malolactic fermentation, natural yeast, bentonite fining, aged in stainless steel for minimum 18 months
Rosemary George, MW said "Chablis is Chardonnay, but not every Chardonnay is Chablis." and I hope that this article helps those still in the ABC clan to give Chablis a try. Just remember, if you are an ABC, it's time to learn CDE!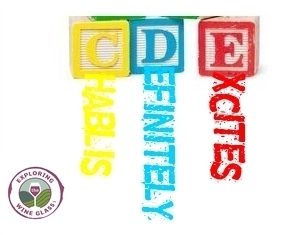 ~Sláinte!
Dracaena Wines has received consistent 90+ ratings and multiple Double Gold medals. Click image to order yours today and let Dracaena Wines Turn Your Moments into Great Memories!