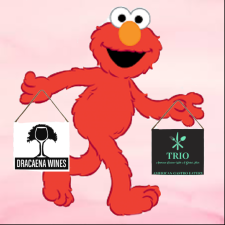 Welcome to our latest installment of #WinephabetStreet brought to you by Dracaena Wines and Trio North Wildwood. In this series, Debbie Gioquindo and I work our way through the wine world one letter each month. We discuss the characteristics and history of the grape, as well as suggested wine pairings. So uncork, unscrew or saber that bottle and connect with us as we chat, laugh and drink wine all in a laid back atmosphere.
Z is Zweigelt
In My Glass
2018 Netzl Rubin Carnuntum Zweigelt and 2016 Netzl Ried Haidacker Zweigelt
Variety is the spice of life and we have loads of options for you to choose from in order to listen. Ready to listen now? Just click the play button. 
Can't listen right now, no problem, click the title link and you will be brought to our homepage where you'll have the option to download the podcast. 
Don't have time right now or prefer to listen on the run? We are on iTunes, Google Play Music, Spotify, RSS Radio, Overcast, Pocket Cast, TuneIn and Stitcher. You can even ask Alexa to "Play Exploring the Wine Glass." We'd appreciate you clicking the subscribe button on your favorite podcast app and please take a minute to review us. Each review will help others to find us! 
Podcasting not really your thing? No problem, You can watch a replay of  the live stream video on our YouTube channel or right here. I hope you enjoy!  
Thank you to Christina Netzl of Weingut Franz & Christine Netzl in Austria for sharing not only her wines, but her extensive knowledge of Zweigelt with us. And a huge shoutout to Trink Magazine for making the connection. Our next episode of Winephabet Street will air on Monday, March 14th at 5pm PT, with our special guest host Wines of Armenia. You can sign up for a reminder here. The letter of the day will be A and it stands for Areni. And don't forget to head to our Winephabet Street website to find out more.
Follow me on Instagram!   Follow me on Twitter!
STITCHER | iTUNES | GOOGLE PLAY | SPOTIFY | PODBEAN
GIVE US A RATING AND REVIEW
Want to catch up on previous episodes?
SEASON 1 EPISODES

SEASON 2 EPISODES

~Sláinte!
We've stacked the odds so that you can get our award winning wines without breaking the bank. Click the image to find out all of the benefits of joining the CHALK CLUB including free shipping and progressive discounts.