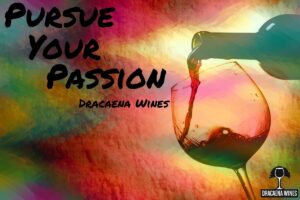 What is the definition of being successful? Is it making more money than you know what to do with? Is it having letters after your name that people aren't even sure what they mean? Or is it simply being happy? When Mike and I decided to enter the wine business, we knew it wasn't going to be an easy road. We were realistic. We understood that we would neither be an overnight sensation, nor ever be as recognized as Robert Mondavi. That's not why we entered the business. We entered the wine industry because we love wine and it was our dream to own a winery. We chose to not just wish or dream about it, we made a conscious decision to make it happen. We chose to Pursue Our Passion.
It's a scary thing chasing down your dreams, but if you don't enter the race you are never going to win. One of my favorite sayings about Pursuing Your Passion was made by "The Great One," Wayne Gretzky. He very eloquently stated, "You miss 100% of the shots you don't take." He knows you need to take risks. You need to leave the safety net that tethers you to your comfort zone so that you can experience what happens next.
In this, what has become a monthly tradition, a guest blogger will tell you their story of how they pursued their passion in the wine industry. These people understood what Van Gogh meant by "I would rather die of passion than of boredom."
The Wine Siren. I love that name! Although I have not had the privilege of meeting Kelly in real life, (yet) I know we would get along fantastically. I am hoping that we meet this summer or in November at the Wine Bloggers Conference! I love following her on twitter and instagram because she always has something interesting to say and that isn't always easy in 140 characters or less. But I find that if I am smiling or thinking to myself "what a great post" it seems that if I scroll to see who's post it is, it often turns out to be Kelly's.   
So what is a siren? A siren in classical mythology is a sea nymph who lures mariners to their destruction by their seductive singing. In non mythological terms, a siren is a woman who is seductively beautiful or charming who beguiles men. Instead of leading men to their destruction, Kelly leads people to wine. Her charming ways and seductive style leads people to the holy grail of wine. Her goal in her own words: "To share and demystify the complex processes in making world class food and wine and the people behind them."
Her story of how she Pursued her Passion begins in Hawaii, is currently in Napa but am pretty sure that's not where it will end. Kelly, like me, does not like to stay still for too long. I hope you enjoy her story as much as I did.
The Inspiration for The Wine Siren I Found in Napa
To excel is part of my DNA. I made that my goal in every vertical (six) I entered. I went from start-ups in Tech to Real Estate. The motivation was money, with it came the titles and national recognition. My dreams were on hold until my youngest grew older. Then the unexpected passing of two of my immediate family members, just months apart, snapped me out of my reverie.
Hawaii was home since my teens. Land of great suntans, beautiful beaches and limited options for all. It forced me to create opportunity. I didn't have the luxury of pursuing a dream. The exorbitant cost of living kept me running on the rat wheel.
After a few years of bartending & waitressing in Hawaii, I hit a financial glass ceiling. So I went on to college at a small Honolulu University to get a degree in making money. I repeated this pattern of money as a priority for several iterations of my professional life. Living in Hawaii was not cheap. The talent was plentiful & demand for cheap rates of anything with "creative" on it was higher than a helium balloon on a breezy spring day. It was like Cut-Throat Kitchen in the business world. The only thing cooking is the people cutting rates.
It was 36 years after I first arrived in the islands that I understood my affinity for start-ups. I'd done them since my first job out of college. 80 hour work weeks, promises of pay, some with incredible payoffs and others a whisp of smoke in the air. I received a BS in papering walls with my stock certificates, and I understood the risks associated with them. I also knew the secrets of success. I could apply the same strategies I knew so well to a dream. My dream. First I would have to determine what that dream was. I was still working in the real estate industry at the time I decided to take up acting. It was something I'd dreamed of since I was a little girl. Taking a leap, I began studying acting in with real actors of varying levels of success. My first audition was for Director, Alexander Payne. He'd directed Sideways and was casting The Descendants. I didn't get the part. I auditioned for LOST, various commercials and finally Hawaii 5-0.
Hawaii 5-0, was going to be my big break. The call came from my agent after the audition who said "Don't get too excited, but the producer and director loved your performance. They're sending your audition to Network." The network liked my screen test too. Upon review, they called my agent and asked for my acting reel. The problem was, I was so new to acting, I didn't have a reel. Well, I did have one of sorts, the hundreds of vlogging interviews I'd done for my real estate podcast. But that was not going to fly. I lost the part.
To understand acting as a business you have to understand the dynamics. Right place right time sort of philosophy. The most important dynamic was how one could lose out on a role. Reasons you could lose a part ran the gamut. From the director having a bad day to reminding them of an ex-wife, the list was endless. I was not going to move to Los Angeles (the mecca of all things acting) and go back to waitressing while auditioning. The 5-0 debacle showed me odds were not in my favor. I went back to my list of goals and chose the next on the list.
Wine & Food. I'd dreamed of living in Northern California Wine Country one day, riding my horse through the vineyards. It was so far from Hawaii and world's apart. I also knew it was time to move on. I'd been visiting Sonoma for the past 25 years and thought it idyllic, but there was more to explore. The more I learned about the area, the more Napa beckoned. Now we call Napa home. My husband found the perfect Hawaii-esque view on the Napa Riverfront complete with palm trees. It's a short stroll from the epicenter of all things wine. I'd begun writing in earnest to advance my wine writing chops. I'd been contributing to Huffington Post, and writing about things I didn't enjoy. Now I was writing content, and I had the fire in my belly. The opportunity came from many places, Willamette, Napa, Sonoma, Mendocino, even Provence vintners, and winemakers! After a year, I began incorporating video back into the mix. That's what I'm good at, and that's where my heart is.
The Wine Siren focuses on the people excelling at their craft. Start Ups, Innovators, and Tastemakers. Interviews with individuals who contribute to the scene of wine & food like acclaimed abstract artist Penelope Moore, and James Beard Award Winning Chef, Kim Alter of SF Blackbird. On the Vintner/Winemaking side, you can expect winemaking/marketing geniuses like Joseph Wagner of Coppercane fame. The goal? Simply to bring others closer to this world of incredible people who bring us unforgettable experiences.
Love an adventure? Catch me at TheWineSiren.com Special thanks to the wonderful people at Dracaena Wines for including this guest post.
Santé!