Recently I had the pleasure of attending a virtual tasting including five New York wineries that are producing Rosé. The event was sponsored by New York Wine and Grape Foundation. The tasting was moderated by Wanda Mann, founder of Wine with Wanda, and East Coast Editor for Somm Journal. 
What is Rosé?
There are two main ways to make Rosé. The first is known as saignée. This is the term used when the winemaker bleeds the grapes to create both a red wine and a rosé. In this situation, the fruit is typically picked within specs for the red wine. The bleeding is performed to deepen the color and increase the concentration of the red wine. You can typically tell these wines by their darker color… although that is not always a determining factor.
The second method is called the direct press method. In this scenario, the fruit is picked with the intention that it will be a rosé. This means that it is picked earlier than if it were going to be a red wine, it goes through the typical wine making process, but remains on the skins for a short period of time allowing only a brief amount of color after press. It then goes through fermentation. Since the juice is in contact with the skins for a brief period of time, it takes on less color and flavor than in the saignée method. The left over must is not used for winemaking and is often returned to the environment as compost. 
There is a third method, literally blending red and white wine. However, this is not common procedure except in rosé Champagne. This is known as  rosé d'assemblage. Specifications allow up to 15% of still red Champagne wine, either Pinot Meunier or Pinot Noir, to the white wine, Chardonnay. 
There are a lot of opinions out there about whether one method is better than the other. Many people feel that since the saignée method is making two wines from one harvest, the winemakers are opportunists.  They really are trying to make a better red wine, and the rosé is simply an additional by-product that they can sell, rather than let it go down the drain. I am not here to tell you which is better, just to provide the facts. You decide which method you prefer and enjoy! 
The Wineries
There were five New York Wineries participating in the discussion. All five are producing rosé in the direct press method. Rosé is always thought to be light and fun, but that doesn't mean it can't be a serious wine, and these winemakers make a point to prove that. 
Sheldrake Point Winery
Located on the western shores of Cayuga Lake is Sheldrake Point Winery. From 1850 to the mid-1980s, the facility was a dairy. It remained vacant until 1997 when a small group of wine enthusiasts came together to purchase the land and open a winery. Within its 60 acres of vineyards, Sheldrake Point has 10 vitis vinifera varieties of which they use to produce about 8,500 cases. 
Their vineyard lies just about a football field away from the shores of Cayuga Lake. The vines are planted in predominantly well-drained, gravelly loam and clay glacially deposited atop shale, limestone, and slate, are heavily influenced by the lake climate and are sustainably farmed.
Winemaker Dave Breeden led us through the tasting of his 2020 Estate Bottled Dry Rosé. The wine is 100% Cabernet Franc. In his words, "the Cabernet Franc just wants to be a Rosé." He continued "The 2020 was a spectacular vintage; just the right amount of rain." He often harvest Cabernet Franc in early November, but with this vintage harvested in late September. The winemaking process included a 24 hour cold soak, fruit being crushed and destemmed and then pressed. The wine fermented for 15 days in stainless steel tanks 2,800 cases were produced and retails for $18.
Fresh strawberries and raspberries with a hint of sour cherry Purchase Sheldrake Point Winery dry rosé.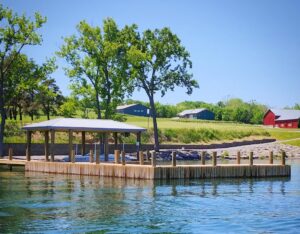 Try the 90+ rated and multiple Double Gold medal winning wines of Dracaena Wines and get a 10% discount off your first order. Click the banner below and use code "Explore" at checkout.

Milea Estate Vineyard
Located in the Hudson Valley, Milea Estate is a new comer to the wine game. The winery is surrounded by rolling hills and is just to the east of the Hudson River. In 1984, Barry Milea and his father purchased property in the Hudson Valley as a summer home, but fell in love with agriculture. After ten years of learning the soils "secrets" Barry Milea, Ed Evans and Bruce Tripp opened Milea Estate. After their first vintage was greeted with acclaim, Barry purchased nearby property which now includes 98-acre estate. 
Milea Estate is a proud participant of Slow Food and the New York Grown and Certified Program. After planting a mere seven vines, Barry was hooked. A common acquaintance of Barry and Bruce suggested that Bruce contact Barry since he was an amateur winemaker and Barry was looking to expand into a winery.  After tasting Bruce's wine, as they say the rest is history. 
Bruce led us through the tasting of 2020 Milea Rosé of Pinot Noir. The wine is a blend of 80% Pinot Noir, 15% Pinot Meunier and 5% Valvin Muscat. Any true wine lover knows that Pinot Noir is a finicky (that is putting it nicely) grape. Many winemakers avoid it, but Bruce loves it, so there was never any doubt that the rosé would be made of it. 
You are probably familiar with both Pinot Noir and Pinot Meunier, but then there is that third grape… Valvin Muscat. It was a new one to me!  According to Bruce, it is a highly aromatic grape, providing aroma and fruitiness to the wine. It is a hybrid grape. A cross between  Muscat Ottonel (vitis vinifera) and the hybrid Muscat du Moulin. It has definitive Muscat characteristics including a distinct flavor profile of apricot and peach.
The wine also saw an overnight soak, crushed and de-stemmed . 3/4 ton of the fruit is estate while the remaining is from Niagara Escapement. It is a limited release wine, has 12.3% ABV and retails for $21. Floral, peach and cherries  Purchase 2020 Milea Rosé of Pinot Noir
Fox Run Vineyards
Fox Run Vineyards began its story as a dairy farm on Seneca Lake. It wasn't until 1984 that Larry and Adele Wildrick transformed the Civil War era farm into a vineyard. They followed up in 1990 with the production of the winery. Today, Fox Run Vineyards has 50 acres of east-facing vineyards planted on glacial soil.  Together with vineyard manager, John Kaiser and winemaker Peter Bell, Fox Run Vineyards prides itself on producing quality wines that express the terroir of which they come. 
The winery practices sustainability through a variety of practices including the use of biodegradable herbicides/pesticides/insecticides. Dry farming to limit the water use and the introduction of mycorrhizae fungi into the soils to create a more balanced and healthy soil environment. But the coolest thing, and one I would love to see in real life is a machine that crushes their glass bottles to sand that they then spread in the vineyards. 
The tasting of their 2020 Dry Rosé was led by winemaker Peter Bell. The wine is a blend of 60% Lemberger and 40% Pinot Noir. It spend a mere 2 hours on skin prior to processing. He discussed how Lemberger is also known as Blaufränkisch. It is an Austrian variety that's a cross between Blauer Zimmettraube and Weißer Heunisch. It's history shows German descent gaining its original Lemberger or Limberger name from the town of Limberg. 
Peter enjoys working with Lemberger because it doesn't over crop, it is easy to grow, is cold tolerant and is a mid season ripener, so it doesn't interfere with harvesting of the Bordeaux varieties. 688 cases were produced and the SRP is $18.00. Bright ripe strawberries and cranberries Purchase Fox Run Vineyards Rosé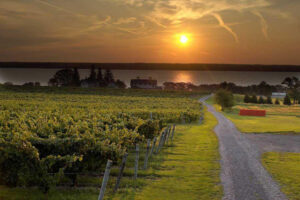 Wölffer Estate
Wölffer Estate has been producing wine since 1988 and is by far the largest of the wineries that participated in the event. Roman Roth mentioned that they produce seven Rosé wines including "Summer in a Bottle" of which they make over 70,000 cases. (After a collective gulp from the other winemakers, there was a bit of jovial razing about how easily that large number came out of his mouth) Wölffer Estate produces several different tiers of Rosé including a gin! Their mission is to produce premium, distinctive wines, ciders and spirits. 
The winery was founded by Christian Wölffer and today is run by his children. Roman Roth is the winemaker as well as a partner. The estate is an impressive 170 acres including 55 acre sustainably farmed estate vineyard and is located in Sagaponack, NY.  In addition to that vineyard, they manage 52 acres on the North Fork of Long Island, 200 acres in Mendoza, Argentina, 2.5 acres in Mallorca, Spain and 160 acres managed in collaboration with North Fork growers. 
Wölffer Estate has been producing Rosé since 1992. Roman sounded like he truly enjoyed his work. His mention of the seven… yes seven varieties that are included in the 2020 Wölffer Estate Rosé, is a blend of 44% Merlot, 33% Cabernet Sauvignon, 16.5% Chardonnay, 5.5% Cabernet Franc, 0.5% Riesling, 0.3% Pinot Noir,  and 0.2% Gewürztraminer reminded me of mad scientist enjoying the science behind the art. Floral, passion fruit, mandarin.  Purchase Wölffer Estate Rosé
Anthony Road Wine Company
In 1973, John and Ann Martini decided to listen to their friends who continued to rave about the Finger Lakes and the wines produced there and moved to their home on Anthony Road on the west side of Seneca Lake. With some help from friends and family they planted 5-acres of vines.  Today, their estate has grown to 30-acres. 
Peter Becraft came to winemaking in a not so normal fashion. Although the longer I am in the wine world, I am learning there no longer is a "normal." He graduated college with a Fine Arts degree and was, a casting director for a fashion photographer in New York City, prior to entering the wine industry. In 2006, Peter was simply visiting the tasting room, when he met the then winemaker Johannes Reinhardt. Conversation led to barrel tasting and chocolate samples and then an offer to come help with the next harvest. Peter jumped at the opportunity and that Fall, worked in both the vineyard and cellar. He continued to work and learn from Johannes and when the opportunity to become head winemaker arose, he happily took it. 
The 2019 Anthony Road Rosé of Lemberger is part of their gray label series. It is currently sold out, but they are preparing to bottle their 2020. It is 100% Lemberger. The fruit is harvested at the same time as it would be for the red, it is crushed and allowed to soak on the skins for several hours. It is then pressed and allowed to go through fermentation. The primary fermentation took place in stainless steel and French oak barrels. After two months in barrel, the wine is then blended back with the juice in tank. White flowers, citrus and raspberry  Purchase the 2020 Anthony Road Rosé of Lemberger
Rosé Through The Winemakers' Eyes
As I mentioned earlier, there are a lot of opinions about Rosé. Not only about the winemaking technique used, but also about it's value as a wine. Is it a trend? Is it just a way to make a fast dollar for the winery? Is it a wine that should be taken seriously? These winemakers came together with some very definitive answers to those questions.
Rosé is not as easy to make as people may think. A lot can go wrong in the process. Rosé wines require proper picking times. Pick too early or too late and the wine does not come out with that acidity and refreshing palate that consumers expect. The skin contact is so important, and it is easy to remove the juice too early and equally bad if it sees too much contact. Rosé wants to undergo spontaneous malolactic fermentation, which is not wanted in that crisp Rosé and it is a stubborn wine, often ending up with a stuck fermentation. So, yes, Rosé needs to be respected and needs to be taken seriously. These five wines are excellent examples of what a Rosé can be when winemakers understand and respect the process.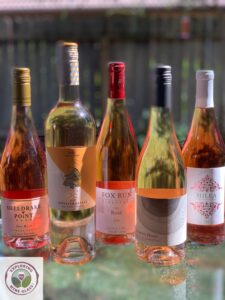 ~Sláinte!
We've stacked the odds so that you can get our award winning wines without breaking the bank. Click the image to find out all of the benefits of joining the CHALK CLUB including free shipping and progressive discounts.