Oscar Wilde once said "Imitation is the sincerest form of flattery that mediocrity can pay to greatness." Well, at Luke Columbia Valley, they don't believe that statement, Instead, they believe in being an original. In 2012, Thomas and Kristin Vogele brought a combined 30 years of wine business experience and redirected it into making bold and complex wine. They chose Luke as their name, in honor of the Wahluke Slope AVA in which the wines are created. 
What's In a Name? 
Wahluke is the Native American term for "watering place." The Wanapum are the original inhabitant so the Columbia Plateau, creating small villages along the Columbia River. They flourished living off the plentiful salmon and the plants along the river. After the Hudson's Bay Company arrival in the early 1800s, the Wanapum life changed drastically. As the US government tried to force the Native Americans onto reservations, the prophet Smohalla refused to surrender and led his people to Priest Rapids. 
Over the years, small pox and increasing government impositions changed their lives forever. At one time, their population was as small as 50, but the Wanapum chose to remain an unrecognized tribe, not accepting government assistance. Instead, they chose to work with other tribes in order to preserve own culture and traditions.
Bold and Determined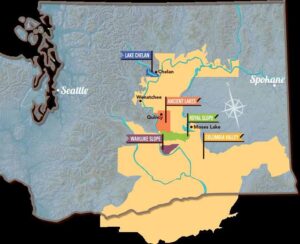 The winery obtained its name from the Wahluke Slope AVA, the southern slope within the Columbia Valley AVA. The AVA, established in 2006, consists of 80,000 acres with approximately 8,000 planted under vine. It is one of the hottest and driest regions in the state, resulting in mandatory irrigation. Thanks to remnants of the ice age, the soil is composed of both sand and massive boulders. There is a constant breeze going through. 
Wahluke Slope is located completely within Grant County, WA. It is bordered the Columbia River, Saddle Mountains, and Hanford Reach National Monument and is most known for producing bold red wines. It produces approximately 20% of all Washington wines. 
The AVA is marked by a large alluvial fan reaching down to the Columbia River. According to Peter Devison, Luke's consulting winemaker, "You can have really, really warm days, but we also have nice airflow, so you get some cooler nights too from the river effect." With its southern exposure, there is no lack of sun allowing the fruit to ripen with rich flavors and high acidity, plus the Columbia River  minimizes the risk of frost.
Until recently, the Wahluke AVA has been one of the more silent sub-AVAs of Columbia Valley. But Thomas and Kristin, Pacific North West natives, recognized its potential and are determined to demonstrate how spectacular the fruit can be. Their wines spotlight each varietal's fruit sourced from distinct vineyards.
We've stacked the odds so that you can get our award winning wines without breaking the bank. Click the image to find out all of the benefits of joining the CHALK CLUB including discounted shipping and up to 35% off all purchases. 

Undeniably Complex 
There is a mysterious man on all Luke Columbia Valley labels. (I originally likened to Cool Hand Luke before reading more about the winery)
I heard stories about him for years, saw him in the flesh a few times, and spoke to him only once. The true depth of a man's character is often unknowable, but even one conversation was enough to convince me that Luke was an imitation of no one. He revealed himself slowly, like a freed wind emerging from the shadow of a mountain. Seemingly ordinary at first, but undeniably complex. Bold and determined, but unabashedly generous. 
2018 Luke The Companion
The wine is a red blend consisting of 60% Cabernet Sauvignon 20% Merlot 20% Syrah. The fruit comes from ten vineyard sites within the Wahluke Slope AVA. The label stars Luke, they mysterious man, but he has his dog along with him as his companion. It received 92 points in Wine Enthusiast and retails for $22. 2,800 cases produced. Aged in both American and French oak. 14.2% ABV
Deep ruby. Pronounced aromas cola, black cherry and black plum. Dry, medium acidity, tannins, body and alcohol. Pronounced flavors black plum, dark chocolate and blueberry. Medium finish. 
Together, we are a perfect union of blended character. Our shared language – a nod of the head, a gentle gesture. Our shared currency – enduring loyalty. Joyously inseparable; silent in our companionship, because everything we could
ever imagine is already expressed between us.


2018 Luke Merlot
Luke Columbia Valley varietal Merlot contains 4% Cabernet Franc. Fruit is sourced from Stone Tree, Weinbau, Ravenscliff, King Fuji, and Southwind vineyards. ABV 14.2%. Aged in French & American Oak and 2,911 cases were produced. The wine also received 92 points in Wine Enthusiast and retails for $25. Medium ruby. Medium aromas of red cherry, menthol and leather. Dry, medium acidity and tannins. Low alcohol. Medium body. Medium flavors cedar, brown spice and red cherry. Medium finish. 
2018 Luke Cabernet Sauvignon
Wrapping up this trio of 92 pointers, is the Luke Columbia Valley Cabernet Sauvignon. 96% Cabernet Sauvignon, 3% Malbec and 1% Petit Verdot. There is something about Petit Verdot that I love. Such a small amount provides so much depth and complexity to a wine. Their Cabernet Sauvignon is in much larger production than the other wines with 13,702 cases produced. Sourced from a combination of Weinbau, Ravenscliff, Southwind, Obelisco, and Seven Hills vineyards the wine contains 14.2% ABV and once again aged in both American and French oak. This wine was also named #82 in Wine Enthusiast's Top 100 wines of 2020. SRP: $25 Medium ruby. Medium aromas cigar, cassis, brown spice and blueberry. Dry, medium acidity, tannin and alcohol. Light body, medium flavors black cherry, baking spice and plum. Medium finish.


An Imitation of No One
Luke Columbia Valley is definitely forging their own path. These wines are bold, full of fruit expression and an exceptional value. Their back label captures their essence: (am I the only one who would love Luke to be a character in a Western novel?)
The true depth of a man's character is often unknowable, but one conversation was enough to convince me that Luke was an imitation of no one. He revealed himself slowly, like a freed wind emerging from a shadow of a mountain. Undeniably complex. Bold and determined, but unabashedly generous. 
Watch my IGTV introduction of Luke Columbia Valley Wines. 
~Sláinte! 
Try the 90+ rated and multiple Double Gold medal winning wines of Dracaena Wines and get a 10% discount off your first order. Click the banner below and use code "Explore" at checkout.