On the second Saturday of every month a group of foodies and winos get together to discuss their favorite two topics.  This month's #WinePW is hosted by Valerie Quintanilla of GirlsGottaDrink.com. One of the reasons I joined this group is because Mike and I tend to stick to the regions we know.  We love California, Oregon, and Washington wines, and hardly ever step outside that comfort zone.  This group is a spring board to "force" us to try new areas and expand our wine horizons. Last month, was a nice "break-in" to the group, since it centered more on the food and we were able to pair our dish with a wine of our choice. We went back to our cozy place and chose a Zinfandel. But this month, there is no blankey to cuddle, Arneis is a brand new varietal and Italy is a region we are very unfamiliar with.  So needless to say, I was very excited to explore (esplorando) this wine and region.
My research began immediately.  Considering when the topic was announced, I didn't even know that it was a varietal, I thought it was a region.  (see, my goal for joining the group has already been achieved, I learned something new!) After discovering that it was indeed a grape varietal primarily found in the Piedmont wine region of Italy, I further read that it is featured in the white DOC/G wines of Roero and Langhe and that it is permitted as a blending grape in the red Nebbiolo based wines of Roero. To my surprise, it is also found in my beloved California and Oregon, so I will be keeping my eye out for it there also. 
Arneis is also known as Bianchetta, Bianchetta d'Alba, Bianchetta di Alba, Bianchetto, Bianchetto Albese, Bianchetto di Alba, Bianchetto di Verzuolo, and Nebbiolo Bianco.  Arneis means little rascal in Piedmontese. It is said to have gotten its name because it is regarded as a somewhat difficult variety to grow. It is considered to be a dry and vibrant medium bodied wine with notes of pear and apricot. It tends to have low acidity and is regarded as a varietal that ripens early.  In fact, it is often harvested before the end of September.  The grape is highly acceptable to powdery mildew, consistently provides low yields and easily oxidizes as a wine.  I'm guessing it is a labor of love to grow this grape variety.  
The vino we chose was a 2013 Vietti Roero Arneis.   As Jimmy Fallon would say, it's time to weigh  the good with the bad. It's time for "Pros and Cons of Purchasing the 2013 Vietti Roero Arneis: (please excuse any mispronunciation, I tried my best)
The Vietti history dates all the way back to 1919 when the patriarch of the family, Mario, made his first wine. He revamped the family farm into vineyards and his hard work turned into a well-known wine business.  By 1952, Alfredo Currado, began working at the Vietti winery and married Luciana Vietti (Mario Vietti's daughter) in 1957. By this time the winery was recognized as one of the top producers in the Piemonte area and was one of the first to export to the United States.  Alfredo Currado took over managing the winery after Mario passed away in 1960 and became a groundbreaker with the concept of creating single vineyard designation wines. (Brunate, Rocche and Villero) He is known as the "Father of Arneis" after investing an inordinate amount of time rediscovering and understanding Arneis. Thanks to his efforts, Arneis has become the most famous white wine from Roero and causing other vintners to take notice of the grape.  Many wineries in California are now cultivating and producing Arneis. Sadly, Alfredo Currado passed away at the age of 78 in May of 2010. Upon his death, his daughter Luca stated,  "The best way to remember him will be with a glass of wine and smiling."
We were more than willing to sit down with a glass and smile but choosing the meal to pair it with was a bit of a challenge. With Arneis' delicate aromas and flavors we needed a dish that would not overpower this wine.  It seemed its obvious mate would be a light fish dish, but since I do not eat any type of fish or crustacean that option was eliminated quite quickly.  I then turned to vegetarian dishes, but nothing was calling out to me as the perfect meal.  Then it hit me. I decided I was going to make lemon chicken piccata, with roasted garlic potatoes and Italian green beans. This in itself is a big deal, since if you follow my Exploring the Wine Glass blogs, you may have noticed Mike and I don't eat full meals.  A meat, potatoes and vegetables meal is a rare moment in our household.  We tend to stick to pasta, pizza, grilling brats and if there is a side dish it's probably a salad.  Unless it is Thanksgiving, Christmas or Easter, our dinner plates typically consist of a single entity, so I was really looking forward to this wine pairing.  Not only is it a new wine and wine region, it is a whole different type of meal for us.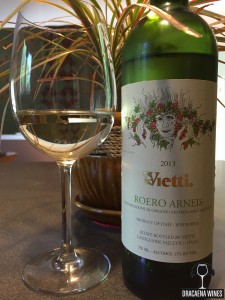 I have to admit, I was pleasantly surprised by the meal.  Considering I have never made chicken piccata before, I was a bit nervous. But it was super easy to make and in the end it was absolutely delicious.  I modified the recipes a bit. I added more capers than I was supposed to (I mean, what am I going to use capers for in the near future, so I just used them all) and I used concentrated lemon juice as opposed to fresh lemons. I couldn't bring myself to "waste" any of the Arneis in the recipe, so I went with chicken stock as opposed to the wine for the base.  With the Italian green beans, I added almonds to the recipe.  I liked the idea of the additional texture plus since Arneis is known to have almond flavors, I thought it would be a nice addition, and I was right.  The food paired perfectly with the wine and we enjoyed it on our patio.  When dinner was over, it was just about time to watch history in the making with American Pharoah winning the Belmont Stakes and the Triple Crown.  What a race!  Since we were outside Mike and I were watching the race on my iPad.  The race was about half way over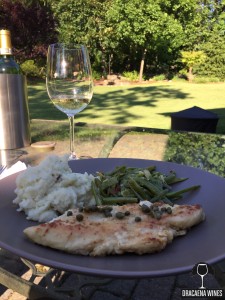 and we were both cheering for American Pharoah when all of a sudden a notification came across the top of the iPad.  It was a tweet from Adam Schefter stating that history has been made, congratulations to American Pharoah!  We both saw the notification and screamed! (there may have been a curse word or two)  It was like being told who the murderer was in a book you were reading or that one of your favorite characters met their demise on your favorite show.  Major spoiler alert!!!! Apparently there is a delay when watching TV on your iPad.  
Anyway, at least we enjoyed our meal and discovered a new wine. It was a great experience to try something new.  If it weren't for #WinePW, I can definitely say we would have never tasted an Arneis, nor would I have learned what a temperamental grape it is and the history behind it. For that, I am thrilled that I found this group.  Please check out my fellow bloggers and read about their Arneis experiences and the food they paired with it. 
A Summer Arneis Food Pairing: BBQ Chicken in a Citrus Butter Curry Sauce, GirlsGottaDrink
Spaghetti alla Carbonara for #SummerOfArneis #WinePW, Curious Cuisiniere
Kale Pesto Tortellini Paired with Arneis, Cooking Chat
Shrimp and Fennel Risotto with Arneis, FoodWineClick
Arneis through the Eyes of Malvira, Vino Travels
Heritage Grain Risotto with Roero Arneis, Wine Pass
Damilano Langhe Arneis Paired with Dungeness Crab and Pea Purée Crostini, Pull That Cork
Maltagliati con Sugo dei Porri e Trotte alla Salvia, Culinary Adventures with Camilla
Italian Arneis Wine for #WinePW (yum – linguini and clam sauce!), A Day in the Life on the Farm 
Summer of Arneis on #WinePW, Rockin Red Blog
Shrimp and Cheese Grits with Vietti Arneis, Enofylz Wine Blog
Shrimp, Fennel, Fava Bean Pasta with Vietti Arneis, Tasting Pour
In July Americans celebrate Independence Day and the French celebrate Bastille Day. July's Wine Pairing Weekend will take place on Saturday, July 11, led by Michelle Williams of Rockin Red Blog. The group will explore food and wine pairings from the United States and France. From Michelle, Get creative and make your favorite all American food and wine meal, your favorite all French food and wine meal, one of each or a combination of both! With these two regions the sky is the limit!
~Sláinte