Forgive me father, for I have sinned. It has been one day since my last wine. That is about all I remember from my many years in Catholic school. I do remember dreading the mandatory confessionals. I mean seriously, at seven years old, what could I really have to confess? So instead, like many of my friends, I made stuff up. Which is pretty hysterical, considering lying is a sin. I think, once, I actually confessed to tipping a cow – in suburban New Jersey! Let's get things straight there are no cows where I grew up. The priest obviously knew I was lying through my eye teeth, but I got the typical "say three hail Mary's." In retrospect, I'm sure he went home and had a laugh at all of us at the end of the day.
But onto a real confession,  I have never had Mexican wine before. I have traveled to Mexico on multiple times, but typically choose to drink Mexican beer while I'm there or stick to some well known wineries on a wine list. But this month, I was excited to join the #WinePW group as we dove into Mexican wine. I am so glad I did, because I was pleasantly surprised.
Mexican Wine History 101
The interesting thing is that although winemaking has been in this region for over 500 years, it really does not have a reputation, YET! Evidence shows that grapevines have been planted in Mexico since the Spanish conquest in 1521 when Listán Prieto carried seeds and cuttings from Spain. Afterwards, Spanish settlers were mandated to plant vineyards by Hernán Cortés.
As with many vineyards in the world, there was turmoil during the 1900s thanks to the little louse phylloxera. Unfortunately for the Mexican wine industry, the Mexican revolution which ended a 30-year dictatorship in Mexico added to the devastation. There was a brief resuscitation during the 1940s but another blow was struck in the 1980s with the economic crisis and the signing of the general agreement on tax and trade (GATT.) Many wineries were forced to fold.
With its accession to the GATT, Mexico has undertaken to bind its customs duties to a maximum rate of 50 per cent. Many imports will enjoy a lower bound tariff. The Mexican Government has also undertaken adjustments to fiscal measures, the import licensing system and to other non-tariff measures. (https://docs.wto.org/gattdocs/q/GG/GATT/1389.PDF)
Thankfully, times are changing. Over the past 15 years, the number of wineries in Mexico have quadrupled. The majority of wineries are small scale, although there are now a few large scale producers. An interesting caveat is that there are no formal appellations or other geographical indications. This is both a positive and a negative. While many New World wine consumers look to the labels for appellations, the lack of regulations allows for "A spectrum of grape varieties and wine styles defined only by the producers' own ideas and tastes, and quality is defined more through ethics and transparency" according to Wilton Nava, wine director at Mexico City restaurant Quintonil.
Pre-gaming
I knew exactly what I wanted to prepare for our meal. I wanted to stick to a Mexican style meal. If you read my posts, you know my husband and I are pizza maniacs. I combined the two and made Mexican pizza. You can find the recipe here. I truly think a good chef always has a glass of wine in hand while preparing their meal. (no, I do not consider myself a good chef and my husband will agree – I've been known to set a few fires in the oven)
Bubbles are always a great sip while working. I opened the NV Freixenet Mexico Viña Doña Dolores Brut Gran Reserva which is a blend of 50% Macabeu and 50%  Xarel-lo. The wine is made in the traditional method with 18-24 months sur-lies. The vineyard is located at 6,500 feet above sea level in the Ezequiel Montes appellation in Querétaro, Mexico. The municipality was founded by Julián Feregrino in 1861 and is considered to be Central Mexico. The soils are loamy clay which helps to retain the moisture in this semi-desert climate. Freixenetis the largest producer of vinos espumosos (Mexican term for sparkling wine.)
Main Event
We made the Mexican pizza using our air fryer. I absolutely love using the fryer, but the downfall is it is a slow go. I was only able to make one pizza at a time. (another great reason to have a wonderful glass of wine in hand while pre-gaming.)
The pizza is especially easy to make. (recipe) It has relatively few ingredients and can't be easier to assemble. My pizza is vegetarian, however, you can easily add ground seasoned beef or turkey to the recipe to bulk it up. I suggest adding enchilada sauce if you are adding the protein to the dish.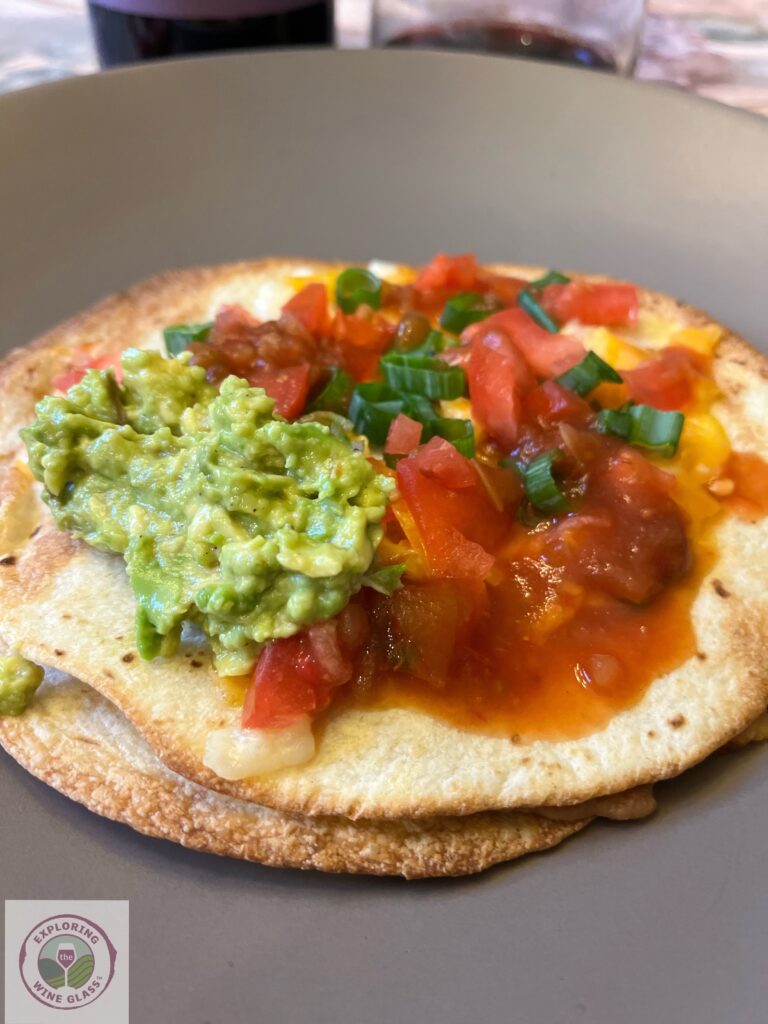 In the glass we poured a 2016 Paso de Serra Beatus Malbec. The wine is 100% Malbec and also hails from the Querétaro region of Mexico, but from Colón. The name is derived after Christopher Columbus (Cristóbal Colón, in Spanish). AT 815 square kilometers, it is the third larges municipality and lies at 6,466 feet above sea level. The wine spend 16 months in French and American oak and only 50 cases were produced.
As stated on Paso de Serra's website "Convinced that wine is made in the vineyard, we have found an expression of its own origin, product of climatic variations, which is what marks the character of the vintages." They pride themselves in producing wines that demonstrate "personality and character" of the soils they are grown in. After years of selling their grapes, the husband and wife team of Paso de Serra decided to produce their own wine in 2012.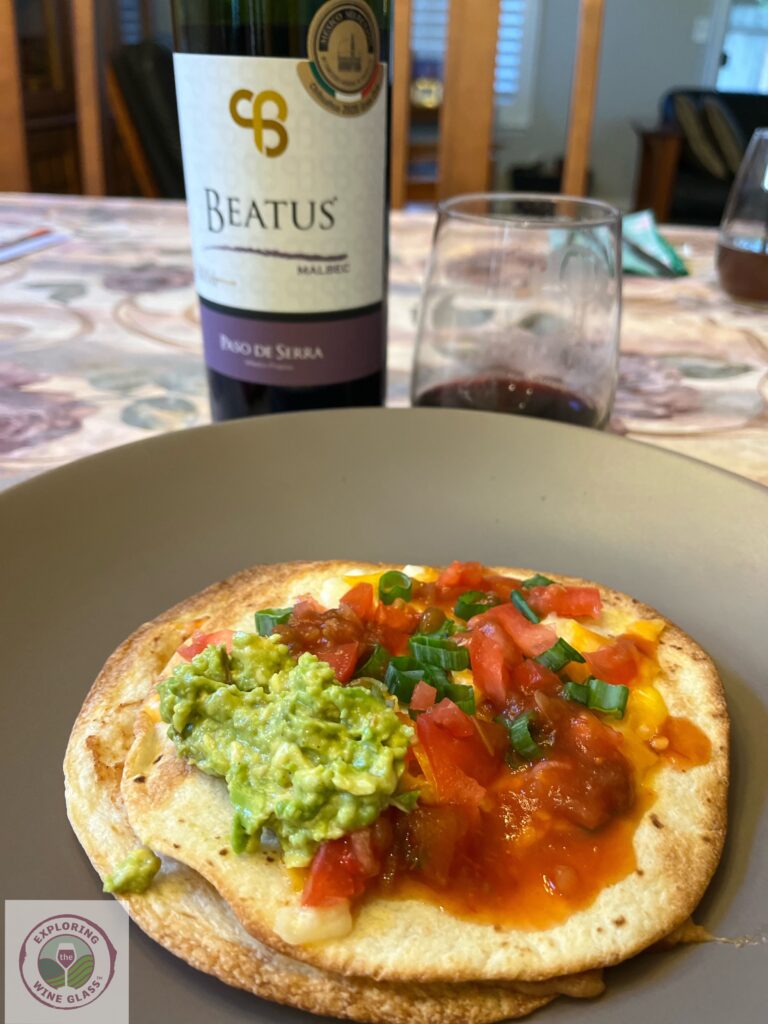 The wine poured ruby in color. On the nose, we got pronounced aromas of spice, chocolate, cranberry and tobacco. On the palate, medium flavors of cranberry, earth and tobacco. The wine had just a hint of sweetness, but I would still classify it as dry, with  medium acidity, tannin and alcohol.  Medium bodied with a medium finish.
It was an ideal pairing for the slight heat flavors in the pizza. There are a lot of recommendations for a Riesling or Sauvignon Blanc when pairing with guacamole. There is only a dab of it on the pizza and the majority of flavor comes from the refried beans and Malbec is an excellent choice. I also feel that the little hint of sweetness was ideal for the guacamole. I'd love to hear your thoughts on this pairing.
Tozi Imports
The wines were graciously supplied by Tozi imports, a family owned importer. They import wines from five of the seven wine regions of Mexico; Aguascalientes, Baja California, Guanajuato, Querétaro and Zacatecas.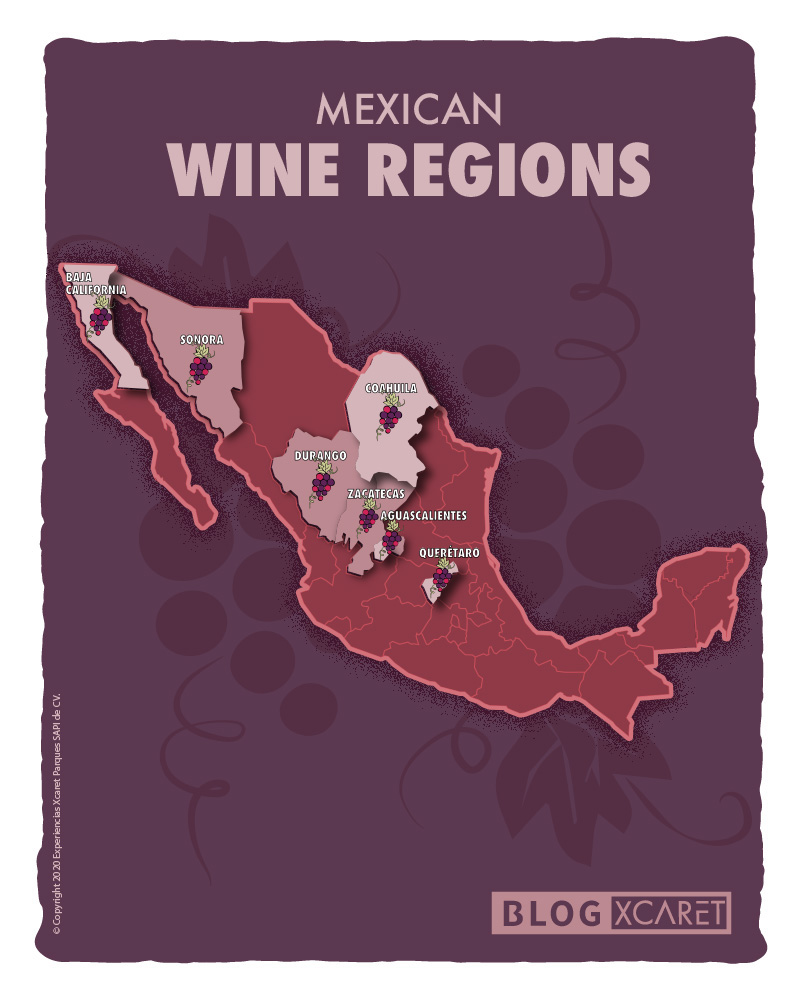 The husband and wife team of Tozi, Max and Kenya, fell in love with not only each other but also wine. Max's journey began as a child harassing his parents until they allowed him to have a sip of their wine. His love led to him becoming a sommelier. In 2015, he met Kenya who just moved to Boston from Mexico. After attending a friend's wedding in San Miguel de Allende, Mexico, Max fell in love with Mexican wine and culture.
A year later, they returned to Mexico for another wedding and with some spare time, Kenya suggested visiting wineries. Never turning down the opportunity to taste wine, and unfamiliar with Mexican wine, Max eagerly agreed. After tasting, the seed of importing the wine was planted.  In 2018, for their own wedding, Max mad sure to have Mexican wine served at the reception. The wine was a complete hit and the guests wanted more. Realizing that there it wasn't easy to obtain these wines in the United States, the seed of importing sprouted into a thriving business. Today, Tozi Imports  maintains a portfolio of fifteen wineries.
Learn More About Mexican Wine Pairings
Love the idea of Mexican wine pairings? What's not to love? Be sure to check out my wine loving friends' suggestions and be sure to leave a comment and let me know your thoughts.