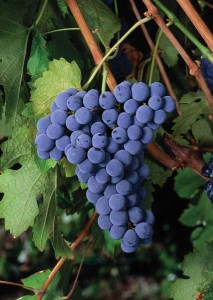 I am so excited.  I just found out that I finally have my own holiday! Wow! It appears that there is a lot of love out there for me. Maybe, could it be, that I'm not as underappreciated as I originally thought? I have to admit, that I was a bit jealous of some other varieties, but I never wanted to say anything out loud. Heck, my one son, Cabernet Sauvignon, has a day and my other son, Merlot, has an entire month! Even Sauvignon Blanc, [oh the memories of that romantic affair] has her own day. But I didn't want to complain. I don't really like to make a fuss, but I must admit, I am pretty darn happy now!
Back in 2015, as I understand it, this person named Lori Budd of Exploring the Wine Glass decided she was going to be the spokesperson for me. She researched my history and decided that December 4th would be a great day to celebrate me. [I'll tell you why in a minute] I was told she reached out to friends in the wine industry and spent a lot of time on social media promoting me and on December 4, 2015, she held a twitter chat all about me! It even trended! I don't want to get a big cluster or anything, but I think that is pretty cool, if I do say so myself. 
Try the 90+ rated and multiple Double Gold medal winning wines of Dracaena Wines and get a 10% discount off your first order. Click the banner below and use code "Explore" at checkout.

Before I explain why she chose the day, let me tell you a bit about myself. I was born in the Loire region of France in the mid-12th century. Although I am typically used as a blending grape with my two sons, Cabernet Sauvignon and Merlot, I am quite debonair on my own. I am one of the twenty most widely planted grape varieties. I must be important because I can be found in very important wine regions such as California, Bordeaux, Southwest France, Washington, Oregon, New York, Virginia, Pennsylvania, Michigan, Canada, Chile, Argentina, Australia, New Zealand, South Africa, Brazil, Italy, Hungary, Croatia and Romania. I have been known to answer to Breton, Véron, Noir dur, Bouchy, Bouchet, Gros Bouchet, Carmenet, Grosse Vidure, Messanges rouge, and Trouchet noir, but my real friends just call me "Cab Franc." 
So why December 4th you ask? Lori wanted a day with historical significance. It is believed that I was established in the Libournais region of southwest France sometime in the 17th century, when Cardinal Richelieu transported cuttings from the Abbey of Bourgeil to the Loire Valley. Cardinal Richelieu died on December 4, 1642 at the age of 57. I think it is pretty fitting that we celebrate me on the anniversary of the death of the person who is responsible for the start to my illustrious career! Quite honestly, without him, I don't know where I would be today. 
So, what do you think? I would love to have you celebrate with me! It is going to be a great party and it's real easy to do. Just grab a bottle of Cabernet Franc (I know you can order one here) and on December 4th at 5pm PT, sign on to twitter to join the conversation. You can find me pretty easily. I have three hashtags. #CabFrancDay, #LoveCabFranc and #CabFrancLove. I can't wait to meet all my fans on this year's chat and I'm so thankful for all the respect and love I'm getting lately! 
~Sláinte!
#CabFrancDay #MoreThanABlendingGrape 
Join the CHALK CLUB to guarantee your award winning wines!