Cabernet Franc better than its son
What makes Cabernet Franc so much better than his son, Cabernet Sauvignon? In one word; "Versatile." When people say, Cabernet, most people think Sauvignon. They tend to gravitate towards the "King of Reds" rather than think a little outside the box.  Cabernet Franc often isn't even in the mix. But, I'm here to tell you, you are seriously missing out if you do not start considering Cabernet Franc as a wine to pair with your meal. It comes in a such a spectrum; ranging from light on the palate to dark, in your face fruit.  With the ability to be that varying, the array of food pairings are endless. 
Father vs. Son
Cabernet Franc is typically lighter in color than Cabernet Sauvignon. It is
also lower in tannins and acidity. These are two major attributes why Cabernet Franc is so much more flexible with food pairings. Along with the fact that Cabernet Franc has the lower acidity and tannin, it does mean that it is typically drank earlier than it son. I am not saying that you can not age some Cabernet Francs, but generally speaking, if you want a wine that you are going to age, then you would likely choose Cabernet Sauvignon. But with the stat that
 over 57% of all wine is consumed within 48 hours after purchase, that puts another notch on the Cabernet Franc front. You can read more about the differences here. 
Why December 4th? 
I really felt (and feel) that Cabernet Franc gets forgotten when it really deserves to be more in the spotlight. So I created #CabFrancDay. December 4th is #CabFrancDay. As the founder, I didn't want to have a day that rotated. (I hate those holidays) In my opinion, pick a date and stick with it! So I did. I chose a date with historical significance.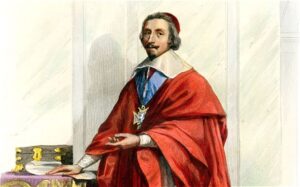 Cabernet Franc is believed to have been established in the Libournais region of southwest France sometime in the 17th century, when Cardinal Richelieu transported cuttings from the Abbey of Bourgeil to the Loire Valley.  By the 18th century, plantings of Cabernet Franc (known as Bouchet) were found throughout Fronsac, Pomerol and St-Emilion.
Cardinal Richelieu, who has been immortalized in the Alexandre Dumas novel The Three Musketeers, is responsible for transporting the grape to the Abbey of Bourgueil in the Loire Valley in the 17th Century. Also known as Breton, Cardinal Richelieu selected it for exclusive planting at St Nicolas de Bourgueil, where it has been grown ever since. By the 18th Century the grape was widespread between the Libournais region and the Loire
December 4th is the anniversary of his death. 
The Wines
Yes, you read that right wineS! There is no way I could celebrate the holiday I founded with just one wine or on just one day! I had to have a line up!  I chose three wines to commemorate the holiday.
Markham Vineyards 2012 Cabernet Franc
(SRP $42)
Markham Vineyards as been involved in winemaking and viticulture since 1879. Jean Laurent came to California from Bordeaux, in 1852. He had his eyes set on gold but instead founded one of the first wineries in Napa Valley. In 1874, he built his first winery, a small wooden structure. But business was extremely good so in 1879, he built a stone cellar that is currently the heart of today's winery. By the early 1800s, Laurent was one of the largest wine producers in the California. He sold his wines in bulk to be shipped by train to the east coast. Laurent passed away in 1890, but the winery continued operations under several different owners. 
In 1978, Bruce Markham came to Napa with a dream to start a winery. He purchased vineyards in Yountville, Oak Knoll and Calistoga along with the old Laurent winery.  He decided he would focus on Cabernet Sauvignon but introduced his first Merlot vintage in 1980. Production gradually increased over the next ten years, until reaching 20,000 cases. In 1988, the winery was sold to Mercian Corporation. This sale was a new beginning for the old Laurent winery. Four years and millions of dollars saw an expansion of the building  and replantings of the vineyards. 
The wine pours deep purple in color. ON THE NOSE: slight eucalyptus, dark fruit and a hint of milk chocolate. A little bell pepper but not a turn off. ON THE PALATE: no bell pepper here!!! Tobacco, black cherry and black currant. Medium body medium finish. I paired this Cabernet Franc with Chicken parmesan and pasta with tomato sauce.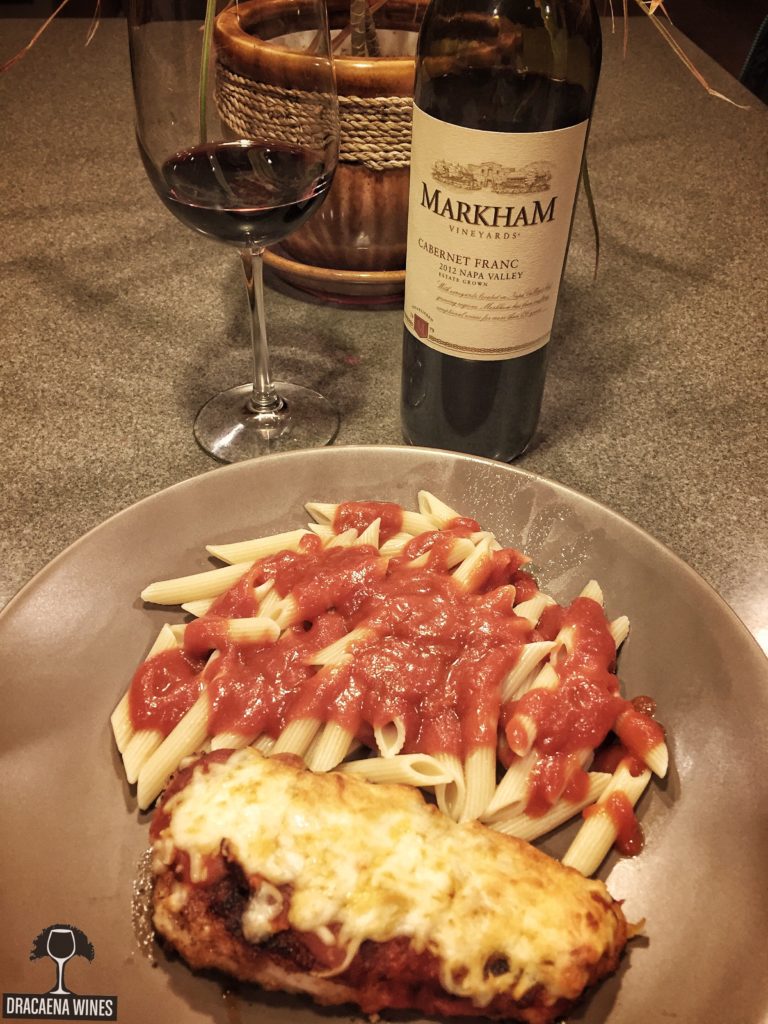 St. Supéry 2012 Napa Valley Cabernet Franc (SRP: $65)
St. Supéry proudly boasts 100% estate from grape to bottle. Their story dates back to 1961 when  Francis Skalli, develped the family estate and a wine importing company. By mid 1970, Francis' son, Robert visited Napa. Although he returned to Sète, France, he kept his vision in California and in 1982, he purchased the 1,500 acre Dollarhide ranch in northeast Napa Valley. This site ultimately turned into the 500 acres of St. Supéry's estate-grown vineyards. Afterwards, the family purchased the 56 acres in Rutherford, where the winery stands today. St. Supéry officially opened its doors in 1989 and the Skalli family sold the winery to Chanel, Inc. in 2015.
St. Supéry's Rutherford Estate Vineyard surrounds the winery in the celebrated Rutherford wine growing region along Highway 29. Thirty-five acres are planted with red Bordeaux varieties: Cabernet Sauvignon, Merlot, Petit Verdot and Cabernet Franc. The climate and soils of Rutherford are ideal for these grape varieties, which are used for our estate red blend, Élu, as well as St. Supéry's Rutherford Estate Vineyard Cabernet Sauvignon, Merlot and Cabernet Franc, three of our exceptional single vineyard designates.
The wine pours purple in color. ON THE NOSE: jam, earth, (dare I say Rutherford dust) pepper and cherry. ON THE PALATE: big and bold. More black pepper, blackberry, chocolate and a hint of vanilla. Medium body medium (+) finish. I paired this wine with chicken bites and pasta in an olive oil sauce with a dash of green pepper Cholula sauce. 
2014 Dracaena Wines Cabernet Franc (SRP:$32)
Yep, we opened our own wine for the culmination of the celebration! (must admit, this is weird, never have written a post about us drinking our own wine.)
Dracaena Wines opened their "doors" in 2013.  After continually saying "one day" we decided to make it "today." We contracted our fruit from the West Side Ranch, located on Chimney Rock Road, in Paso Robles. Our inaugural vintage was greeted with immediate success.  The Cabernet Franc received a Silver medal in both the San Francisco Chronicle and the Monterey International Competitions and a 91 in Wine Enthusiast. 
Our 2014 vintage was haled from the same estate. The third year of the drought brought severe stress on the vines, but intense flavors within the berries. The wine pours deep ruby in color. ON THE NOSE: red fruit, milk chocolate, and sweet vanilla. ON THE PALATE: cherry, red fruits, chocolate and baking spices.  Medium body and medium finish. The wine was paired with braised beef short ribs served over baked polenta and sided with grilled string vegetables. 
Final Thoughts
Fist off, I think you all can tell when it is a meal that I am left to my own devices versus a meal that someone else cooks! Should we vote on which meal I DIDN'T cook? LOL
Overall, if I were to do this all over again, I would actually switch the meals that I cooked. The St. Supéry Cabernet Franc was a much bigger wine. The Rutherford dust and dauntlessness in this wine would have gone better with the tomato sauce based foods (yes, I added some Cholula sauce to that also- but the original) The Markham was a more laid back, mellow version of Cabernet Franc, and although it held its own with the chicken parmesan, it would have been a better match with the olive oil chicken and pasta. 
As for our wine, the pairing was divine. (keep in mind that comment came from the people who eat beef. Polenta and string beans are more my jam!) The savory sweetness and roasted flavors of the braised beef paired perfectly with the wine's chocolate flavors and natural acidity. It almost turned the sauce into mole. 
Join the #WinePW Chat
Interested in learning more about Cabernet Franc and its versatility when pairing it with food? Join in the chat! You don't need to have a blog, feel free to tweet along with us.  The chat starts today (Saturday, December 10,20216) at 11:00am EST.  Be sure to check out all the posts below to see how they showed their #CabFrancLove!
~Sláinte!