What is Family?
What does family mean to you? With all that is going on with the pandemic, I truly believe that family has taken on a whole new meaning. Well, maybe not a new meaning, but rather gaining a new respect for family. Sadly, it is often our loved ones that we take for granted. And no matter how much we love them, it is inevitable that at some time we will hurt them. 
Family means many different things. Thankfully, we have moved away from the old construct that it is a mother and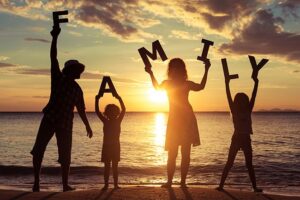 father who have a child or children. We have learned that it is so much more. We've learned that a family does not need to be a blood relation. We can call our friends family, our pets are family and we see many families that do not fit the stereotypical norm. What matters is that everyone has family. They have someone, or some ones, who they can count on. People in their pack that make them feel good about themselves. People (or pets) that make them smile and allow them to feel good about themselves.
What about wine lovers. We are one heck of a community. I have met so many oenophiles that I am honored to call my friends and some that I would call family. They are such a large part of my life. I enjoy spending time with them and discussing all topics. Believe it or not, we even have non-wine discussions! These people make me smile. They add a component to my wine life that I wouldn't have if it were not for them. 
How Do You Celebrate Family?
Celebrations in our household include wine! Heck, non-celebratory nights often include wine. It is a time where we can sit down and simply enjoy each other's company. The technology is set aside and the focus is on one another. Asking questions about their day and sharing our thoughts.  
Celebrating family needn't be exorbitant. Remember it is all about quality time. Sitting and sipping while the evening hours pass by, is a celebration unto itself. We spend so many hours running that the ability to enjoy a glass or two of wine together is something that should be acknowledge and is something that makes you a true family. "It is the simple things in life that truly are the most extraordinary." We just need to be wise enough to recognize it. 
Family in Bordeaux
Although it is often thought that Cabernet Sauvignon is the king of Bordeaux, it is actually Merlot that holds that title with sixty-six percent of all vines planted. Cabernet Sauvignon is second, but with only 22%. Cabernet Franc follows with 9% and then the final three percent is made up of the Malbec (or Côt), Petit Verdot and Carménère. You can also find white varieties such as Sauvignon Blanc, Sémillon and Muscadelle. There is also a lesser amount of "secondary" varieties such as Colombard, Merlot Blanc and Ugni Blanc.
Located in southwest France, Bordeaux has 65 AOCs with over 110,000 hectares under vine. Its climate is regulated by the Atlantic Ocean as well as its three rivers, the  Gironde estuary, and the Dordogne and Garonne rivers. The region consists of 5600 winegrowers, 300 merchants, 77 brokers, 29 cooperatives, 3 unions and countless families that recognize the importance of family. 
I received samples from three such Bordeaux families from Gregory & Vine. I thought that the ideal way to pay tribute to the families that work together to create these wines was to spend a couple of evenings enjoying them while focusing on quality time with my family.  
We've stacked the odds so that you can get our award winning wines without breaking the bank. Click the image to find out all of the benefits of joining the CHALK CLUB including free shipping and progressive discounts.

Jan Thienpont and Family
Château Robin is owned by Thienpont Family. They own several estates throughout Saint-Émilion and Pomerol. The Thienponts have been in the wine industry since 1842. Today, the patriarch of the family is Jan Thienpont. He, along with his brothers and 50 cousins, make up the 4th generation of the wine business. Jan and his brothers rescued Chateau Robin from disarray. With a strong family dedication to sustainability, Château Robin produces biodynamic wines. 
Fun Family Fact: Jan and his brothers are mountain climbing maniacs! 
I make homemade pizza every Sunday but during the week, there just isn't enough hours in the day, so we rely on frozen pizza. It's fast, easy and allows us to spend more time sitting at the table instead of working in the kitchen. The 2018 Château Robin poured medium ruby in the glass with medium aromas of plum, black cherry and tar. On the palate it was dry, with medium acidity, tannins, alcohol and body. Pronounced flavors of plum, chocolate and red fruit with a medium(+) finish. The Bordeaux blend is 85% Merlot, 10% Cabernet Franc, 3% Cabernet Sauvignon and 2% Malbec. SRP: $21.
Daisy Sichel and Family
Located in the Margaux AOC, Château Angludet is a true family affair. Daisy Sichel along with her father, uncles and cousins carry on the tradition that began with her grandparents in 1961. For six generations the family has prided itself on all agreeing on a common goal for the Château and working together to demonstrate their dedication to the previous generation while acting like mentors for the future ones. 
Fun Family Fact:  The Sichels love sports and train together for triathlons and marathons.
Typically produced using younger vines, La Réserve d'Angludet is the second wine of Château Angludet. The Sichel family continues its unwavering aspiration to produce a high quality wine. The 2016 La Réserve d'Angludet's technical sheet recommends pairing it with "grilled meat or a well-garnished cheese board, but whatever the case over any informal meal." As soon as I read that, I knew what we would be having for dinner. There is no better family night informal meal than a nice big plate of warm cheesy and toasty nachos. The wine poured deep garnet in the glass with medium aromas of black plum, black fruit, earth and leather. On the palate the blend was dry, medium acidity, tannins and alcohol with a full body. Medium flavors of cigar, chocolate and black plum with a long finish. 45% Cabernet Sauvignon, 45% Merlot 10% Petit Verdot, aged 12 months in 20% new French oak.  SRP: $42. 

Sandrein Froléon and Family
Château Dauphine-Rondillon is currently in their ninth generation of producing wine in the AOC Loupaic. They bottled their first sweet wine in 1927. Using the knowledge that has been passed down through the generations, Sandrine Froléon and her brothers and sister continue the legacy. Sandrine and her family have learned that the best way to produce quality wine is to work together and to learn from each other.  
Fun Family Fact: The family enjoys sailing together. 
Sweet wines take extreme care and patience. This fruit is harvested by hand over five different sweeps in order to choose the bunches that are perfectly affected by Botrytis. The wine is then aged in vats for twelve months before being bottled where it ages for an additional year. Sweet Bordeaux wine pairs exceptionally well with salty-sweet flavors.  Awhile ago, I made maple dough and wrapped it around bacon. It didn't really come out as I had hoped, and I have wanted a reason to tweak my recipe and make it again. This seemed like the perfect opportunity. The saltiness of the bacon along with the sweetness of the quarter cup of maple syrup in the dough screams out for a sweet wine pairing. The 2015 is a blend of 80% Semillon and 20% Sauvignon Blanc and pours a beautiful pale gold in the glass. The aromas are pronounced showing apricot, chamomile, honey and almond. On the palate it is sweet, high acidity, medium alcohol, full body and pronounced flavors of honey, almond, apricot and white peach. Sugar at harvest was 340g/L and the residual is 119g/L. SRP: $24 (375ml)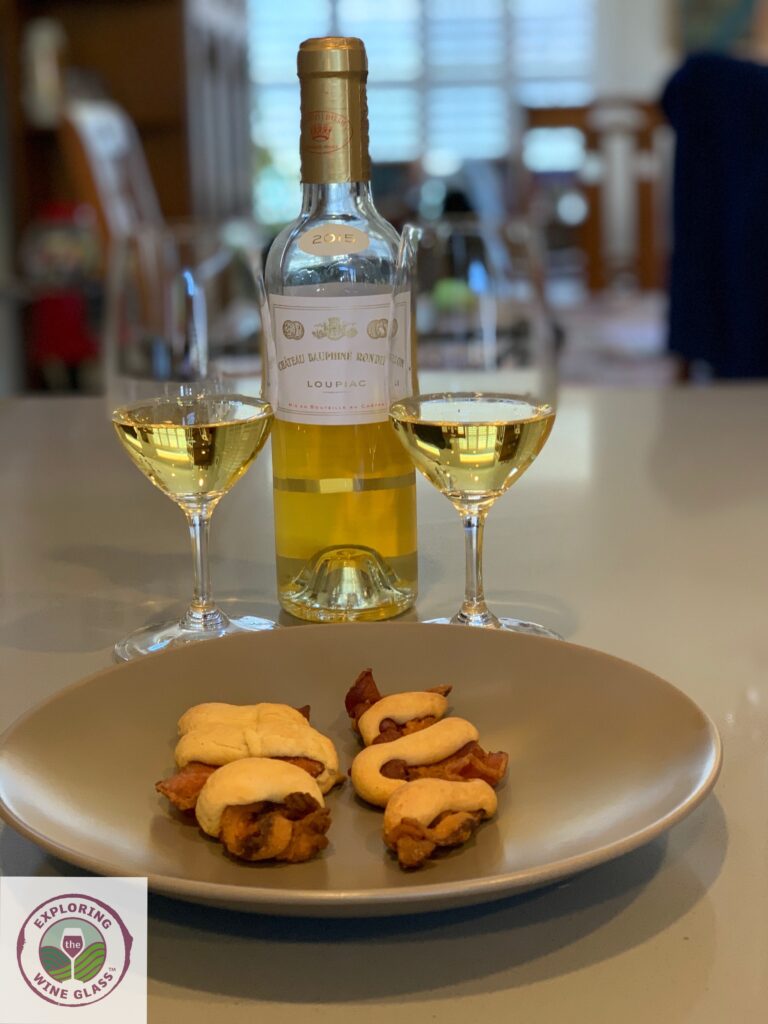 ~Slàinte! 
Dracaena Wines has received consistent 90+ ratings and multiple Double Gold medals. Click image to order yours today and let Dracaena Wines Turn Your Moments into Great Memories!