The summer is in full force. The temperatures are soaring. It has been the hottest June on record and I am pretty sure July will follow suit. Summer is all about enjoying the outdoors. It's a time for vacations, a time for  family and a time for smiles. 
Taking the time to enjoy the moments. Picnics allows you to focus on those people most important in you life without distractions. Even, if that person is you! Research has shown that fresh air does improves mental health. Outdoors have the ability to reduce levels of anxiety. It also reduces the activity in the parts of our brains related to mental illness. Not to mention that sunshine has the capacity to improve your mood.
The sun's powerful rays provide your body with necessary Vitamin D and Calcium, which helps build strong teeth and bones. Spending time in nature allows us to reflect upon our lives and provide us with a sense of peacefulness. In a world that is stressful, it is always good to slow down and create some smiles. 
There are many ways to create smiles, but the best way is to enjoy a glass (or two) of wine with friends and loved ones. L'Ecole No 41 has the quintessential picnic wine. As the sun's rays warms your skin, let Luminesce lift your soul. Luminesce is a light, refreshing and vibrant wine made from 62% Semillon and 38% Sauvignon Blanc. 
The name Luminesce comes from the relationship of the sun to the moon. A bright light. A white wine from Walla Walla is a rare thing, as 95% of the grapes planted in the region are red. This Bordeaux blend is always Semillon dominate, as it is L'Ecole's heritage white grape and is the only white wine in their Estate Walla Walla lineup. 
The 2020 Estate Seven Hills Vineyard fruit was harvested in early morning. The whole clusters were pressed to tank and allowed to settle. Strict attention was given to minimizing oxygen levels, to allow for maximum aromatics. The juice was transferred to neutral French oak barrels and allowed to complete fermentation, followed by 100% malolactic fermentation.  The wine was aged on lees for four months with batonnage (stirring) every two weeks, to provide the creaminess.
Seven Hills Vineyard is a 170 acre site that was originally planted in 1981 and is certified sustainable and salmon safe. It was recognized by Wine & Spirits Magazine as one of the ten great vineyards of the world. According to the TTB, in order to claim a vineyard designated wine, 95% of the wine's blend being sourced from fruit grown on that specific site. AVA designation requires 85%.  L'Ecole uses a small percentage of Columbia Valley fruit to add more dimension to the wine. 
The 2020 vintage may not have been the easiest for many vineyards. It will most likely be known for the horrific fires and smoke. Luckily, Luminesce fruit was harvested at the beginning of the smoke concern. Prior to the fires, 2020 was an easy and mild season. There were lower yields and cooler temperatures, which allowed the fruit to ripen slowly and provide balance and complexity.

DeeDee Stovel stated in her book 125 Recipes with 29 Seasonal Menus "A picnic is more than eating a meal, it is a pleasurable sate of mind." Throughout the summer, be sure to grab your loved ones and closest friends and sit down to enjoy some fine food, quality company, and some great wine. Where is your favorite place to picnic? Leave a comment to tell me where you intend to brighten your day with Luminesce.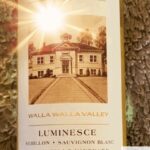 Sláinte!