If you have been reading the news in the wine world, you will know that there is a shortage of Champagne coming down the pike. But luckily, there is a wonderful alternative. A Sparkling wine that is honestly underrated and will brighten your day because it over delivers for the cost. 
As with everything in today's world, the disrupted supply chain is to blame. Well, its partially to
blame.  Unfortunately for Champagne a big reason for the shortage is simply diminished grape harvests due to climate change and weather events. According to Michael Osborn, founder and EVP of Wine.com. "These factors did put significant pressure on retailers in the US this season," While the production and distribution have been lowered, Osborn added the "demand for Champagne and sparkling wines has surged 120% since 2019."
What is worse, this plummet of production and exporting isn't going to end anytime soon. According to Patrick Penfield, professor of supply chain practice at Syracuse University; "Prices are going up due to this lack of supply. We could see Champagne shortages till 2025."
The basic rule of supply and demand is as the supply decreases and the demand increases the prices begin to skyrocket. With the supply of Champagne decreasing, the prices are going to increase. This means you have a choice; become frustrated that you can't pick up a bottle of Champagne or look for an alternative. You know the old Julie Andrews quote; "When one door closes, another window opens." That window is Cava! 
Cava is a Sparkling wine of Designation of Origin status from Spain. ⁠The term "Cava" is a Spanish word that means cave or cellar. It references the caves used for storing and aging wine.⁠ It's history begins in the municipality of San Sadurní d'Anoia in the Penedés wine region which has over 2,000 years of winemaking tradition. 
There are four wine growing regions that can adorn their label with the Cava DO. Comtats de Barcelona, Valle del Ebro, Veñedos de Almendralejo and Zona de Levante. In 2020, these regions were further divided to include sub-zones in order to allow the consumer to experience the nuances that each terroir imparts into the glass.
Cava DO has just over 38,000 hectares under vine producing 239 million kilograms of grapes. There are three main grape varieties that are used in the production of Cava. The leading variety by plantings is Macabeo, followed by Xarel-lo and then Parellada. Although these three grape varieties comprise 82% of the grapes used in Cava, other varieties are allowed. 
Cava sparkling wines are made using the traditional method, just like Champagne, but typically at a lower price point. The base wine ferments in bottle and is aged for a minimum of nine months. As with Champagne there is a regulatory board dedicated to assuring the quality of Cava. The entire entire winemaking process is monitored. From the vineyard to bottle, each step has specific control checks to certify the origin, production method, and analytical and organoleptic characteristics of the wine.
On the top of every bottle of Cava, you can find a circular label over the foil cap. This label is called a marchamo and it designates the Cava into one of four certified aging periods. In 2020, an additional label was created for those "Integral Producers." (think Grower Champagne)
Follow Dracaena Wines on Twitter, Instagram and Facebook for special offers.
Cavas Vilarnau
Vilarnau is a combination for the Latin terms for their family name and the word for house, Vila Arnau meaning Arnau family's "country house.⁠ Located in Comtats de Barcelona, Vilarnau was one of the first wineries to be awarded the Wineries for Climate Protection certification. The small artisanal winery is proud to have been approved to bear the organic seal on both their Brut and Rosé. 
The Vilarnau family originally settled in Penedés during the 12th century. Although they were a family of nobility, it wasn't until the 14th century when Albert de Vilarnau truly increased family's power by being a patron of the church of Santa Maria de Vilarnau.⁠ The winery's most exclusive cava bears his name. 
In 1949, the first vintage of Vilarnau Cava was produced using fruit from the "Can Petit i Les Planes de Vilarnau" estate vineyard. In 1982, Vilarnau was purchased by the González Byass family of wineries and in 2005 a new state of the art winery was designed by architect Luis González.
Vilarnau Cava recently released bottles that honor their Catalan roots with a beautiful wrapping honoring Antoni Gaudi. Gaudi was an internationally recognized Catalan architect and is considered to be one of the most highly acclaimed experts in his discipline. He based his architectural designs on the laws of nature. Gaudi was quoted saying  "originality consists of going back to the origins." His most spectacular work includes the Bellesguard Tower, Park Güell, the restoration of Mallorca Cathedral, the church on the Güell Estate, Casa Batlló, La Pedrera, and lastly, the Church of the Sagrada Familia.
The design on the labels is representative of the "Trencadís" that can be seen in the above photo. It was popular during the modernist artistic period in Catalonia and is created from tiny fragments of broken ceramic tiles, roof tiles or crockery. Antoni GaudÍ used trencadis in many of his designs. 
Vilarnau Brut Reserve Rosé is a blend of 85% Garnacha and 15% Pinot Noir and retails for a mere $15.99. The fruit is 100% organic and estate. The Pinot Noir vines are 20 years old and are some of the oldest in the Penedés region.⁠ Pink/orange in the glass with pronounced aromas of strawberry, raspberry and floral with a similar flavor profile. Extremely long finish. 8 g/L RS
The Brut Reserva is 50% Macabeo 35% Parellada and 15% Xarel-lo and retails for $14.99. The win spent 15 months in bottle. Both wines, being in the Brut category contain a slightly higher level of sugars. By definition they can contain a maximum of 12 g/L however this wine is 10g/L RS. On the nose the wine releases aromas of apples and peaches with a hint of toast. On the palate, the light bodied wine follows through with similar flavors along with added citrus notes.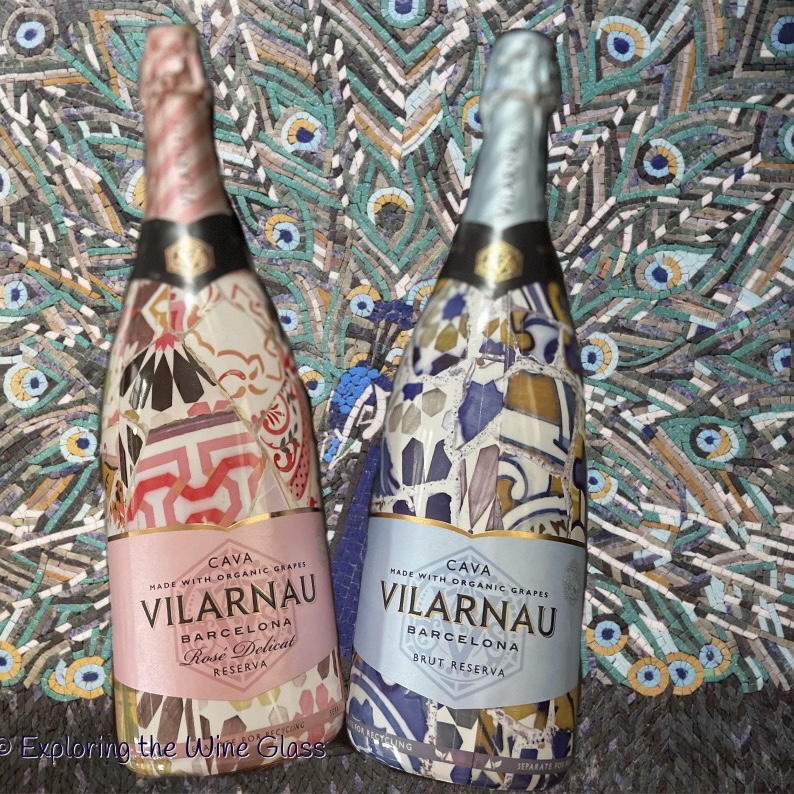 Disclosure: I received these wines as media samples. I received no other compensation for this post. All opinions presented are my own.
~Sláinte! 
Try the 90+ rated and multiple Double Gold medal winning wines of Dracaena Wines and get a 10% discount off your first order. Click the banner below and use code "Explore" at checkout.