*This is part two of the series about Hungary and is wine. In part one, I talked about how visiting Budapest and learning about it's history truly affected me. I saw images of what the people had to deal with and heard first hand accounts of how property was taken and people were murdered. To know that these occurrences happened in not so distant past was astounding to me. If you would like to read more, please click here. 
Hungary, although relatively a small country, is divided into 6 main wine regions. These regions are further broken down into 22 sub regions. Villány is part of the Pannon Region and is located about 2 1/2 hours south of Budapest. Located practically walking distance to the Croatian border, it is Hungary's most southern wine region and one of its most prestigious. Known for their reds and rosés, Villány has a  sub-Mediterranean climate, with long, dry summer days and mild winters. Villány was originally inhabited under the name of  villám, which means lightning in Hungarian. 
The province sees the most hours of sunlight than any other wine region in Hungary, and the grapes are protected from the north winds by the Villány mountains.  As a non-wine side note, it is the only area within Hungary that you can find the Hungarian crocus. This flower actually blooms in the winter and to bring it back to wine, can be found on several labels of the top wines produced in the area.  is also the first to introduce an origin protection system for a wine region along with having the largest number of natural and organically cultivated vineyards in the country.
Wine is in their Blood
I'm not talking Bulls Blood or Egri Bikaver! But, I guess I do need to mention it, since it does have a significant history in Hungary. (Mike and I did pick up a bottle while we were in Budapest. I felt obligated to taste a bit of their tradition) 
The odd name originates from a historical event that happened in Eger in the 16th century. During the Turkish siege, the Hungarian legendary commander Istvan Dobo fed his troops local food and wine. The wine was produced from the nearby vineyards. As rumor has it, he mixed bulls blood with the wine (YUCK!) and this magic elixir gave his 2,000 soldiers strength. Enough strength to fight back the much larger Turkish army and thereby protecting Eger from being overtaken. 
Alas, back to Villány where archaeological evidence has shown that wine has been produced there for centuries.  The region has evolved thanks to Roman, Hungarian, Serbian and German winegrowers. After the Great Turkish War, Serbs began to settle into the village and they brought the Kadarka grape and began producing wine from it. Around 1770, German settlers began to inhabit the region in masses and brought with them the Blue Oporto grapes. People continued to grow grapes and produce wines for another until the phylloxera epidemic wiped them out in the late 19th century. It was actually a Villány scientist, Zsigmond Teleki, who developed resistant vines that allowed for the replanting of vines across Europe. 
For 45 years, Hungary was politically run by the Soviet Union.  In 1955, Hungary became a member of the Warsaw Pact and since the end of WWII, Russian troops were stationed within the country. Even after the Hungarian Revolution of 1956 (see Are You Hungary for Wine Part I) the Russian troops remained. It was not until March of 1990 that the Soviet Army began their withdrawal, with the last of the troops leaving in June of 1991. From that point, Villány winemakers including, Attila Gere, Jozsef Bock, Zoltán Polgár, Ede Tiffán and Pál Debreczeni were among the first to re-establish the Hungarian wine culture.
The Grapes of Villány
In addition to the classic Bordeaux grapes, Villány winemakers have specialized in the following red grape varieties:
Portugieser is a red Austrian, Slovenian and German grape found primarily in the Rheinhessen, Pfalz and wine regions of Lower Austria and Slovenia. It is also one of the permitted grapes in the Hungarian wine Egri Bikavér (Bull's blood). DNA research has shown that it was made by a crossing between Blauer Zimmettraube x Sylvaner. It is an early to mid-season ripening grape that can produce either a simple, neutral and light-coloured red wines that mature and age quickly or when yields are limited, deliver strong and extract-rich red wines. Portugieser is also consumed as a table grape. 
Bläufrankisch (Kékfrankos) was first documented in  Austria in the 18th century. It is a cross between cross between Blauer Zimmettraube and Weißer Heunisch. In Germany, it had the name of Lemberger or Limberger, which was derived from the town of Limberg. Typically a late ripening variety,you can expect to experience berry or cherry tones, and high acidity and prominent tannins on the palate. Although a little rough around the edges as a young wine, the fuller, stronger expressions have good ageing potential.
Kadarka was once Hungary's most famous black grape, however is starting to lose its steam.  It was originally a component of Bull's Blood, is now being replaced with varieties that ripen earlier and are less prone to rot due to its extremely tight clusters. With careful crop management Kadarka can produce medium to full-bodied wines with easy tannins and fresh acidity that are heavy with sweet spices and black fruits.  
Blaubuger is an Austrian red wine grape variety that was created by Dr. Zweigelt at Klosterneuburg research center when he crossed Portugieser and Blaufränkisch. It produces a light wine that is actually rather deep in color, thereby rendering it to mostly being a blending grape. 
Zweigelt (does the name sound a bit familiar?) Originally known as Rotburger this grape variety was also created by Dr. Zweigelt in 1922.  According to Jancis Robinson, this crossing combined the bite of Blaufränkisch with the elegance of St-Laurent. It ripens earlier than Blaufränkisch but buds later than St-Laurent, lending itself to high yields. Although it can create an age-worthy wine, it is generally best drunk early. 
Are you REDy
The winemakers of Villány, have created a brand that is targeting the Y generation. These are people born during the 1980s and early 1990s also known as echo boomers. The concept behind REDy is to highlight easy drinking wines. Think party wine, a reasonably priced wine that is light bodied, fruity and "promises a lot of fun while still being cool." 
REDy was initially produced by ten wineries, and was launched using the common name and a lighthearted label designed to match the playfulness of the brand. It is a Portugieser based blend that must contain 51-66% Portugieser 20-49% a Villány intrinsic variety and 0-14% International grape variety. 
Cab Franc Baby! 
"Ha Villány, akkor Cabernet Franc! Ha Cabernet Franc, akkor Villány!" – "If you think of Villány, think of Cabernet Franc! If you think of Cabernet Franc, think of Villány!"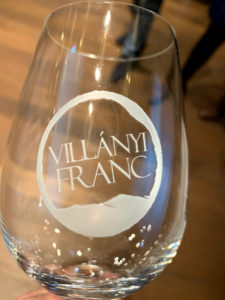 The real reason why we were in Hungary! We were asked to make a presentation about the status of Cabernet Franc in California. You can listen to our presentation California Cab Franc; No Longer in the Shadow of its Progeny on our podcast homepage, iTunes, Stitcher, Google Play, Spotify or your favorite podcast catcher. 
Over the past 20 or so years, Villány has tasked themselves with proving that their region is THE region for Cabernet Franc. They created the official 'Villány Franc' designation in 2014 and are determined to make the rest of the world aware of their high quality varietal Cabernet Franc. 
Although Cabernet Franc in Hungary only accounts for 2% of the world's plantings (1300 ha of vines with 330 ha in Villány), it is actually the fourth biggest producer falling behind France, Italy and the United States. More importantly to their mission, thanks to the influence of Villány winemakers, Hungary leads the world in terms of growth, with 67% new plantings of Cabernet Franc. 
At the end of 2005 Villány wines began to fall under a regulation of origin protection.
The regulation control is determined by considering the grape growing procedure, wine making technology used and the aging of the wine itself. At the heart of the regulation, is the better understanding of the expression "Villany wine". If the wine meets the required criteria, it can then be submitted to the wine region committee to be tasted and considered to be placed in one of the three quality categories; "Villany Classicus" or "Villany Premium" or "Villany Premium" and then the wine is entitled to bear the Crocus trademark.
Origin protection differentiates between classicus and premium categories which are also indicated on the label:

Villány classicus is the category that involves the majority of the wines, it is a classification for the wines typical of the wine region and within that for different varieties of wines

The Premium category contains those wines that meet rigorous criteria than those set for the "classicus" category, having a much more unique character typical of the individual vineyards, and also furher special values from the wine grower or winery.

Super Premium wine can only be made of 100% Cabernet Franc, with very strict requirements, such as yield restriction, tasting tests and can only be labelled as Villányi Franc. In this category, wines will spend at least one year in oak barrels and another year in bottles, therefore the earliest this will be on the shelves in 2016-17.
For more information about Villány and their wines please click here. I would like to thank the members of the Franc & Franc International Conference, Villány Wine Region County Council and our host Bock Winery for allowing us to have this incredible experience. 
Looking for learn more about Cabernet Franc and Villány? Give these four podcast episodes a listen. (If you like what you hear, please rate and review us!) 

click to download

Download this episode
Sláinte!