In case you haven't heard, December 4th is #CabFrancDay! We will be
 celebrating all day on Twitter, Google +, Periscope, and Instagram with Cabernet Franc facts. Then at 8pm EST, we will have a twitter chat. All you need to do to participate is grab a bottle of Cabernet Franc, sit at your computer or phone or whatever device you have and follow along using #CabFrancDay. Feel free to jump in with questions or comments.
Then, at 9pm EST, stay tuned on twitter for a virtual tasting chat.  This year we have 15 wineries and eight bloggers discussing their love for the grape varietal! The wineries participating in the chat will be:
Dracaena Wines – Paso Robles, CA
Acorn Winery – Healdsburg, CA
Beneduce Vineyards – Pittstown, NJ
Benmarl Winery – Marlboro, NY
Ballentine Vineyards –  St Helena, CA
Chateau Niagara – Newfane, NY
Holden Manz Wine Estate –  Franschhoek, South Africa
Leah Jorgensen – Portland, Oregon
Merrriam Vineyards – Healdsburg, CA
Tousey Winery – Germantown, NY
Unionville Vineyards – Ringoes, NJ
Vinum Cellars – Oakville, CA 
Wm. Heritage Vineyards – Mullica Hill, NJ
Whitecliff Winery – Gardiner, NY
Cabernet Franc is often used as a blending grape.  Many people have heard of it, but not too many have had the pleasure of sitting down with a glass of it as a stand alone varietal.  That in  itself is a shame, because Cab Franc is worthy of the spotlight.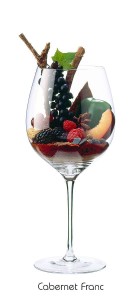 The number one question when someone hears that Mike and I own a winery in California is "Where in California?"  Once I go through the explanation of the location of Paso Robles the very next question is "What do you make?" I then reply with "Cabernet Franc" which immediately is followed with "What?" I then go into my little speal that Cabernet Franc is the father of Cabernet Sauvignon (the mom is Sauvignon Blanc). I explain that it has a slightly less tannic structure than Cabernet Sauvignon. If I don't see a glazed look over their eyes, I continue by explaining that it is a deeply colored, thin-skinned berry that offers floral, plum, blackberry, cassis, spice and fresh herb or leafy aromas and flavors. At this point I usually get the bobbing head and "Wow, that's cool." (which can be loosely translated to "what the heck is she talking about?")
With these experiences and comments, I figured it was a good idea to do a blog post about this fantastic grape varietal. Previously, I have written a post about the genetics of Cabernet Franc, but this one will be a bit more about the grape itself, not the scientific stuff. 
Cabernet Franc is one of five main grapes used in Bordeaux wine blends (Cabernet Sauvignon, Cabernet Franc Merlot, Petit Verdot, Malbec). It is most successful in the appellations of St. Emilion , Pomerol and the Loire Valley where it has been planted since the 1600's. (there is more Cabernet Franc planted in Saint Emilion than in any other Bordeaux wine region) It was originally known as  Bouchet. As I stated earlier, more often than not, Cabernet Franc is often used to blend with other grapes.  Since the 20th century, it is gaining more popularity.  It currently is one of the world's top 20 most popular grape varieties.
Although Cabernet Franc has been in France for centuries, the first Cabernet Franc grapes came to California in the 1870s but almost all of these vineyards were lost to the Phylloxera epidemic and were not replaced. There was a resurgence in the 1960s in Napa and Sonoma because of its blending ability with Bordeaux styles. Since its revival in California, Cabernet Franc tends not to be overly susceptible to disease except for downy and powdery mildews. It is an extremely vigorous grower with moderate yields.
While it has thinner skin and lower acidity than Cabernet Sauvignon, it is also known for its hardiness and often grown as an "insurance" grape since its vines survive cold winters better. Cabernet Franc ripens earlier than Cabernet Sauvignon and is suited for cooler climates and performs its best in stone and chalk soils, but also does well in sandy soils. It is this characteristics that make it a fantastic option for the Paso Robles area.  Although Paso sees extreme heat during the day, the cool evenings and mornings make it ideal.  Paso Robles' summers feature a large daytime-nighttime temperature swing, where the temperature difference can be as much as 50 °F (28 °C), between the daytime highs and the overnight lows.
Apparently, Mike and I are not the only one's who know the wonders of this grape. There is a lot of #CabFrancLove out there! Check out the website to see how many blog posts have been posted about this fantastic grape varietal. Heck, just google Cabernet Franc and see how much information there is out there. 
Wine Spectator wrote an article entitled Cabernet Franc's Time in which they open their article with "The era of Cabernet Franc is nearly upon us." With fine tannins, spicy aromas, peppery accents, and hints of violet, Cabernet Franc lends itself to an easy food pairing.  Most recommended meals include poultry, lasagna, couscous with meat, Middle Eastern fare, veggie pizza, and Greek cuisine. California Wine Pairing Magazine provided this succinct chart to describe the most common pairings and why they fit so nicely with Cabernet Franc. 
| | | |
| --- | --- | --- |
| Food | Style | Pairing Characteristics |
| Beef Steaks | Grilled or Barbequed | The medium to full body pairs well with full, fattier, bolder bodied meats. The charcoal flavors pairs with oak aging spices. |
| Beef & Pork Roasts | Roasted or Braised | Use a wine with good tannin to match the bolder body of the meats. |
| Ham | Smoked | The salt in the meat works to lessen the impression of tannin or acid in wine allowing the flavors to come through. |
| Lamb | Grilled, with mint sauce | The spicy sweetness of lamb matches the same in the wine. The mint is a bridge to the wine's characteristic mint qualities. |
| Salmon | Grilled | Both the fuller body and bigger flavors of this fish work well with the wine and the cooking method bridges well to the oak characteristics in the wine. |
| Mushrooms | Portobello, Morel, Porcini, etc., in sauces or alone. | The great forest floor earthiness of these robust mushrooms brings out the subtitles of these in the wine. |
| Green Olives | In sauce, sauteed, or in dish. | The olives in the dish works well with the olive characteristics of this wine. |
| Pepper or herbs | Sauces or seasonings | Pepper, rosemary, thyme and mint will bridge beautifully to similar qualities in the wine. |
There is a difference between Old World and New World Cabernet Franc and with those differences, the food pairings need to be modified.  The California versions tend to have more tannin and less acid than their French counterparts.  So keep in mind that if drinking a New World Cab Franc, you can pair it with similar foods you would pair a Cabernet Sauvignon or a Merlot.  If drinking the lighter Old World version, stick to lighter fare such as fish, light chicken dishes or quiche.
I hope that you are a little more familiar with this gregarious grape and the next time you walk into a wine store, restaurant, or winery, you are drawn to the Cabernet Franc and give it a try.  I am very confident that you will savor what you have in your glass. And don't forget to join in the conversation on December 4th! 
~Sláinte!