#CabFrancDay is nearly here! Let us all celebrate the grape! I am on a mission to prove that this variety is "More Than a Blending Grape!" 
In France, the variety is called Breton, Véron, Noir dur, Bouchy, Bouchet, Gros Bouchet, Carmenet, Grosse Vidure, Messanges rouge, and Trouchet noir. In Italy, it is known as Bordo and Cabernet Frank. Whatever you want to call it, this father of Cabernet Sauvignon, Merlot and Carmenere deserves some attention.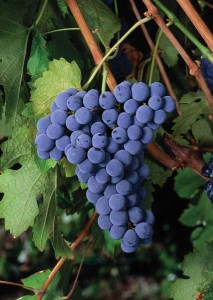 Cabernet Franc  is a mid to late-season variety, typically harvested September to November, depending on the
region and crop load and is considered a moderate-yielding variety. The leaves, which have a palmate veination are medium in size and mostly 5-lobed. The berries are small, round and produce blue-black fruit, while the clusters are  small to medium; cylindrical to slightly conical with shoulders and mostly well defined. It's berries vary from Cabernet
Sauvignon and Merlot by typically having smaller, compact, cylindrical clusters.
Join the following participating wineries on December 4th, on social media by following #CabFrancDay. There will be a lot of #CabFrancLove. If you want to grab some more Cabernet Franc, now is the time to do it! All of these wineries will be having special offers on their Cabernet Franc! 
Additional wineries that will be offering deals for #CabFrancDay:
Ramazzotti Wines – Geyserville, CA 
San Marcos Creek Winery – Paso Robles, CA
~Sláinte!