Do you remember your elementary school days? There were the small desks and short water fountains. You stayed in one classroom, but the subject you were learning about changed throughout the day. Oh, and don't forget about recess! The best time of the day!
Remember when you saw your teacher out of school and were so excited to see them and then became confused that they would need to be at a supermarket? Things were good when we were in elementary school. Learning was fun, everything was fun! Every day was an adventure. You weren't loaded down with responsibilities and you were eager to learn the next best thing!  
Back then, the three Rs were all the rage! Reading, Writing and Arithmetic. They were
the basic skills that all curriculum was based on (although I think it was quite the stretch since writing begins with a "W" and Arithmetic an "A." In terms of education, I think it was a horrible concept since it is not pronounced "rithmatic" it is "uh–rith-muh-tik." So our education has been flawed from the very beginning. 
Later on, the three R's returned, but this time with a goal to prevent waste and conserve natural resources. Reduce, Reuse and Recycle. At least the founders of this concept were smart enough to actually use words that start with the letter "R."
Although both of these educational experiences are important, I am here to share something that will bring back memories of your happy elementary school days as well as making your every day adult life so much more exhilarating. Instead of the R's I am here to discuss the three B's! Brunello, Barbaresco and Barolo! 
Ask anyone who has studied wine, and they will tell you that Italy is one of the more difficult countries to master. Winemaking in Italy dates back more than two thousand years It is renowned for having thousands of grape varieties spread across over 20 regions. That is a lot of index cards to memorize! 
It is said that there are three learning styles: visual, auditory and kinesthetic. For wine lovers, kinesthetic is definitely our favorite modality. The best way to learn about wine is to taste it and over the last few months I was privileged to taste my way through the Three Bs of Italy.
The education began in November when I along with approximately 75 other Italian wine lovers met at the Park Hyatt New York City. The event named, An Evening Among the Stars, hosted by the Consorzio del Vino Brunello di Montalcino, brought together multiple stars. The 2015 Brunello vintage and the Michelin 2 star Chef Andrea Aprea from Milan. 
The second chapter to my education was in early February when I attended the first "world opening" in the U.S. market with 2016 and 2017 vintages hosted by the Conzorzio di Tutela Barolo Barbaresco.
Sangiovese vs. Nebbiolo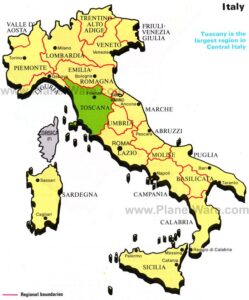 Brunello, officially known as Brunello di  Montalcino, is produced in Tuscany. It's name is derived from combining bruno, which is Italian for 'brown' and from the municipality of Montalcino, Siena. Wine production in this region has been documented for over 7 centuries. The Prime Minister of Tuscany, Marchese Cosimo Ridolfi, fell in love with the grape in 1831 and declared its superiority over any other wine in the region. It was granted Denominazione di Origine Controllata (DOC) status in 1968 and was the first Italian wine region to be awarded Denominazione di Origine Controllata e Garantita (DOCG) designation in 1980.
Brunello, which was originally thought to be its own grape variety, was later found to be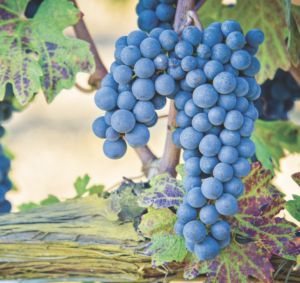 Sangiovese. In order for the wines to be labeled under the Protected Designation of Origin, it must be made from 100% Sangiovese and produced within the Municipality of Montalcino. Additionally, the wine must be aged for at least two years in oak barrels and not released until having seen at least five years of total age. Brunello Riserva must age at least six years before release and Rosso di Montalcino DOC, a wine produced to be consumed at a younger age needs one year before its release.
Both Barolo and Barbaresco are from the Langhe region, which is located in Piedmont and is produced with 100% Nebbiolo. In addition to both the Barolo DOCG and Barbaresco DOCG, producers have a third designation they can use on single vineyard designated wines known as  MeGA (Menzioni Geografiche Aggiuntive.) 
Wine producers in the Langhe began to band together in 1908 to begin the process of gaining a 'certificate of authentic origin, but it took almost twenty years before the Italian government passed the law on what determined Barolo's and Barbaresco's characteristics. It was then another ten years, in 1934 when the 'Consortium for the Protection of Quality of Local Wines Barolo and Barbaresco' was created in order to protect the wines' reputation and quality. Barolo and Barbaresco were granted DOC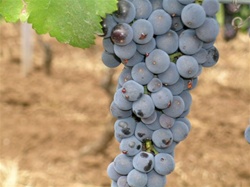 status in 1966 and DOCG in 1980. The Consortium was charged with their protection and regulation by the Ministry of Agriculture in 1984.
Nebbiolo is debated to be the oldest indigenous red grape variety of Piedmont with its first documentation occurring in the 12th century. The tiny, thin skinned grapes obtained its name from the Italian word for fog, 'nebbia,' since growers have stated that the grapes look misty when they are harvested in early autumn foggy mornings. Interestingly, Nebbiolo is one of the first varieties to flower but one of the last to be harvested. 
Barbaresco has a minimum ageing requirement of two years, while Barolo requires 38 months with a minimum of 18 months in oak. Both Barolo and Barbaresco are required to remain in bottle for a minimum of 24 months before release  in order to offset the high tannins in the wine. To obtain the Riserva designation, Barbaresco requires 48 months of aging while Barolo has a minimum of 62 months with at least 18 months in oak.
Climate
Tuscany as a whole has a warm and dry climate but benefits from a cooling effect from the Tyrrhenian Sea providing a diurnal shift that allows the Sangiovese grapes to remain on the vine until full ripeness. It is considered to have a maritime-influenced climate, where the winters can be harsh and summers can be extremely hot.
hot. However, there are extreme microclimates as well as soil differences throughout the region with the southern portion being drier than the inland areas. 
Piedmont is more warm and temperate and sees a significant amount of rainfall. Although the region sees high temperatures during the day, it benefits from the fog, which allows the temperatures to remain cool during the mornings. The best vineyard sites are planted on a southern exposure to allow for maximum sunshine and protect them from Spring frost. Barbaresco tends to be warmer, and therefore usually harvested earlier than Barolo. 
On the Palate
Although I don't typically like to tell people what they should taste, I thought a comparison would be helpful.  According to James Suckling's Master Class, both Sangiovese and Nebbiolo can be defined by their combination of red and black fruits as well as their enticing earthiness. Both are bold wines with high acids and tannins allowing them to be cellared. In fact, it is often recommended to hold them for at least a decade prior to experiencing them at their peak. Barolo/Barbaresco have a hint of floral while Brunello has more of a savoriness profile. 
Flavors found in Barolo wine include; plum, raspberry, tar and white truffle while Brunello tends to showcase cranberry, strawberry, espresso, and sundried tomato. However there are some flavors that both Sangiovese and Nebbiolo do share. These include red and black cherry, licorice, tobacco, rose petals, dried herbs and damp earth.  And since they also have similar profiles in terms of acid and tannin, you can choose to pair the same type of foods with both; think wild game and stews.
Drink Italian! 
Although I have been planning on writing this post for quite some time, I felt an additional push within myself to get it done this week to help with the horrible situation across the globe but especially in Italy. On February 11, 2020 the World Health Organization gave a name to the disease that was first identified in Wuhan China: COVID-19 and there has been widespread panic since.
Just yesterday, it was announced that Italy was on national lockdown and for the first time, the Vatican closed St. Peter's Square and Basilica to tourists. Italy's health ministry today reported 977 new cases, plus 168 more deaths, boosting its totals to 10,149 cases, of which 631 were fatal. (statistics from CIDRAP)
These are sad times and instead of panicking, we can be wise. The virus is easily beat simply by washing your hands. Wash frequently and for at least 20 seconds. (sing the alphabet song) If you don't have soap and water, because you are out, then use a hand sanitizer (if you can find any) but make sure it is at least 60% alcohol. And probably what is the most difficult, since we all do it without thinking, avoid touching your eyes, nose and mouth.  
Italy's economy is going to be effected by this lockdown for a long time. The best way to help the people is to help their businesses. So while you are inside avoiding those crowds why don't you pop open a bottle of Barolo, Barbaresco or Brunello and raise a glass to the containment of this virus so that we can once again clink glasses together in real life. 
~Sláinte!
Please follow me on Instagram, Twitter, and Facebook. You can also find me on YouTube and if you are interested in wine pairings, follow my other blog, Wine Pairing with Dracaena Wines. And don't forget about my FREE wine education series, Winephabet Street.
Please Visit our Sponsors by clicking on the banners: