We love Sparkling wine. [ok. I love sparkling, Mike just goes along with it] If it were up to me, I would choose a Sparkling wine almost every time, but it always seems to be delegated to celebrations. Why is that? The history of Sparkling and Champagne might have actually hindered the modern-day sales of this fantastic beverage. If people didn't associate it with celebrations maybe people would choose it more often at everyday meals.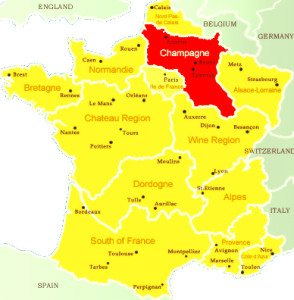 Before I talk about why you should love champagne, there is a bit of Champagne lore we need to gloss over. First, it's not champagne unless it comes from the Champagne region in France. Be sure not to call sparkling wine from any other region of the world 'champagne'. You need to call it Sparkling wine. Additionally, even if it comes from Champagne, if it is not made in the 'Methode Champenoise' they will toss you in the Marne River like they did during the Riots in 1910-1911. 
Next, as great a story as it is, Dom Pérignon did not invent Champagne and I have a bit of a hard time believing he said Come quickly, I am drinking the stars.Click To Tweet But who am I to question how they spoke back then when they were excited. Although, he really can't be credited with the invention of Champagne Pérignon helped standardize production methods which allowed for the reduction of explosions. He also is responsible for adding two safety features – thicker glass bottles that better withstood pressure and a rope snare that helped keep corks in place.
Finally, in order to be classified as Champagne, the alcoholic beverage can only be made from three grape varietals. Pinot Noir, Chardonnay or Pinot Meunier.  So if you are toasting to a varietal other than these three, be sure to call it Sparkling wine. 
With all that out of the way, let's get to why you should love Champagne [or Sparkling wine.]
There is no other beverage that has a cooler way to open it. 
The fact that you can Saber a bottle is just cause for why you should love Sparkling.  Honestly, what other beverage are you going to drink that you can use weird objects to open? People have used stapler, trophy, chef's knife and then there is the actual saber! How does it work? The person attempting to open the bottle slides the "saber" along the body of the bottle to break the top of the neck away. If done correctly, the neck of the bottle is left open while the force of the blade hitting the lip separates the collar from the neck of the bottle. 
Now that is one hell of a saber isn't it? I love Alton Brown and his scientific explanations.  
Sparkling[Champagne] is the definition of luxury.
The tradition of drinking champagne to mark celebrations originated in the royal courts of Europe prior to 1789, where the expensive drink was viewed as a status symbol. The bubbly, light-colored wine has historically been associated with luxury and the parties of the royal courts and aristocracy of Europe, said Kolleen M. Guy, associate professor of history at the University of Texas at San Antonio and author of "When Champagne Became French" (The Johns Hopkins University Press, 2003).
 

According to the biographer of Marilyn Monroe, she use to bathe in the bubbles. It supposedly took 350 bottles of Champagne to fill her tub.

I guess it tickled her fancy! It is the only beverage served during Wimbledon. [and you can't get more snooty than Wimbledon] 28,000 bottles are served each year. 

If you are lucky enough to own your own ship or airplane, you would definitely christian it with a bottle of Champagne.

What does every season ending championship cart into the winner's locker room? Yep a cart full of champagne. This one bothers me a bit, along with the race car championships. Drink the Champagne, don't waste it by shaking it and squirting it all over your teammates! Oh what a waste! 

James Bond may like his martini shaken, not stirred, but he must love Champagne more, since he drinks it more than any other beverage in his movies. According to James Bond statistics, in 22 Bond films there are 35 occasions on which the character was portrayed drinking Champagne, of which 17 were Bollinger R.D., and 7 were Dom Pérignon.
The bubbles tickle your nose.
It is tough to be upset when you see those bubbles and when that effervescence travels up your nose you just have to smile. You all know what I'm talking about. Bubbles just make you happy. It's your birthday, or your half birthday. Your friend you haven't seen in forever is coming over, or you see them all the time. It's Friday, or Monday. Do you see where I'm going?  Sparkling wine makes an everyday occurrence seem amazing and a magnificent event seem even more awe-inspiring. Napoleon knew what he was talking about when he said, I drink Champagne when I win, to celebrate and when I lose, to console myself.Click To Tweet
Our Special Occasion for Sparkling
This special occasion for Sparkling centered around this month's #WinePW twitter chat hosted by Cindy of Grape Experiences.  Her invitation post tells you how you can join this wonderful group of bloggers who enjoy combining their love of wine and food. Even if you didn't prepare a Sparkling wine and food pairing for this month, you can join in on the chat at 11am EST today! [December 12, 2015]  It is a great way to learn about wine and get yourself some awesome recipes. 
The Wine
We chose one of my favorite Sparkling wines.  To be completely honest, one day last year I walked into the cellar and saw a bottle of NV Domaine Chandon Etolie Brut from Napa Valley. I had no clue where it came from, but I felt like having some bubbles, so I decided that was what we were having. When I brought it upstairs, Mike looked at it and said, "When did you  buy that?"  Neither of us have any clue where it came from, but we opened it that night, and I fell in love! 
I must have been a very good girl in 2014, because under the tree, Santa left me 6 bottles.  Oh if you could have seen me. Yep, I did my happy dance! Which is pretty close to Snoopy, so you can envision that! This was my final bottle. I am hoping that Santa realizes this and there are bottles found under the tree this year!
'Etoile is French for star. The grapes for étoile are sourced from vineyards in Carneros. 'Etoile is a nonvintage sparkling. The grapes are pressed, fermented into wine and then bottled along with yeast and sugar to start the second fermentation that makes méthode traditionnelle wines effervescent. Domaine Chandon balances the acidity by topping off with a small amount of liqueur, sugar dissolved in reserve wine, also known as the dosage. The wine is then aged at least six additional months. True to Champagne, this Sparkling is made up of Chardonnay, Pinot Noir, and Pinot Meunier.
The Food 
We decided to pair this Sparkling with Asian Lettuce Wraps.  Mike prepared the filling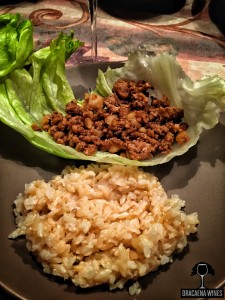 by combining ground turkey, water chestnuts, onions, soy sauce, honey, ginger, garlic, chili pepper and ginger balsamic vinegar.  Although typically, Bibb lettuce is used, we opted for plain old Iceberg and it worked just as well.  As a side, Mike steamed some brown rice.  These lettuce wraps are so easy to make. Although simple, they could easily be an elegant appetizer for you holiday festivities.  yet could easily be an appetizer
The Pairing
The wine itself had flavors of nuttiness and definite yeasty tones.  In the finish there was a slight hint of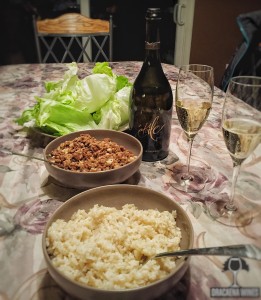 citrus.  It coated the tongue with a creaminess and the tiny bubbles were divine.  Being a Brut, there was a subtle hint of sweetness that aired nicely with the sweet and sour of the lettuce wraps.  The soy sauce and the honey along with the ginger balsamic vinegar aligned the flavors perfectly with the Sparkling.  The texture and sharpness of the lettuce that were used as the wraps enhanced the crispness of the wine. The flavors in both the wine and the food were both subtle allowing neither to overpower the other.  They ending up fusing together as if they were on a date and were walking hand in hand. 
So have I convinced you to fall in love with Sparkling wine?  If not, I don't know what's wrong with you, but I still have one more trick up my sleeve.  Tune into our #WinePW chat at 11am EST to see our group discussion. I bet you will run out and grab yourself some Sparkling after that! Once you have your bottle in hand check out my fellow bloggers' posts to see amazing recipes to pair with it. 
Culinary Adventures with Camilla will be "Celebrating with Lemon-Poached Scallops with Caviar Limes and Champagne"
A Day in the Life on the Farm is excited to share "An Assortment of Appetizers with a California Champagne"
Curious Cuisiniere has paired "Italian Panettone and Sparkling Wine"
Confessions of a Culinary Diva is preparing to have "Champagne & Caviar Dreams"
Pull That Cork is "Celebrating In Style with Giulio Ferrari for #winePW"
ENOFYLZ Wine Blog is planning "A 3-Course Sparkling Wine Dinner with Iron Horse Classic Vintage Brut"
Grape Experiences is excited for the holidays with "Le Medaillon Brut NV and Normandy Fondue"
WinePassItaly will be enjoying "Asti Spumante with Hazelnut and Torrone Semifreddo for #WinePW"
FoodWineClick is preparing "Easy Holiday Appetizers & a Sparkler from South Africa"
CookingChat  is planning "Kale Pesto Crostini Wine Pairing That Sparkles"
Wines of Roero is sharing and Roero Arneis Spumanti DOCG Lobster Risotto Arancini
Austrian Wines USA is thrilled to present Austria's Sekt with Smoked Char Cucumber Canapes
Rockin' Red Blog will share A Sparkling Good Wine and Food Pairing
And if you are reading this after our twitter chat, please consider joining us next month on January January 9, 2016, when we discuss "New Year- Try Something New," hosted by Martin of ENOFLYZ Wine Blog. 
~Sláinte!