I recently received a sample pack from Suisun Valley. Where's Susiun you ask? Well, you are not alone in that question. Everyone knows Napa Valley, yet if you have driven there, then you probably have driven right through Suisun Valley and didn't even know it! It is located in Coast Range of Solano County just east of the Napa Valley.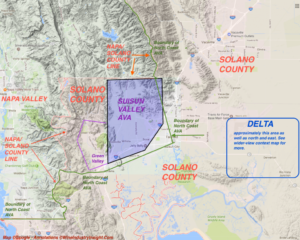 Suisun Fun Facts
~ It is pronounced 'sa-soon'
~8 miles x 3 miles
~Coastal cool climate
~3,500 degree days WInkler Scale 3
~Loam soils -> combo of sand, silt, clay
~15,000 acres with 3,000 under vine
~Only 12 wineries within the AVA
~Became an AVA one year after Napa
~Susiun means 'west wind' for the wind that blankets the vineyards
~Sedimentary rock composed of sandstone and shale is from the Early Cretaceous (145.5 to 65.5 mya) period as opposed to the Pliocene-aged (5.332 to 2.588 mya) Sonoma Volcanics, of the neighboring Howell mountains. 
Home of Petite Sirah
Durif aka Petite Sirah
~Durif, is a man-made variety that resulted from a cross between Syrah and Peloursin. The objective of the cross was to make a grape variety that is resistant to powdery mildew. It was first brought to California in 1884 by Charles McIver and had a similar history to Zinfandel during Prohibition thanks to its ability to travel cross country well.  
Get to know some wineries
~ Well known for their Napa Valley Cabernet Sauvignon, but came to where Petite Sirah is king for their Petite. 
~ Maintains the original name Durif for their Suisun wine
~ The Wagners have been farming in Napa Valley since the 1850s. 
~ Carl and Catherine Wagner purchased seventy acres of land in Napa Valley's Rutherford district in 1906
~ After Charlie Wagner and Lorna Belle Glos eloped, they purchased land and planted fruit orchards. 
~Failing orchard trees were ripped up and grape vines were planted. After selling the fruit for awhile, they decided to create their own winery naming it "Caymus Vineyards," after a Mexican land grant owned by George Yount that their land was once part of.
~Louis Mangels emigrated from Germany in 1866 at the age of 14 and immediately left for the West Coast, by way of Panama. 
~ Louis brought his two sons on board in 1910, but by 1920 Prohibition hit.  The now named L. Mangels and Sons, was one of seven wineries allowed to continue to legally produce wine for the government.
~ Claus, Louis' son sold the winery to Horace O. Lanza in 1943, when it was apparent the winery needed extensive renovations, allowing him to maintain his home, vineyards, and other property.
~ 7 years later, the winery was no longer in business. When Claus passed away in 1950, his son Lewis inherited the property
~ Today, Lewis' son Gary is at the helm of Mangels Vineyards
 ~Taste in a big red metal barn which was added to the remnants of the hundreds year old redwood barn
~Steve Tenbrink is like the genie with his harem of vines
~Was more of a fruit farmer and sold his grapes. Then decided… uh uh… too good to give to other people! 
~There are three distinct climate zones within the Suisun Valley. ~Lower, mid and upper valley. Steve has vineyards in all three 
~Shovel in the logo- a reminder that they are farmers first and foremost. 
~ 4th generation
~grow 7 different varietals of grapes
~also started with fruit; but eventually replanted over to vines
~Brian Babcock, winemaker holds a Bachelors of Science in Viticulture and Enology from UC Davis.
~Met in Oakland, but both families came from the small town of Silvano Di Orba, in northern Italy
~ winery dates back to end of prohibition in 1933 – Wooden Valley Winery.
~Mario's oldest grandson, Rick, is now Wooden Valley's winemaker.
~4th generation and 85 years later! 
~maintain 300 acres
Let's Talk Suisun
I sat down on two occasions with my good buddy Nick Berube, aka WineCommGuy, to talk about Suisun Valley and to taste through the wines. It's always a fun time when we get together. You can watch our conversation and hear our tasting notes below.
View this post on Instagram
View this post on Instagram
Dracaena Wines has received consistent 90+ ratings and multiple Double Gold medals. Click image to order yours today and let Dracaena Wines Turn Your Moments into Great Memories!