Fàilte! Welcome to the next installment of Exploring the Wine Glass. Mike and I are big proponents of you should drink what you like and you are the only one who can taste like you. We advocate the fact that everyone experiences the wine differently, so in these posts we do not discuss our tasting notes.  Instead we include basic information about each of the wineries, and/or a bit about what was happening in our lives while we were enjoying them.
Want to know what we think of the wines? Do you want a little insight into our palates? Then head over to Delectable and check us out. We tell it as we taste it over there. Click here to see the chart we use to describe the color. A video of them as they are poured is found at the end of the post. Visit our YouTube Channel to see other wine videos. As always, since as oenophiles we love to celebrate #WineWednesday, our week runs from one Wednesday to the next.
A Beginner with Veltliner
I have never had a Grüner Veltliner prior to this occasion. I probably would never have one if it wasn't for a fantastic group of people who get together every second Saturday of the month. The #WinePW crew is all about new experiences. I'm not sure there is an actual term for it, but Mike and I are West Coast Wine Drinkers. [maybe I should come up with a term and copyright it!] I joined this group because of that fact. I wanted to expand my knowledge and become acquainted with wines of other regions.  
We both agreed we would expand our palate, but it seemed every time we went into the wine store, we grabbed bottles from familiar regions. This group "forces" me to expand my horizons and step outside my comfort zone. I have found some wines that I love and would have never tried if it weren't for this group and I have had some wines, that my palate still isn't a fan of, but at least I have tried!
This month's journey took me to Austria with a bottle of Grüner Veltliner. Preliminary research showed it was similar to a Riesling, so I decided to pair it with a buffalo chicken wrap.  Although my palate was not a fan, I enjoyed learning about the wines of Austria and the grape varietal itself. You can read my post about the wine the pairing here.
Paso Albariño
We love Brecon Estate. We always stop in when we are in the area. The wines are phenomenal and we love talking to Damian and Amanda. [not to mention playing with their two dogs, Louie and Roy]. I had the honor of interviewing Damian in March of last year. You can read the post here. If you are unfamiliar with Brecon, you have been totally missing out. They have received some impressive scores lately, and are all well deserved. 
2014 Mourvedre, 93 points

2014 Syrah, 93 points

94 pts 2014 Brecon Syrah

93 pts 2014 Brecon Mourvedre

92 pts 2015 Brecon Albariño

92 pts 2015 Brecon Albariño True Acacia Head

92 pts 2014 Brecon Cab/Petite Sirah

90 pts 2014 Brecon Petite Verdot

Brecon's 2014 Syrah, 2014 Mourvedre and 2013 Petite Sirah all received "Wines of the Week" in FBWorld.com's three of their five week series on compelling Cali – Rhone wines.
I really wanted a wine from Paso and I really wanted something that could go with a little kick. I guess an entire summer of not being able to find any food in Fresno that had some spice, made me crave it big time. I decided to open a 2012 Brecon Estate Albariño and pair it with some pasta and tomato sauce with a little added kick from Cholula sauce. My picture is horrible, but the pairing was phenomenal! 
Yeah for Chardonnay
Tonight is my last free night before the new school year starts.  I guess, technically it started on Thursday since I had two days of inservice. But it never really seems to be real until the kids come in.  I really can't complain about  my job. I mean, seriously, I teach kids how to be courteous to each other, work together, tie knots and ultimately rock climb and zip line. It's quite the gig and I love it. But I don't love having to wake up early every morning and having a set routine. I like my summers where I can wake up and do my own thing on my own time frame.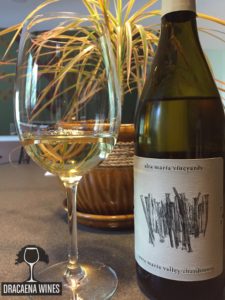 So tonight, I sat down and did nothing other than organize photos in Google photos, write this blog, and watch the "Back to the Future" series on tv. While I watched Marty travel back in time, I opened an 2012 Alta Maria Chardonnay and sipped away.  I had this wine awhile ago while out for dinner with my girlfriends, and I had to run to the store the next day and pick up some more bottles. I love this wine. 
The label artwork represents the hand made iron nails used by homesteaders prior to the Industrial Revolution. Since they were not mass produced, each nail was unique according to the master craftsman who made them. Similar to how each wine is unique depending on the master winemaker who produces them. 
Wine Judge now on Resume
I had the most amazing experience on Saturday. I was a judge at the
Competition that took place at the Hudson Valley Wine and Food Fest in Rhinebeck, NY.  There were 100 wines entered in the competition my team was responsible to judge about twenty. After the initial twenty, we then voted on the Best Red, Best White, Best Sparkling, and Best Overall Wine.  I tell the story of what it is like to be a wine judge in my post To Medal or Not to Medal and you can see my one minute video compilation of the competition on my YouTube channel.
Hope you have had some great wines and times these past two weeks. Remember, always Pursue Your Passion. We would love for you to leave a comment telling us what your favorite recent wine was.
~Sláinte