Welcome to the season of Rosé.  People often view rosé only as a summer sipper, but please don't fall into the bad crowd. The wise, cool kids know this wine can be perfect in any season.  
A Bit of History
Although it is not known when the first rosé was actually labeled as such, it is of general acceptance that the earliest red wines color were more like a rosé, rather than the color of today's wines. It may have been due to technology advancements allowing the winemaking process to provide a darker and more tannic red wine or it may have been the timing allowed for maceration.  Back then, red and white grapes were often picked and pressed together. They were more interested in making the wine quickly as opposed to our current desire of quality and variation.  Since they picked the fruit together, they were pressed together, often immediately after harvesting, with little patience for maceration time.  The maceration was performed either by hand or the romanticized foot stomping. These processes led to a lightly pigmented wine. 
As time passes, the Greeks and Romans found a love of wine. They had the ability to press the fruit and allow the juice to remain in contact with the skin longer, allowing for a darker, bolder wine, but they were not fond of this expression. They found it harsh and less desirable than the lighter colored wine. Even into the Middle Ages, the idea of a darker wine being lower quality remained. 
After World War II both Mateus and Lancers [Portuguese wine producers] began to release sweet, rosés that had slight effervescence in both Europe and America. They took the wine industry by storm and held their reign until the White Zinfandel phenomenon started by Sutter Home in the 1970s. 
Let It Be Pink 
A rose by any other name would smell as sweet, but a rosé need not be sweet and does go by other names. Known as rosado in Portugal and Spanish-speaking countries and rosato in Italy, rosé can be bone dry, semi sweet or sweet.
Although there seems to be a lot of "information" about how rosé wine gets its color, there is some controversy about how it gets made. There are two basic processes that can be used to produce that lovely pink color. [according to www.provencewineusa.com] The most common in the United States is the saignée method. Also known as "bleeding," in this technique a portion of red wine juice is pulled off the skins after only a few hours of skin contact and then it is fermented with white wine.
This method has some opponents to it as can be seen in this article SAIGNÉE ROSÉ "NOT TRUE ROSÉ and the below quote. While the proponents believe it produces the riper flavors and greater expression of the varietal. In this process, since the wine left after the bleeding can still be made into a "red wine," the rosé is actually a by-product. Rosé made this way tends to have deeper, more vibrant pink color.

The second method is direct pressing. This is how the majority of Provence and Languedoc-Roussillon producers create their rosés and is considered the more traditional approach. This produces a light colored wine because the juice stays in contact with the skins for a short period of time.  The fruit can be pressed either in clusters or destemmed to release their juice. When the desired color is attained, the juice is removed and sent to a fermentation tank. This is considered a higher quality wine, since only the pressed juice is used to make the rosé. The advocates of this method declare it is a more deliberate approach, allows for a lower Brix which in turn keeps the alcohol levels down while raising the acidity.
Exploring Rosé

I am honored to be able to participate in the June edition of Protocol Wine Studio's Sonoma's Rosé Revolution. I received these wines at no cost from the wineries and Protocol Wine Studio. I was not required to write a positive review and the opinions I have expressed are entirely my own. After sampling the wines, we meet on Twitter on Tuesday evenings at 9pm EST and discuss our thoughts alongside the winemakers. It is a wonderful experience having your questions answered by the winemakers. Even if you haven't had the opportunity to sip the wines, you can join in on the conversation! 
The Colors

Week 1
The first week's wine was provided by Cindy Cosco (@Passaggio)  of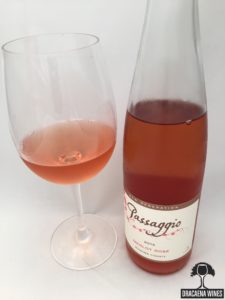 Passaggio Wines. I have had the privilege of meeting Cindy and tasting through her lineup at her tasting room in Sonoma. But, I did not get to taste her 2015 Merlot Rosé until now! You can read about her Cracking 90 in this Sonoma Valley Sun article and more about this wine here. She is also receiving the Up & coming Winemaker Award at the Women For Winesense National Convention. 
Cindy produced her first rosé in 2010 while she was still at Crushpad in San Francisco under the label Passaggio Grande Cappella (which means big hat because her mother wore large hats.) This wine was produced in the saignée style along with her 2011 Zin/Cab rosé. It wasn't until 2012 that Cindy was able to start making intentional [direct press] rosé by bringing in the grapes and pressing them straight off and she hasn't stopped since. She "loves making different varietals. It creates something special and unique."
Her 2015 Merlot Rosé is from a single vineyard from the West side of Sonoma and is hand crafted. Along with 12 of her friends, Cindy hand harvested and brought the fruit directly to the winery and pressed off. The fruit saw about an hour of skin contact. It was fermented in stainless steel drums, racked off gross lees, and then aged in stainless for about 5 months before bottling. She bottled approximately 48 cases and recommends drinking within one to two years. 
The wine poured mangue in color. ON THE NOSE: clay, watermelon and cherry blossom. ON THE PALATE: Cherry, raspberry and strawberry. Very crisp and refreshing light bodied with a medium(+) finish. We paired it with  prosciutto/mozzarella/tomato panini and it was to die for!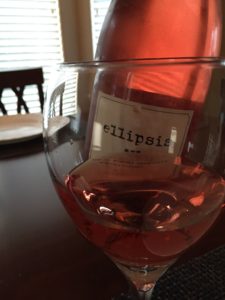 Week 2
2015 Rosé of Pinot Meunier  by Ellipsis Wines. You can find them on twitter @ellipsiswines. This is an intriguing wine and in their own words "Since we started using the Pinot Meunier fruit, we haven't looked back. The varietal is similar to Pinot Noir, but is inherently higher in acid which gives a brightness to the wine."
In 2008, Jonathan Neisingh, newly graduated from Cal Poly in San Luis Obispo, decided to start Ellipsis Wine Company. His wine passion began while living in Madera, Portugal. He fell in love with the concept of small batches of boutique wines.  Currently, along with consulting winemaker, Rick Davis, Ellipsis has created a name for themselves that is synonymous with vineyard designated world-class wines. Jonathan, along with his wife Devika, operate the small winery themselves with hopes that their two sons, Elyah and Elliot, [ages 5 and 1] will follow in their winemaking footsteps. Wine tasting is available in their red barn by appointment only.
They began making a Rosé because that was one of their favorite wines to drink! [if you decide to make wine, it is wise to make what you like] Their very first production was made with Pinot Noir grapes and received immediate recognition as a wine of the week in the Press Democrat. They have continued to make this wine and it is one of their most popular wines. [join their mailing list and get invited to their annual party – music, wine and paella sounds pretty awesome to me!] 
They excel in making small batch wines. [100 cases of Rosé] They are meticulous with their harvest procedure.  They hand pick at precisely 24 Brix and leave the juice on the skins for only 2 hours to get that light pink color.Their primary fermentation is done in 80% stainless steel ["to preserve the bright fruit."] and 20% neutral oak [to provide the "soft creamy mouthfeel"]. The juice is then cold stabilized and bottle 4 months after harvest. The fruit is sourced from Christine's Vineyard on the border of Sonoma Coast AVA and Russian River Valley.
The wine poured groseille in color. ON THE NOSE: strawberry, cherry and raspberry. ON THE PALATE: acidity in the front palate followed by strawberry and sour cherry candy (you know, those red soft candies you liked as a kid) with a hint of mandarin orange. Light body and shorter finish with a nice acid that provided the structure. We paired this wine with take out Thai food (since I have no idea how to make Thai) The wine and food were compatible, but I wouldn't say it was the best pairing in the world. I enjoyed the wine better on its own. [really, is that a bad thing?]
Week 3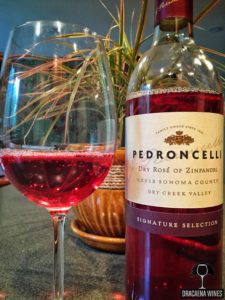 We sipped and savored a 2015 Pedroncelli Dry Rosé of Zinfandel. Their twitter handle is @Pedroncelli. This was my first Rosé of Zinfandel. I will say, I was surprised by the color because it did not fit into any of the above five color schemes. I had to resort back to my red wine color chart. The wine poured candy in color. ON THE NOSE: strawberry, pomegranate and the oh so familiar pepper of a zinfandel. ON THE PALATE: strawberry and watermelon. Medium body with a short (+) finish. We paired this wine with chiptole chicken. I must admit, I enjoyed the wine more with the food pairing. Initially, the wine seemed a bit of a conundrum to me. Not a zinfandel, but the pepper of a Zin. There was a slight hint of sweetness in the wine, however with the food, the sweetness was eliminated and was an extremely nice wine. 
Pedroncelli has been producing their Rosé of Zinfandel since the 1950s when Giovanni Pedroncelli decided he wanted to create a lighter red wine using some of the 30 acres of Zinfandel on their home ranch. This year's harvest was the third week of August and the fruit was picked at 20 Brix to highlight the "bright acidity and allow the fruit to have the strong aromatics" associated with Zinfandel. It saw 24 hours of skin contact which produced that intense vibrant color. The wine is produced using a combination of direct press and saignée. Sixty percent of the blend is from free run juice while the remaining is drawn from the fermenting tank of their Zinfandel. Fermentation was completed in stainless steel tanks and 1800 cases were bottled in February, just a few short months after harvest in order to "capture the freshness." They recommend drinking upon release.  
Week 4
2015 Angels and Cowboys Sonoma County Rosé was paired with homemade goat cheese and prosciutto pizza. The winery is a collaboration between the co-founders of Cannonball Wine Company, Yoav Gilat and Dennis Hill, and a graphic artist from Northern California. Michael Schwab has a list of some very impressive clients including Mohammad Ali, NFL, Nike and the MLB just to name few, while Cannonball has quite the philosophy on life and wine. 
I was so curious about the name. I've heard of Cowboys and Indians; Angels and Devils, but Angels and Cowboys? Why? So of course I asked, and apparently I wasn't the only one who is intrigued by the name, since I think about 5 different people asked the very same question early on in the twitter chat. I must admit, I loved the answer! Directly from Dennis Hill's lips [well, technically fingers since it was on twitter] "There's a lover, a trailblazer and a rule breaker in all of us." Just how awesome and true is that?!
The first vintage of Angels & Cowboys Rosé (@aandcwines) was 500 cases in 2013. The wine came while pursuing a passion for a red blend wine. Once under production, realizing that their true love was Rosé, they decided to pursue a "perfect Rosé" along with their Proprietary Red. They have produced the Rosé each of the three vintages since then and have found extreme success. [production increasing ten fold due to demand] 
Angels & Cowboys Rosé was made using the traditional Provençal method.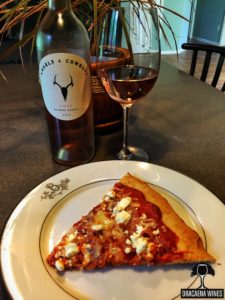 Following in Old World tradition, they harvested the fruit at 21 Brix to retain the "vibrant and complex" characteristics of the young fruit. The grapes are lightly crushed and allowed to macerate on their skins.  Careful observation is made during the process, and when the pale pink hue and fragrant aromas are achieved, the juice is pressed and the juice undergoes cool fermentation. Once fermentation is complete, the Rosé is aged on lees for just over 2 months.
As wine ages, the acidity drops. With acid being a key component to Rosé, it is recommended to drink within the first couple of years. The 2015, was bottled in February and released in March. The wine has 12.8% alcohol and is made from a blend of Grenache Rouge, Merlot, Petit Verdot and Grenache Blanc. The fruit is sourced from Carneros, Alexander Valley and Dry Creek Valley. 
The wine pours Mangue in color. ON THE NOSE: lime, strawberry and floral accents ON THE PALATE: citrus, strawberry, minerality with a nice burst of acidity on the finish. light body with a medium finish. Although Angels and Cowboys recommend pairing this dry Rosé with vegetable dishes, spicy foods, roasted chicken, salmon or tun, as stated previously, I paired it with homemade goat cheese and prosciutto pizza. Let me tell you it was a perfect pairing. The saltiness of the prosciutto and tanginess of the goat cheese truly enhanced the bright acidity of the wine. 
I have learned a lot about Rosé wine this month. In fact, I learned that I actually like some Rosé, even to the point that I went out and purchased some for my personal cellar. I have always said, "Drink what you like, don't let others tell you what to drink" but I also say, "If you don't try new things, you will never know what you are missing." There is a whole wide wine world out there, and I am more than happy to sip my way through my education. How about you? Is there a wine you thought you wouldn't like, but found out you do?
~Sláinte!