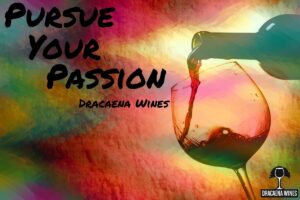 What is the definition of being successful? Is it making more money than you know what to do with? Is it having letters after your name that people aren't even sure what they mean? Or is it simply being happy? When Mike and I decided to enter the wine business, we knew it wasn't going to be an easy road. We were realistic. We understood that we would neither be an overnight sensation, nor ever be as recognized as Robert Mondavi. That's not why we entered the business. We entered the wine industry because we love wine and it was our dream to own a winery. We chose to not just wish or dream about it, we made a conscious decision to make it happen. We chose to Pursue Our Passion.
It's a scary thing chasing down your dreams, but if you don't enter the race you are never going to win. One of my favorite sayings about Pursuing Your Passion was made by "The Great One," Wayne Gretzky. He very eloquently stated, "You miss 100% of the shots you don't take." He knows you need to take risks. You need to leave the safety net that tethers you to your comfort zone so that you can experience what happens next.
In this, what has become a monthly tradition, a guest blogger will tell you their story of how they pursued their passion in the wine industry. These people understood what Van Gogh meant by "I would rather die of passion than of boredom." 
One day, two years ago, I was on the elliptical and I received a text message asking if I was free to meet up.  I really didn't know who it was and was a bit confused since I was in Fresno and didn't know anyone. After looking at who was sending the text, I realized it was Nick Berube, aka WineCommGuy and we had been talking on Twitter. 
Nick is originally from Fresno and was in town for some family event.  I agreed and Mike and I met him at a local wine bar.  I love when I meet someone from social media in real life, but in all honesty, you never know what to expect. But within about two minutes, I knew Nick and I would be amazing friends. He truly cracks me up on a regular basis. In fact, if I need a laugh, he is often the person I will text. 
I adore his sense of humor and I truly love him. Most of all I am thankful to be able to call him a friend. This past summer, Mike and I wanted to get away for a weekend. We decided it was a good time to go visit Nick. So we hopped on a plane and traveled to Oregon. We spent the weekend with Nick (and a little time with his brother) wine and beer tasting and seeing the Portland area highlights. It was a fantastic weekend that ended way too quickly.
But now, Nick is no longer in Oregon. He has moved to Napa and works for Grgich Hills. This makes me happy for two reasons. First, he is happier in his new job and secondly, he is so much closer and it will be extremely easier to see him! I plan on being the bad influence on him and acting as the friendly distraction from his wine diploma studies. 
~Sláinte! 
If someone would have told me 10 years ago that I would not only know about, but love knowing about things like Bentonite, Limoux or Plavac Mali I would not only be looking at them like a deer in the headlights, but I would have laughed and said, "no way!" Yet, here I am.
In 2007 I had my epiphany about wine, but maintained a palate that favored inexpensive sweet whites from the New World. Over the next three years my palate evolved as I explored reds, albeit, mostly reds that most would refer to as "jammy." When December 2010 came around I declared to myself (and to one of my sisters) that I wanted to start studying wine. As a Christmas present she bought me, The Sommelier Prep Course, which I read cover to cover.
Three wine books later I still felt something was missing. I needed an even deeper understanding of what I had read, something to really take my knowledge to the next level. About that time in 2013 I discovered the WSET (Wine & Spirit Education Trust), a global educational wine program designed to 'create the trade professional.' Although I wasn't a wine professional at the time, I knew where I wanted my career to head.  Over the next year I achieved both the Intermediate and Advanced Certificate(s) in Wine and Spirits. As I was deciding to tackle the Diploma Program I was offered a job in Mendoza, Argentina with an internationally known Malbec producer. All that I had worked for finally meant something.
Fast-forward five years – here I am – on my couch, phone in the other room, television off, surrounded by books, notecards, study guides and maps, and talking to myself. Why? After my break from formal wine education I decided it was time to continue following my passion of learning, and so I enrolled in the WSET Diploma – a three-year (they want you to finish in two) program that is the highest level you can achieve through the WSET.
Since 1969, less than 10,000 people have achieved this certification globally. Currently there are six units that you must complete in order to graduate:
Unit 1: Global Business of Alcoholic Beverages

Unit 2: Wine Production

Unit 3: Light Wines of the World (aka your worst nightmare)

Unit 4: Spirits of the World

Unit 5: Sparkling Wines of the World

Unit 6: Fortified Wines of the World
All candidates must begin with Unit 2. Please don't ask me why, because I won't be able to answer that – it's above my knowledge level. When I first began studying Unit 2 I showed one of my winemakers my course book. It was filled with tables of rootstocks, their benefits, their shortcomings and everything in between. He scoffed and asked why anyone would need to know that – you can just look in a book. The answer is, "because the WSET says so."
After sitting your Unit 2 exam you can take the units in any order you'd like, with many candidates saving Unit 3 for last. This is the largest of all of the units with an expected study time of 300 hours in order to pass. The exam is given twice a year and is done in two parts, tasting and theory. Since the 2011/2012, the highest pass rate on the theory portion of the exam has been 52%, the lowest being 29%. I've currently passed 1 ½ units, waiting for the result of Unit 5 and currently I am in Unit 3 – wish me luck.
Is giving up my social life for two year worth it? Or the $10-13k dollars I'll spend on enrollment, wines to taste and travel? Or the tears of frustration because I walk out of an exam not having studied the ONE thing they asked? Yes. When you love something like I love wine, it is all worth it. This has been the hardest, and yet most rewarding experience of my life, and I don't plan to stop with the Diploma. My goal is to achieve Master of Wine by 48 years old.
My mom and dad laughed at me over Thanksgiving this year as they saw me huddled over The Oxford Companion to Wine, by far the best wine book ever written.; it is an encyclopedia, and the key to success when you are studying wine. As my mom said, "You used to read the encyclopedia for fun as a kid."
I guess some things never change.
As a side, if you have any questions about the WSET program, why I prefer this program over others, or want to hear more in-depth about my experience, don't hesitate to reach out. I'll be sure to check my phone when I'm done studying.