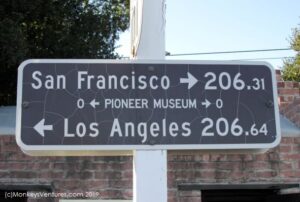 We discovered Paso Robles quite some time ago. It was a different place then. It was an unknown and unexplored region. It's only claim to fame at that point… and the reason why we found it… was its location. Centrally located between San Francisco and Los Angeles, allowing us to explore all California had to offer in relatively close proximity. 
So we visited. And we fell in love! Truthfully, it was love at first sight. A quaint little downtown, complete with a community park bustling with families enjoying the day. Small family owned restaurants with incredibly tasting food. When you leave downtown, you are in a country environment. Large properties with beautiful horses, cows, and even llamas and alpacas! 
As we explored this new area, we got the biggest surprise of all. Nestled inside this marvelous community, there was WINE!  We stumbled upon a wine region we had never heard of before and even better, the wine was incredible! We couldn't believe that we just happened upon this place that was heaven on earth. It was almost too good to be true; but it was true!
That was about 17 years ago and we have been avid proponents of Paso Robles ever since. In November 2013, Wine Enthusiast Magazine named the Paso Robles American Viticultural Area (AVA) the 2013 Wine Region of the Year in it's annual Wine Star Awards. The Paso Robles gained its AVA status in 1983 and it took 30 years before it finally earned its mark on the map. 
Many things have changed since we first happened upon Paso. Back then there was a single AVA; Paso Robles. Today there are 11 nestled AVAs. There were under 100 wineries and today there are over 300. Back then, there weren't any luxury brand hotels or restaurants. Today, a visitor can choose to find a room that falls into any category between basic and super luxury. The restaurants were small and cozy, but now we continue to have those restaurants alongside a Michelin star rated restaurants. Twenty years ago, no one knew of a highly rated Paso Robles' wine while just last year 5 Paso Robles wines are among top 100 of 2020. Additionally, a few have even joined the elusive 100 point club. People now know Paso!
In My Glass
We chose to open a 2018 Ancient Peaks Cabernet Sauvignon. Ancient Peaks Winery is located just south of Paso Robles, in its own sub-AVA Santa Margarita Ranch. The AVA is defined by its high mountain slopes, alluvial soils and the proud recipient of the highest rainfall of all the 11 regions with an average of 29 inches per year. 
Their estate vineyard, Santa Margarita, is a mere 14 miles from the Pacific Ocean and is set against the backdrop of the Santa Lucia Mountains. The only vineyard in the AVA is remarkable in the fact that it contains five different soil types; ancient sea bed, rocky alluvium, shale, volcanic and granitic. Their wine labels share the soils in which the fruit has been grown in and you can taste the terroir in every bottle.
Ancient Peaks is actually a collaboration between three families-the Filipponis, Rossis and Wittstroms. In 1999, the three families maintained ownership of Margarita Ranch when the Robert Mondavi family planted Margarita Vineyard on the ranch under a lease agreement. In 2005, the three families acquired ownership and control of Margarita Vineyard. Mike Sinor is their founding winemaker. His first complete vintage with Ancient Peaks was in 2006. I had the pleasure of interviewing Mike for my podcast. You can listen here or find it on your favorite podcast catcher or smart speaker. 
On My Plate
The winery suggests pairing their 2018 Ancient Peaks Cabernet Sauvignon with "richly textured dishes, including grilled pork chops, veal roast with mushrooms, stuffed eggplant, filet mignon with black olive sauce and Cabernet-braised short ribs." We chose to pair it with stuffed peppers. You can find the recipe here.  
The wine was young. in fact, Cellar Tracker recommends a drink period of 2022-2026, so we decided to decant the wine for about an hour and a half prior to enjoying. Cabernet Sauvignon is known to have a pyrazine profile and with the fruit coming from the coolest, longest growing region of Paso Robles, we were a bit concerned that the bell pepper will accentuate the potential flavor in the wine. Thankfully, the peppers complimented the flavors within the wine without bringing out overt pyrazines. Additionally, the taco seasoning used in the ground turkey contains enough "texture" to match up with the body of the wine. It was definitely a winning pairing!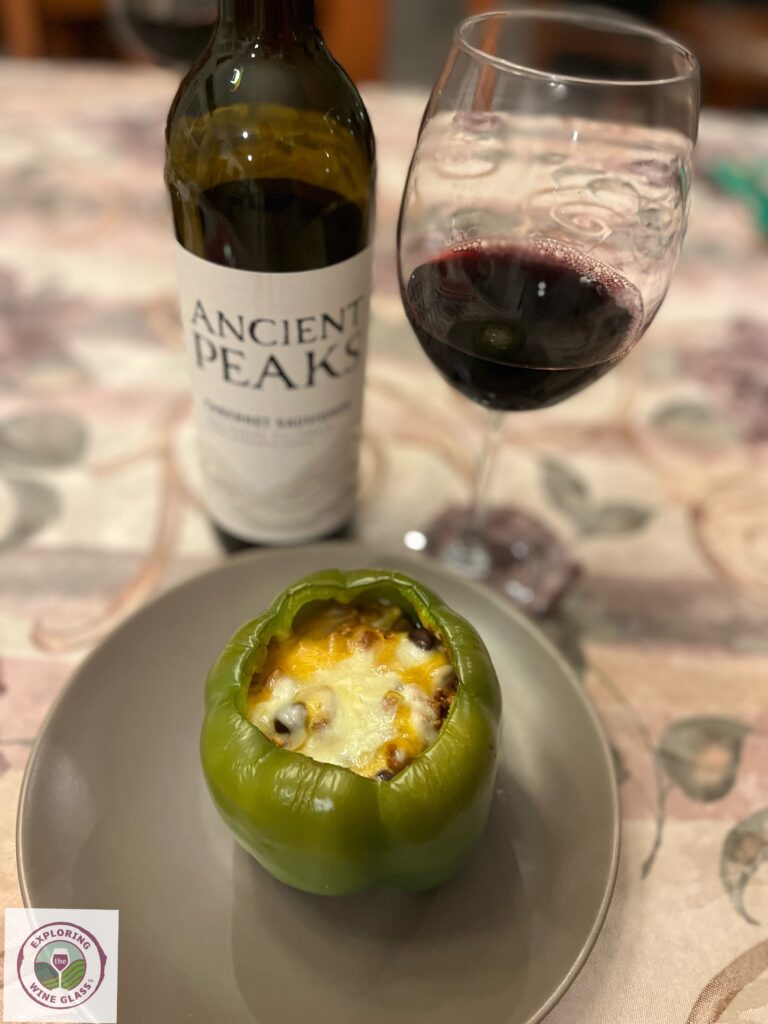 Join in the Conversation
I am proudly hosting this month's #WinePW event. The group will join me in virtually traveling to Paso Robles through their wine glasses. The conversation will take place on Saturday, November 13th at 8am PT, just follow along by searching #WinePW. If you can't join the conversation, be sure to check out the amazing wine and food pairings of my friends below. 
~Sláinte! 
Dracaena Wines has received consistent 90+ ratings and multiple Double Gold medals. Click image to order yours today and let Dracaena Wines Turn Your Moments into Great Memories!