Mike and I just spent 10 spectacular days in Italy. We flew into Rome, then traveled to Florence by train and ultimately ended our trip in Venice. We were celebrating our 21st anniversary. I know… most people celebrate their 20th with a major trip, but we don't like to be like most people. We figured 21 was a better year. I mean, we are gamblers, so 21 is much better than 20! 
(if you would like to turn the music off, scroll down and click the little mute button on the right side of the sound bar)
Surprised faces stared at us when we told our friends that we were going to Italy and weren't spending any time in Tuscany or any wine region for that matter.  In order to experience Italy without feeling rushed, we decided to keep it basic. Our thoughts were, if we enjoyed Italy, we would be back to do more exploring. This trip was a "wet our Italian whistle" excursion and that it did. I think I can confidently say we will be back! 
My Highlights
I enjoyed Rome very much. The history there was so incredible. Everywhere you looked, there were ruins. The thought that there was a city buried below and uncovered just is astounding to me. In the Forum, there is a door that demonstrates just how high the ground was prior to excavation. It is mind-boggling. As for Venice, well, it was not my cup of tea. Nor was it Mike's. We both thought the concept of "get lost on purpose" showed us nothing too thrilling. It was shopping mostly and neither of us are into that. We also thought the food was the  lowest quality of the three cities we visited.  As for Florence, it was love at first sight for me. Five minutes after dropping our belongings at the AirBnB, we were at the Duomo and I had a smile on my face ear to ear! The city is breathtakingly beautiful and I crave a return visit. Here's just six of our 800 photos from the trip.  
A Bit About Italian Wine
Italy, like France, has adopted a stringent controlled appellation system to govern the vineyards quality, yields and practices. There are over 300 Denominazioni di Origine Controllata (DOC) and Denominazioni di Origine Controllata e Garantita (DOCG). You can increase that number to 500 controlled wineries if you include the Indicazioni Geografica Tipica (IGT). These classifications help to regulate the over fifty thousand wineries and provide them with competitive advantages when it comes to production sales and quality. 
As Italy modernized its production and began exporting wines, it wanted to begin using varieties such as Chardonnay and Cabernet, which were in demand in countries like the U.K. and the U.S., but which weren't traditionally grown in Italy.  Of course these varieties didn't fit in the DOC system but the wines were better than the Table Wines, so the Italians basically copied the French Vin de Pay system, calling these wines IGT (Indicazione Geografica Tipica) meaning that the wines could be labeled where the grapes came from (geografica) and carry a varietal name (tipica = type). Like the Vin de Pays in France, the IGT wine production has increased quite a bit in the past 20 years.
How to Read the Label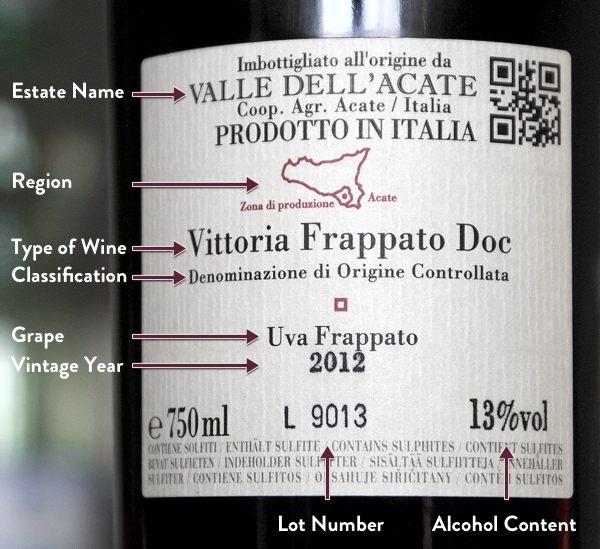 Regions of Italian Wines
The Wine regions of Italy can be divided into three major sections, the North, Central and South (Island is considered in this region.) These regions are extremely diverse. If you want to remain "safe" with the varietal you are ordering stick with the best-known Italian grapes: Sangiovese, Barbera, Nebbiolo, Montepulciano and Pinot Grigio.
Although as with every rule, there are exceptions, the regions that are considered high quality include Piedmont and Tuscany. Piedmont's highest quality wines come from the northwestern portion. Barolo and Barbaresco, 100% Nebbiolo, Barbera and Asti are the main grape varieties found in this region. 
In Tuscany,  located in the central part of Italy you will find Chianti which is typically a blend of 75-90% Sangiovese, 5-10% white grapes and up to 10% other red grapes. Chianti Classico is a subset of Chianti and since 1995, it can be 100% Sangiovese. 
Wine regions that are known for higher volume but lower quality include Veneto and Emilia-Romagna. Both have flat alluvial plains with deep soils with extremely vigorous vines. The wines are mostly exported. Soave, which is a blend of many varieties, is produced in Veneto while Emilia-Romagna is known for Lambrusco.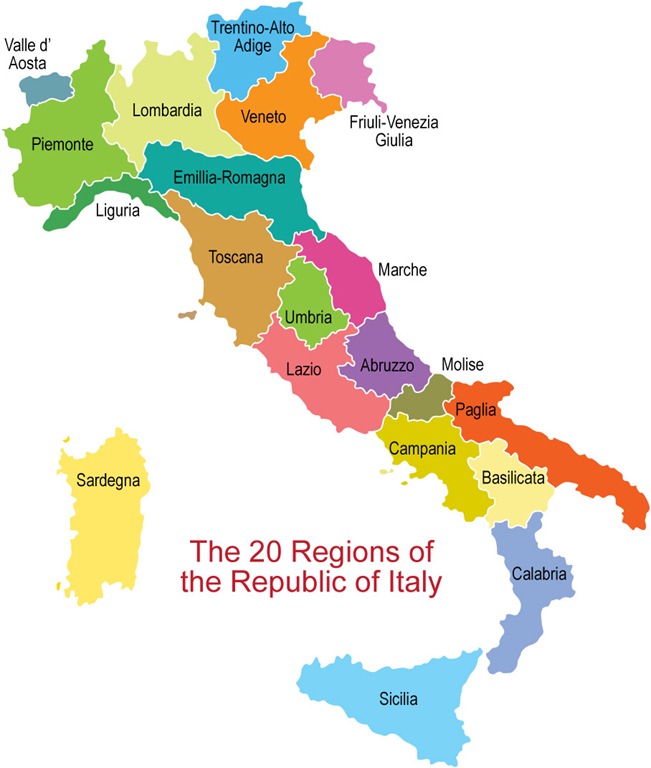 The Wines In Our Glass
If truth be told, we didn't put much thought into the wine we were choosing. For the most part, we were going with the house wine. Some restaurants served them in pitchers, while others had bottles without labels and a few even had labels! We couldn't get over the prices. Wine is very affordable in Italy! We also ended each and every evening with a bottle that we chose from a wine shop, basically just looking for DOCG on the label. So how did we do with our choices? Are you familiar with any of these labels? What is your favorite Italian wine and/or wine region? 
[slideshow_deploy id='6029']
[audio mp3="https://dracaenawines.com/wp-content/uploads/2017/07/Italian_Tarentella_full_mix_mp3.mp3″ autoplay="y"][/audio]
~Sláinte!