Fàilte! Welcome to the next installment of Exploring the Wine Glass. Mike and I are big proponents of you should drink what you like and you are the only one who can taste like you. We advocate the fact that everyone experiences the wine differently, so in these posts we do not discuss our tasting notes.  Instead we include basic information about each of the wineries, and/or a bit about what was happening in our lives while we were enjoying them. With that said, if you are interested in reading our tasting notes and our ratings head on over to Delectable and check us out.  We tell it as we taste it over there.  Click here to see the chart we use to describe the color or if you want to see the wines themselves as they are poured, visit our YouTube Channel and watch for yourself. As always, since as oenophiles we love to celebrate #WineWednesday, our week runs from one Wednesday to the next. 
Week 1
Mike and I had a wonderful time in Napa and Sonoma.  It has been a long time since we had been there together. A lot has changed but some things always stay the same, the wine is oh so good!  But tonight we felt like having some wine from the Central Coast, so we went to our backyard and had a 2012 Edna Valley Talley Vineyards Chardonnay. Some day we will be able to walk down the street, albeit a long windy hilly street, and pick up a bottle whenever we want.  A few years ago, we purchased property in Las Ventanas at Talley Farms which is directly across from their tasting room. But for now, we have to settle for sitting at our table in New Jersey, enjoying the wine, and dreaming of the future. 
The Talley family has been farmers in San Luis Obispo County for three generations.  They started in 1948 when Oliver Talley began growing vegetables in the Arroyo Grande Valley.  In the 1970s Don Talley, Oliver's son, noticed that
there was an extensive planting of grapes in the nearby Edna Valley and Santa Barbara County. After some research, Don was convinced that great chardonnay and pinot noir could be grown on the steep hillsides above their farm. In 1982, Don planted a small plot on the west hillside of the Rincon Vineyard including chardonnay, pinot noir, riesling, sauvignon blanc and cabernet sauvignon.  Today Talley Vineyards has expanded to a total of 190 acres in the Arroyo Grande and Edna Valleys. 
It's been a long week. Spending an entire day travelling from the West Coast does take a lot out of you.  I never have an issue going the other way, but west to east is torture to me.  But it's finally Friday, and we have the #WinePW chat tomorrow and I misunderstood the topic of creative Thanksgiving pairings.  I thought we were to write about our Thanksgiving meal paired with the wine received from Languedoc as samples.  On Tuesday, it hit me that I must be wrong since the chat is tomorrow [November 14] and Thanksgiving hasn't happened yet. So it was a scramble to come up with a creative pairing that could be served on your Thanksgiving table.  I have to say, I think I came up with a doozy! Butternut squash spiced tacos with a side dish of lavender roasted potatoes. You can read all about the Languedoc wine and food pairing along with the recipes here. 
Week 2
Another Wednesday is upon us and according to the Zinfandel Advocates and Producers, it is also National Zinfandel Day (November 18). The motto of ZAP members is:
Bold and celebratory, independent and unpretentious, versatile and individual, Zinfandel has charted a course all its own, and National Zinfandel Day offers many ways for our members to chart their own course to help celebrate and draw positive attention for America's Heritage grape.
One of our favorite wineries [where we purchased our Petite Sirah], Ancient Peaks,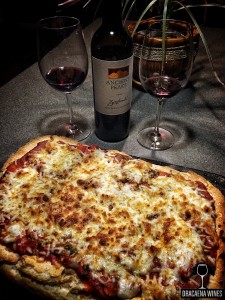 was one of the participants in this year's celebrations.  Today only, the winery's acclaimed 2012 Zinfandel was available for purchase at the tasting room and online for a 30% off . This is pretty darn impressive, since this amazing Zin is only $18 to begin with. It is an estate-grown Zinfandel and was declared a "Best Buy" by Wine & Spirits Magazine. 
Ancient Peaks story begins in 1999 when three friends decided to be partners in owning a ranch. In that same year, Robert Mondavi planted Margarita Vineyard on the ranch under a lease agreement.  When the friends gained ownership of Margarita Vineyard, they knew they needed/wanted to become vintners as well as grape growers.  The name, Ancient Peaks honors the massive Santa Lucia Mountains that border the Margarita Vineyard that are responsible for shaping the character of the wines of Margarita Vineyard. Grapes were first planted at the ranch by Franciscan missionaries in 1780 and today, Santa Margarita Ranch remains one of California's oldest continuously operated cattle ranches. 
Finally, Friday! We celebrated the end of the work week with a 2010 Jessup Cellars Napa Valley Merlot.  It poured so deep in color that you would think it was a Petite Sirah and had so many complex levels you would think it was a Cabernet
Sauvignon, except for the softness of tannins.  What a wine! We paired it with coconut crusted chicken and Adobo roasted potatoes. The chicken was marinated in
soy sauce, garlic, ginger and cinnamon prior to being coated with coconut. The flavor balanced the fruit of the wine. Both the wine and the meal are keepers! This wine is featured on "In Dracaena's Glass" our YouTube Channel.  You can see the wine poured and hear our thoughts on the wine itself. 
Jessup Cellars is located in Yountville, just off route 29. Yountville has the highest concentration of attractions in Napa Valley and deem themselves the "Restaurant capital of the world." The quaint town boasts their restaurants, wineries and their arts, and Jessup's tasting room includes all three. There is a wonderful art gallery to explore while you sip on their wines and you can take advantage of a food and wine pairing with and Educational Gallery Flight which is a guided wine & Artisan cheese pairing in their Tasting Gallery. Reservations are required and the cost is $25.  [all fees refunded with a two bottle purchase] There is also an option to pair a sit down tasting with a lunch at one of two nearby restaurants. [Hurley's or Bottega]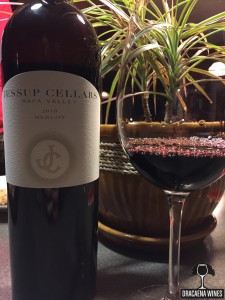 Tonight we were very happy to be hosting a charity event at our home.  We had 15 wonderful people over to celebrate and raise money for the Tri-State Weimaraner Rescue.  This is the group that found us our Vegas [although his name was Zero when we adopted him]  The event was called Weim & Cheese and it was a fun night. We greeted our guests with a glass of our 2013 Cabernet Franc and provided them light appetizers as the evening went on.  Part way through the evening we did a blind wine tasting.  It consisted of six wines that some of the guests brought.
2013 Smoking Loon Merlot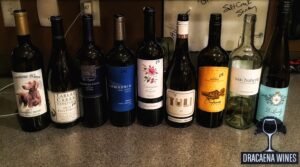 2014 Camins del Priorat  Alvaro Palacious
2012 Clayhouse Wines Malbec
2012 Tablas Creek Full Circle Pinot Noir
2014 Tuli Sonoma County Pinot Noir
2012 Lamadrid Reserva Malbec
The guests were given a scorecard that they could rate on a scale of 1-5 for appearance, aroma, body, taste and finish allowing for a "perfect score" of 25. 
After all wines were poured, tasted and analyzed, the results were added together to get the winning wine of the evening. And the winner was…..Drum Roll please…. the 2014 Tuli Sonoma County Pinot Noir. This was my overall favorite also, however, I must say I would have failed Sommelier school because I would not have guessed it was a Pinot. [however, I was spot on with the two Malbecs.]
Tuli turns out to be a bit of a conundrum to me. On the label, it lists TuliWine.com as their website. When you try to go there, you get a GoDaddy landing page that states, "This Web page is parked for FREE, courtesy of GoDaddy." If you just google "Tuli Wines" you get Wagner Family Wines website. BUT, when you go the website it lists its brands, and although Conundrum [see what I did there?] Caymus, Mer Soleil, Emmolo and Belle Glos are listed, there is no mention of Tuli. Additionally, when I scanned the barcode on back Cellar Tracker did not recognize it nor did it recognize the label.  I believe we have a wine mystery! So I have absolutely no idea how to find out information about this winery. If someone is familiar with it, please let me know! I hate when I can't solve a good mystery.
Hope you have had some great wines and times these past two weeks. Remember, always Pursue Your Passion. We would love for you to leave a comment telling us what your favorite recent wine was.
~Sláinte