Fàilte! Welcome to the next installment of Exploring the Wine Glass. Mike and I are big proponents of you should drink what you like and you are the only one who can taste like you. We advocate the fact that everyone experiences the wine differently, so in these posts we do not discuss our tasting notes.  Instead we include basic information about each of the wineries, and/or a bit about what was happening in our lives while we were enjoying them.
Want to know what we think of the wines? Do you want a little insight into our palates? Then head over to Delectable and check us out. We tell it as we taste it over there. Click here to see the chart we use to describe the color. A video of them as they are poured is found at the end of the post. Visit our YouTube Channel to see other wine videos. As always, since as oenophiles we love to celebrate #WineWednesday, our week runs from one Wednesday to the next.
Wrangling Some Rosé
I was in the mood for rosé. It had been awhile since I had some pink in my glass and I wanted to change that.  I looked at my bottles and decided I was going to pull an Angels and Cowboys. I was introduced to this winery through a wine education program called winestudio. I loved them so much during the program that I reached out to them and asked if they would be interested in writing a guest post and to my sheer delight, Dennis Hill agreed!
I paired the wine with a chicken and pasta dish in a chicken stock sauce with chopped peppers and onions.  Although they recommend pairing the rosé with spicy ethnic food, this meal had no heat what so ever and it still was a great pairing.  I have to admit I had a little fun with the photo I posted. What do you think of my creativity? 

More Horses
I must be on a hidden theme this week. I have always loved horses. In fact, growing up I use to take horseback riding lessons and give trail rides.  I loved being on a horse and would love to own one.  When we spent our year in Tennessee, that I not so affectionately call "Hell Town" I had convinced Mike that if we were going to relocate, I was going to get a horse out of the deal.  He was in a big "Yes Dear" mode so I was ready to get my giddyup on.  But once we visited, I decided I would rather be near neighbors than to have the horse so we didn't get one. In whole honesty, about one month in, I wish I chose the horse! Those people are still in the civil war and we were Damn Yankees! 
Luckily, we were only there for thirteen months, and I spent a lot of time back in New Jersey. I say all the time that if Mike and I made it through those months together, we will be together forever! 
To celebrate the weekend, I decided to open a bottle of 14 Hands Cabernet Sauvignon. "Inspired by the wild horses of Washington state, 14 Hands is a wine borne from the hills."
Measuring just fourteen hands tall — a "hand" equivalent to the width of one's palm — these tenacious little horses would travel down from the hills every day to drink from the mighty Columbia River and graze along the riverbank, then retreat back to cool off at night. Washington's wild horses have become living symbols of the pioneer spirit of the American West.
The eye-catching label, dedicated to these horses was drawn by Cynthia Sampson, who specializes in pastel and acrylic animal paintings. As with many wineries, 14 Hands has different tiers of wines. Their base line is known as the Essentials. This is the category in which my Cabernet Sauvignon is found.  They also have a white and a red Hot to Trot blend along with their reserve wines that come primarily from Horse Heaven Hills. Their final category is known as the vintage series. These wines are crafted to represent the best of each vintage. The varietal blend and labels change each year. 

Happy #GrenacheDay
Friday, September 15th was International #GrenacheDay. Far be it from me to not celebrate a wine holiday! Especially when it happens on a Friday and is one of my favorite varietals! 
International Grenache day was first celebrated September, 24, 2010. It is stated that Grenache is the second most planted grape varietal, I find that hard to believe, but who am I to argue. The concept of International #GrenacheDay came about at the International Grenache Symposium. I guess that makes sense.  This event has over 250 participants ranging from growers to winemakers, merchants and wine lovers declaring their unconditional affection to Grenache!

Awhile ago, I walked into my local wine shop and was looking for wine that would allow me to do a scientific experiment.  I wanted to know if I brought a well-known wine label and a cute wine label to a party, which would go first. Granted, the people at the party were not "wine people," but that is why I was running my secret experiment.  
One of the bottles I purchased was The Gnome Knows Grenache. It flew off the table! It was the first bottle to be picked up and the first one to be finished.  This bottle runs for about $7.99.  My experiment turned out to be a bust because in all honesty, this cute label, low-priced wine is quite good! Since then, I pretty much always have a bottle of it on hand. It has a great QPR and it pairs well with most things I eat.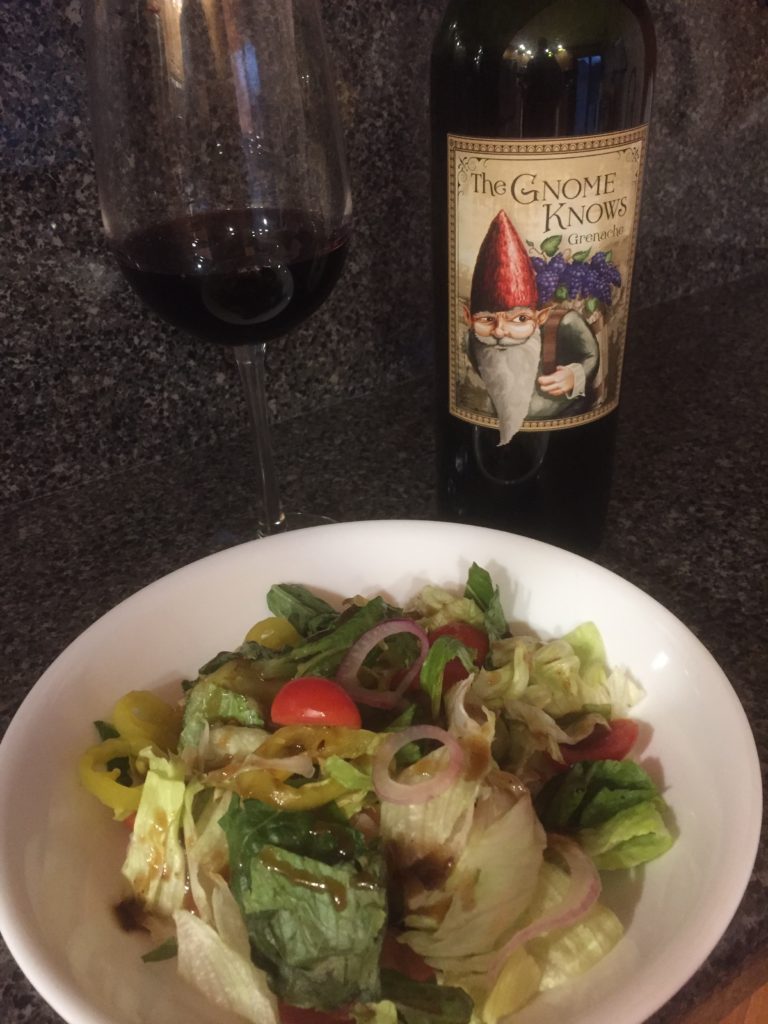 Hope you have had some great wines and times these past two weeks. Remember, always Pursue Your Passion. We would love for you to leave a comment telling us what your favorite recent wine was.
~Sláinte