Fàilte! Welcome to the next installment of Exploring the Wine Glass. Mike and I are big proponents of you should drink what you like and you are the only one who can taste like you. We advocate the fact that everyone experiences the wine differently, so in these posts we do not discuss our tasting notes. Instead we include basic information about each of the wineries, and/or a bit about what was happening in our lives while we were enjoying them. With that said, if you are interested in reading our tasting notes and our ratings head on over to Delectable and check us out. We tell it as we taste it over there. As always, since as oenophiles we love to celebrate #WineWednesday, our week runs from one Wednesday to the next.
Week 1
This week started with us attempting to get home from California. Our first leg went off without any issues, however upon landing, we found out that our second leg was delayed an hour with a potential to be delayed even further. We typically fly United, but this trip we went with Delta. Since the flight was delayed, we decided to head to the United Club, where we found out that their flight to Newark was cancelled and they were attempting to place their people on our Delta flight. The woman at the desk said there was a good chance the Delta flight would be delayed even further. See, it never fails. Fly with Mike and delays occur!
While in the club, there is not much choice of wine, so I had "Chardonnay"  You don't know which Chardonnay you are going to get, it seems to change every time we are there. Tonight it was Sycamore Lane.  I had never heard of this wine, but after looking it up I found it is a brand owned by Trinchero Family Estates, which is a huge conglomeration. Some of their better known brands include Trinity Oaks (which I discussed here), Dona Paula Estate, Folie À Deux, Ménage  À Trois, Newman's Own, and Sutter Home.)  Amazing that one company brands all of these labels.  They are giving Gallo a run for the money.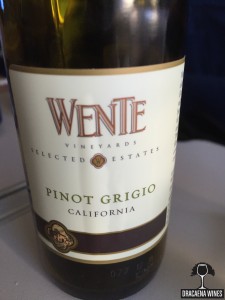 I have to say Delta Airlines was a pleasure to fly. We were sitting in their Economy Plus seats. These seats are equivalent to the Blue seats of United BUT include snacks and beer/wine.  They get a huge check in the positive column for that!
I had a Wente Vineyards Pinot Grigio. Wente was established in 1883 and is the oldest continuously operated family-owned winery in the country. 75 – 85% of all California Chardonnay is grown on the Wente clone giving the Wentes the title of "First Family of Chardonnay." The grapes are grown in the valleys of California where the cool coastal influence of the Pacific Ocean plays a major role in the development of the fruit. Today, Wente is run by the fourth and fifth generation Wente's, Eric, Philip, Carolyn, Christine and Karl. 
We settled in on Friday for a nice quiet dinner.  We had no choice but to use some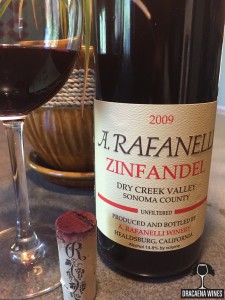 veggies from the garden. While we were in California, the garden continued to flourish and we are inundated with tomatoes, zucchini and squash.  Yes, there are a lot worse things in the world than having a lot of fresh vegetables and you don't have to twist my arm to eat them.  
Mike made an amazing frittata [that I forgot to take a picture of] that we paired with a 2009 A. Rafanelli Dry Creek Valley Zinfandel.  We love Dave's wine. We have been placing orders since 1994 [cost back then $15.50 -times have changed.]  In fact, one of my all time favorite wine stories has to deal with Dave Rafanelli.  
It was around 1997, on a trip to Napa/Sonoma, and we had scheduled an appointment to taste at the winery. We parked our car under a huge tree hoping for some shade but there was a dumpster near it.  While we were waiting to taste, a gentleman came into the room and asked who had the car under the tree and if we could move it because they needed to get to the dumpster.  I said it was ours and proceeded to go move it.  He followed me out and we started talking.  In our conversation, I said how much we love this winery, that it was our favorite Zinfandel and we look forward to the shipments.  The man smiled at me and then proceeded to introduce himself as Dave Rafanelli. [I guess it's a good thing I complimented his wine] I smiled, blushed and shook his hand.  He then waited for me to move the car and asked if I would like a private tour of his cave.  [hell yeah!] He escorted us to the cave where we tasted his phenomenal wines and we talked about his family.  In the conversation he mentioned that his daughter was attending law school at Whittier Law. I then responded that I went to Whittier College, which led to talking about that. When we left, I almost felt like I knew his whole family. It was one of the best afternoons, and all because I can't keep my  mouth shut! 
Saturday night we continued the "fresh from the garden" theme.  Mike grilled up some veggies and made bruschetta.  I got some rolls and bread [we kind of went overboard on the carbs tonight but dinner was oh so good!] We made pesto and had veggie sandwiches with a side of bruschetta and paired it with a 2009 Cayuse En Chamberlin Syrah. If you would like to read about Christophe and his amazing wine and how you can sign up for the wait list click here.  However, following last night's wine story, I thought I'd share another. Have you ever been in a situation where you could literally feel the devil and angel on each of your shoulders telling you what to do? Well, our introduction to Cayuse was that exact situation. Mike and I went to Washington for a friend's wedding.  We decided to add Walla Walla to the trip. Mike had seen Cayuse in a brochure or something like that and when we were in town we saw their sign. At this point, Cayuse had not made a name for themselves yet. When we got there, the door was locked, but we saw someone inside.  Being the Jersey Girl I am, I knocked figuring what is the worse that could happen. Some guy opened the door. (yeah, some guy,  it was Christophe)  When he opened the door, he greeted us with a smile and welcomed us. However, he welcomed us as two other people. Immediately that devil and angel were chatting in my ears. Overall, the angel won out. Christophe welcomed us in any way, telling us the other people must not be coming.  He gave us a private tasting and while we were on about our fourth wine, a knock came at the door. [Thank you little angel for winning- yes it was the people who Christophe was expecting]  We fell in love with the wine, and wanted to purchase some but Christophe explained he only sold through futures [another good reason we told the truth.]  Being somewhat new to wine at this point, we had never heard of this before and were a little tentative, but we really did love this wine, so we signed up [and paid.]  When we returned home, sometime before we got our first shipment, [we visited in the summer and shipments are in November] Cayuse got high 90's ratings in multiple publications. Now if you want Cayuse, you are on a very long wait list. Talk about being in the right place at the right time [and a kudos to karma for telling the truth.]
Week 2
Mike is away for the week golfing with my brother.  I needed help using some of our veggies so I invited my parents over for dinner. [only kidding, really just love spending time with them, the veggies was just a bonus] I made some bruschetta as an appetizer and then made homemade vodka sauce to pour over some pasta for dinner.  I paired it with a Kim Crawford Sauvignon Blanc. 
I am pretty sure everybody is familiar with Kim Crawford wines.  They are everywhere and their Sauvignon Blanc is a solid go to wine.  I must admit, we don't really drink their other wines, I don't know why. I'll guess we'll have to remedy that.  In looking at their website they now have something called "Small Parcels." Didn't even know about that, but a smile did come to my face when I saw they made a Fizz Methode Traditionnelle.

An elegant Methode Traditionnelle, with refined lemon, grapefruit, Braeburn apple, and white peach aromas, with gentle brioche complexity. It's taut, crisp, and minerally on the palate, with wonderful finesse and a silken texture through to the long, fine finish
Sounds like something I am going to have to try if only I can find it! The website was stuck in an infinite loop when I searched for it.
Its  Thursday and I thought it was #CabernetDay.  There was a lot of advertising that today was the day.  According to the Wine Lover's Calendar today is the day, and when I went to the wine shop yesterday to grab a few "supplies" the Cabernet shelf was barren, but after posting a few fun facts about Cabernet, I was contacted by Rick Bakas who is credited with starting the day six years ago, and was told that it is September 3rd of this year.  It is apparently is the Thursday prior to Labor Day.  Since many wineries were celebrating today, my solution is: Drink Cab tonight AND on September 3rd.  Problem solved! 
I chose a Liberty School Cabernet Sauvignon and paired it with Squash Patties.  This is a very light Cabernet and complimented the flavors of the patties. I need to be creative with the veggies in the garden.  It is always a "challenge" to come up with a new way to eat the yumminess. Liberty School is a brand under Hope Family Wines. There are actually 5 brands under Hope's blanket. In addition to Liberty School, there is Treana, Candor, Austin Hope, and Troublemaker.  Liberty School Cabernet has been produced since 1990.  Liberty School wines are dedicated to making wines in the traditional style providing a fruit driven, low oak profile.

Baked Squash Patties
one large squash (or zucchini)
1 small onion chopped
1/4 cup flour
1/4 cup flavored breadcrumbs
2 eggs
1/2 cup mozzarella cheese
1/2 cup parmesan cheese
1. Shred the squash or zucchini. (You need about 2 cups)
2. Sprinkle some salt on the shreddings to help remove water. (water is bad in this recipe)
3. After allowing the squash to sit, place in a clean dish towel and squeeze out any extra water.
4. In a medium bowl, add squash, two beaten eggs, the flour, breadcrumbs, onion and cheese
5. Gently mix until all ingredients are combined
6. Prepare a cookie pan with spray, and scoop the mixture into patties on the tray
7.Bake in a 375opre-heated oven for 15 minutes on each side.
8. Serve warm with tomato sauce.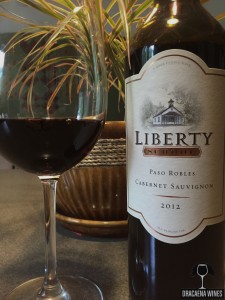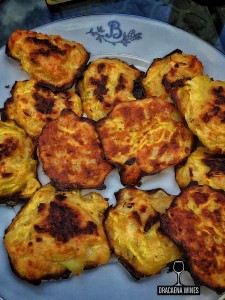 Its Saturday and Mike came home from his golf trip so what did we have for dinner.. Pizza.  I was lazy so we ordered out.  I got my favorite, pineapple and bacon [modified Hawaiian] and he got his typical banana peppers and sausage.  We paired it with a
Calista Pinot Noir. This is a new wine for us and I must admit, it was purchased based on the label. It was purchased because of their name. The name caught my eye when I saw it on the shelf. Calista, which means "most beautiful" was a Greek goddess who was loved by Zeus. Although she swore to remain a virgin, she was seduced by Zeus and became pregnant.  Her father, Artemis, upset at the pregnancy, turned her into a bear. Her son, Arcas, who remained human, years later ran into Calista in the woods and was about to kill her. From above, Zeus saw this and before Arcas could kill her, he turned them both into the constellations Ursa Major and Ursa Minor [big bear and little bear.] When it comes to constellations, I am hooked. Especially if it has to do with Ursa Minor since it is what allows me to find my Draco in the night sky. In case you didn't know, we named our winery after our weimaraner Draco, who was named for the constellation.  Draco, the constellation, is composed of all the souls of dragons of the past and is easily found once you locate Ursa Minor. 
Hope you have had some great wines and times these past two weeks. Remember, always Pursue Your Passion. We would love for you to leave a comment telling us what your favorite recent wine was.
~Sláinte