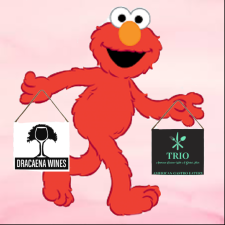 Welcome to our latest installment of #WinephabetStreet brought to you by Dracaena Wines and Trio North Wildwood. In this series, Debbie Gioquindo and I work our way through the wine world one letter each month. We discuss the characteristics and history of the grape, as well as suggested wine pairings. So uncork, unscrew or saber that bottle and connect with us as we chat, laugh and drink wine all in a laid back atmosphere.
B is for Baco Noir 
We are extremely thankful to Carlo DeVito, who not only gave us an incredible webinar, but came back to do it a second time after we had some technical difficulties.  Baco Noir is what is considered a hybrid grape. It was created by crossing two different species of vitis. Typical grape vines, such as Cabernet Franc or Sauvignon Blanc belong to vitis vinifera. However, there are other species of vitis such as lambrusca and riparia. These "Modern Varieties." were created to provide fruit that is resistant to powdery mildew, other fungal diseases, nematodes, and phylloxera.
In My Glass – 2015 Hudson Chatham Reserve Baco Noir
The wine showed a light ruby color with signs of bricking. Aromas of Cherry, raspberry, and spice. On the palate, more cherry,  raspberry and spice. The wine was light-bodied, medium oak, tannin and acidity. Medium finish.
Variety is the spice of life and we have loads of options for you to choose from in order to listen. Ready to listen now? Just click the play button. 
Can't listen right now, no problem, click the title link and you will be brought to our homepage where you'll have the option to download the podcast. 
Don't have time right now or prefer to listen on the run? We are on iTunes, Google Play Music, Spotify, RSS Radio, Overcast, Pocket Cast, TuneIn and Stitcher. You can even ask Alexa to "Play Exploring the Wine Glass." We'd appreciate you clicking the subscribe button on your favorite podcast app and please take a minute to review us. Each review will help others to find us! 
Podcasting not really your thing? No problem, You can watch a replay of  the live stream video on our YouTube channel or right here. I hope you enjoy!  
Our next episode of Winephabet Street will air on Tuesday, June 22, 2022 at 5pm Pacific, with our special guest host Tana Cole and Greg Burns of Jessies Grove Winery. You can sign up for a reminder here. The letter of the day will be C and it stands for Carignan. And don't forget to head to our Winephabet Street website to find out more.
Want to catch up on previous episodes?
SEASON 1 EPISODES

SEASON 2 EPISODES

SEASON 3 EPISODES

Follow me on Instagram!   Follow me on Twitter!
STITCHER | iTUNES | GOOGLE PLAY | SPOTIFY | PODBEAN
~Slàinte!
Dracaena Wines has received consistent 90+ ratings and multiple Double Gold medals. Click image to order yours today and let Dracaena Wines Turn Your Moments into Great Memories!