Let me start off by saying that I am an adult; a long time adult. There's no need to call my age out, but let's just say that I have experienced more sunsets than I will see in the future. Although I have a family of my own, this Christmas is a milestone. It is the first Christmas I will be spending away from my parents. 
I know this may be a rarity in today's world, but I actually like my parents. We all love our parents; it's ingrained into our DNA. But to like them is a different story. I thoroughly enjoy being with my parents. Yes, sometimes it is frustrating with their less than perfect hearing and their lack of understanding of how the internet works, but overall, I love being with them.
I have always loved Christmas. As soon as I had my first home, I began hosting Christmas. Mostly because I enjoyed the concept that it was my house that everyone came to to open their presents. The smiles that presents bring is the best gift. 
In case you haven't figured it out, I am a little kid at heart. My husband has learned that he can't put the presents under the tree until I go to bed Christmas Eve and he has learned that sleeping past 6am on Christmas morning is something he will never experience again. (and quite honestly, I am being generous by letting him sleep until 6!) I have more Christmas decorations than all the other holidays combined. I have special Christmas China (and glassware.. and napkins… and towels.. and tablecloths… and…. you get the picture.) It is almost like a Christmas Tree Shop exploded in my home. 
I have had the luxury of spending a lot of time with my folks. For the past five years, work made it a necessity to live a bicoastal life. My husband's job was in California, while mine was in New Jersey. Thankfully, I was able to spend about a week every month and all summer with my husband. It wasn't ideal, but it was what had to be done. My time spent in New Jersey was time spent with my parents.
Since I would fly out to be with my husband for Christmas, for the past five years, my parents would fly with me for the holiday. It made me happy to wake up on Christmas morning and have my parents there to open presents with me. But that isn't happening this year.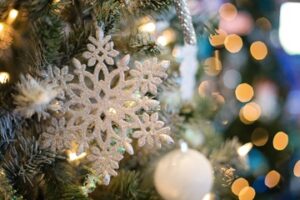 For the first time in my life, I will not be with my parents for Christmas and I am not sure the day will be merry and bright. I know that I shouldn't be complaining. There are many people in the world who don't have the ability to be with their parents any more, no matter the day. My heart goes out to them. I can't even imagine that day; I don't want to imagine that day. 
On December 25th, I will be in California and my parents will be in New Jersey. As Alexa plays Christmas songs and "A Christmas Story" plays for the hundredth consecutive time on TV, I will be wearing my Christmas hat but I will not be handing presents out to my parents. Intead, I will be mailing their presents to them and hoping I can talk to them through Zoom, so I can see them opening their gifts. For the first time in my life I will be experiencing one of my favorite days of the year without my parents by my side. 
So yeah, I may be an outlier, but I don't just love my parents, I really, truly like them. That may be the best gift of all! Although they won't be with me this year, I wish them a very Merry Christmas and I hope that next year we are unwrapping together again. 
Merry Christmas everyone! 
~Sláinte!