Do you remember your childhood? What was your favorite TV show? I have conversations with my students about how they are missing out, because all the good cartoons are gone. I tell them how I spent my Saturday mornings with Bugs Bunny, Elmer Fudd, Daffy Duck and my favorite… BEEP BEEP… The Roadrunner and Wile E. Coyote….. Super Genius! 
But during the week, I couldn't miss my The Magic Garden, Electric Company and, of course, Sesame Street.  There were so many fantastic characters on Sesame Street, Oscar the Grouch, The Count and Snuffleupagus (yeah, I know this will make people hate me… but I wasn't a Big Bird Fan), but I didn't remember Elmo. I had to Google it to be sure if my memory was already failing, but lucky for me, I was right, and he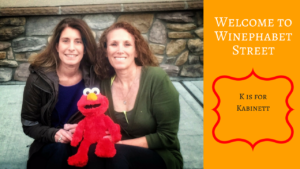 didn't debut until 1986. WAY past my Sesame Street days. 
But as an adult, I have found a love for Elmo. I think it is his adorable little giggle! He inspired me to begin a livestream wine education series called "Winephabet Street." Each month I, and my co-host Debbie Gioquindo (@hvwinegoddess), work our way through the alphabet. We discuss either a grape variety, wine region or wine classification that starts with the letter of the month and Elmo is our unofficial spokesperson. 
So when I saw that May's theme for #WinePW was wines that start with the letter "M," I had to jump in and volunteer to host. There were so many options to choose from! Should it be a grape variety, a wine region or maybe a winery name? Well, I thought hard and long about it and decided…I didn't want to quash someone' creativity. Since Mike and I have been producing wine, one of the things we have advocated is that you should drink what you like. You shouldn't let anyone tell you what your should or should not like. With that in mind, I don't want to limit my #WinePW colleagues.  I am going to give them no rules, other than it must somehow relate to the letter "M." It's time to think outside the box and go where your heart, or palate, leads you. Maybe you are a fan of Mourvèdre, Malbec, or Merlot. Or would you prefer to spotlight Macrostie Vineyards (Napa, CA), Mark Ryan Winery (Walla Walla, WA) or McPrice Meyers (our beloved Paso Robles, CA). But then again maybe you are a fan of Macon, Madeira, or the Margaret River. The choice is up the writers, so choose wisely and most importantly, enjoy! 
HOW TO JOIN US:
Contact me to tell me you're in by commenting on this post below! You can also email me. Please include your blog URL and your Twitter handle.
Prepare a dish to pair with your chosen wine. Write up your experience and get ready to post and share.
Send your post title to me by midnight Monday, May 7th to be included in the preview post. As a FYI, your post title should include "#WinePW."
Publish your post early morning on Saturday May 12th. The chat is live at 11am EST, so please make it go live prior to that. 
Include links to the other #WinePW participants in your post and a description of what the event is about. I'll provide the HTML code that you can easily put in your initial post — which will link to people's general blog url AND THEN after I provide the updated code for the permanent links modify your post to update the links.
Get social! After the posts go live, please visit your fellow bloggers' posts to comment and share. We have a Facebook group for participating bloggers to connect and share, too. Please let me know if you aren't a member and I will help you get added.
Twitter chat 11am EST Sat. May 12th: Please join us online for our monthly twitter chat. I will create a set of questions to guide our discussion which will be posted in our Facebook group. Even if you don't have a blog, feel free to join us during the chat. Just follow #WinePW 
Sponsored posts are OK if clearly disclosed. Please be sure to disclose if your post is sponsored or if you are describing wine or other products for which you have received a free sample.
~Sláinte!