I was in New Jersey when I prepared this wine and food pairing. I not so affectionately call the East Coast the Wrong Coast. A carry over from my college days in LA. A good friend would always say whenever I was going home, "Jersey (that was me, clever nickname, eh?) is heading back to the wrong coast."
Pinot? No!
Pinot Noir and I have a very rugged past. There was a time that I would refuse to even taste a Pinot. I would walk up to a tasting room counter and skip right over without blinking an eye.  Our tasting room server begging me to "taste this Pinot, you won't be sorry," and me continuing in my pig-headed attitude. 
As strange as it may seem, in my early tasting days, I did try Pinot Noir, but there was never one that I liked.  I always would taste it and say "There is something funky in here." Now, I wasn't talking about that bit of funk that I now like, I was talking about something that just tasted outright weird to me. After a few years… yes years, of this, it finally hit me that the "funk" was strawberry. I am deathly allergic to strawberries. Close my throat, send me to the hospital allergic.
Before anyone starts screaming at their screen, that there aren't strawberries in wine, I know that! I didn't think I'd have an allergic reaction to the wine. But think about how we taste wine. Our brain equates what is on our palate to something we have experienced. If someone has been blind their entire life, you can not describe the color of an object. Well, if I haven't been able to eat strawberries my entire life, for fear of one bite sending me to the hospital, my brain would not be able to correlate that flavor, thereby "funky" is spot on.
Pinot? Yes!
So, how did I finally start drinking Pinot? One day, years later, Mike and I were determined to explore "new to us" varietal wines, so we decided that we wouldn't say no to any wines during that wine trip. We would remain open-minded and try. It was right after the Sideways Effect began, so there was a lot of Pinot being poured. After a few, "I really just don't get this" moments, Mike had a lightbulb go on.  Every time I described "funk" Mike got strawberry.  That one explanation, allowed my brain to put two and two together. I can now pick up strawberry in a wine, whenever I get that funk! 
Being open to tasting different wines is a necessity if you want to expand your palate. As you experience more wines, your taste evolves and you begin to enjoy wine even more. Mike and I adore well made Pinot now. We have quite a few in our cellar and are always open to tasting new ones.
Oregon Pinot And Beyond!
Awhile ago, I received an email from Will Rogers of Donna White PR, asking if I would be interested in receiving a sample from Left Coast Cellars. I read that it was a Pinot, and I was on board! Plus, I have never had a Pinot from Oregon, so I was really excited to try one. 
Left Coast Cellars is located in Rickreall, which is about an hour southwest of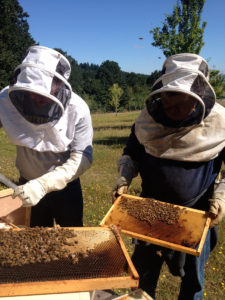 Portland. They are family owned, are 100% estate grown and bottled, are live sustainable certified and are involved in more than just making great wine. In addition to maintaining their estate vineyards, they have 45 different hives of honey bees and produce estate honey! How cool is that? According to a March 2017 article in Time Magazine, more than 700 North American bee species are heading towards extinction. Bees are so important to agricultural production, I'm all for doing everything we can to save them. Left Coast Cellars extracts the honey every Fall, collecting hundreds of pounds of honey yearly. You can purchase the honey at the same time you are enjoying their wines in their tasting room.
They don't stop their dedication to preserving nature there. In addition to maintaining the bee hives, they are LIVE certified sustainable.  This is a third-party certification that is determined by science-based winegrowing standards. This requires an extreme amount of commitment. From their website:
Using fewer and less toxic pesticides and fertilizers by following scientifically developed farming practices.  
Promoting biodiversity within each farm to reduce the impacts of agriculture.  
Focusing on fish and watershed protection through our partner Salmon-Safe.
Reducing environmental impacts by conserving energy and water in the winery.  
Promoting worker health and safety with fair labor practices, education, and safety protocols for vineyard and winery tasks.
Salmon Safe Certification ensures that our agricultural watershed is clean enough for local salmon to thrive and spawn.
Latitude 45
Left Coast Cellars has nine vineyard sites. Most with pretty clever names, like "Field of Dreams," "Truffle Hill," "The Orchards" and "Latitude 45." Latitude 45 vineyard, which is 10.4 acres in size was planted in 2001.  It stands at 272 feet above sea level and is planted to Clones Dijon 777, 667, and 114 of Pinot Noir. The name comes from the fact that the vineyard is directly intersected by the 45th parallel, similar to those famous vineyard properties in France.
Left Coast Cellars Latitude 45 Pinot Noir is their signature, single vineyard designate and retails for $38. (Purchase online here.) In the glass, this wine showed medium ruby in color with clean, medium plus aromas of black cherry, cola, and pomegranate. When I first put my nose in the glass, I had to sit down and stop prepping dinner. This was one of those wines that you instantly know is worthy of your full attention. I took a second whiff and literally said, "wow" out loud.  On the palate, this dry, medium tannin, medium alcohol, low acid and medium bodied wine delivers. Black tea, black cherry, vanilla coke and just enough leather to peak your senses, with a finish that lingers for a considerable amount of time. 
The Pairing
I was provided a tech sheet that suggested braised meat and root vegetables. Being me, as always, I enjoy finding food pairings that are not so obvious. I decided to make Rosemary Sweet Potato Quiche. The recipe calls for onions sautéed in dijon mustard. My thought was that the rosemary and the onions would provide enough earthiness to overcome the "sweetness" in the potatoes. In the end, my hypothesis was found to be true. This was a great pairing. The dijon onions provided just a hint of earth that allowed this wine to shine!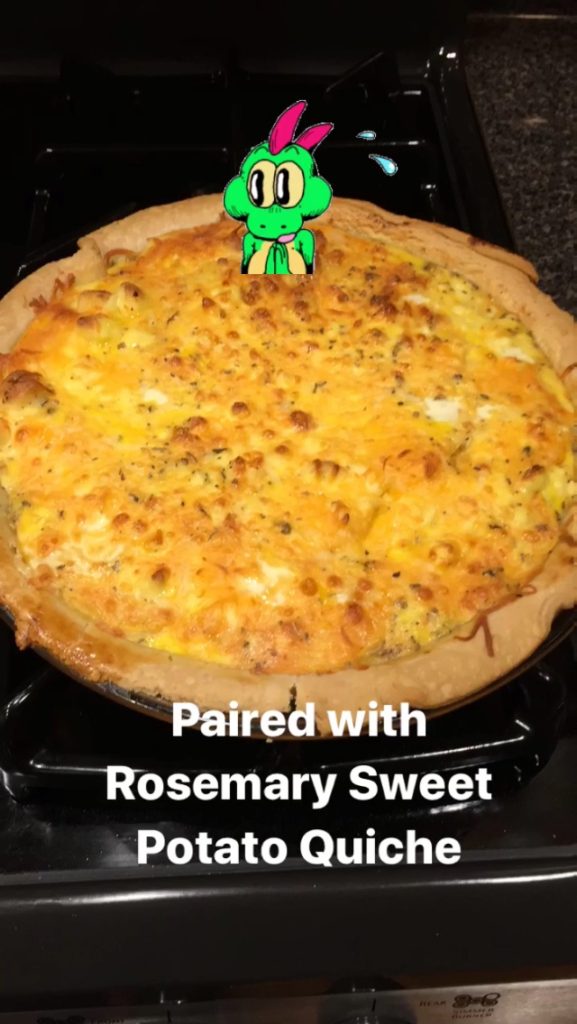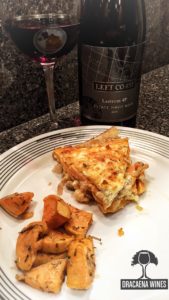 ~Sláinte!