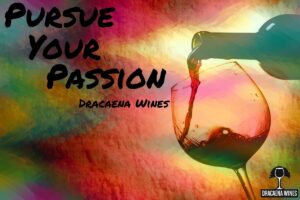 What is the definition of being successful? Is it making more money than you know what to do with? Is it having letters after your name that people aren't even sure what they mean? Or is it simply being happy? When Mike and I decided to enter the wine business, we knew it wasn't going to be an easy road. We were realistic. We understood that we would neither be an overnight sensation, nor ever be as recognized as Robert Mondavi. That's not why we entered the business. We entered the wine industry because we love wine and it was our dream to own a winery. We chose to not just wish or dream about it, we made a conscious decision to make it happen. We chose to Pursue Our Passion.
It's a scary thing chasing down your dreams, but if you don't enter the race you are never going to win. One of my favorite sayings about Pursuing Your Passion was made by "The Great One," Wayne Gretzky. He very eloquently stated, "You miss 100% of the shots you don't take." He knows you need to take risks. You need to leave the safety net that tethers you to your comfort zone so that you can experience what happens next.
In this, what has become a monthly tradition, a guest blogger will tell you their story of how they pursued their passion in the wine industry. These people understood what Van Gogh meant by "I would rather die of passion than of boredom." 
Does the glass matter when you are drinking wine? It has been quite some time, over 50 years, since Claus Riedel began making his impact on oenophiles all over the world. Believe me, there is a difference between drinking wine in the glass used to hold your favorite wine. Better glassware, including a specific shape, can and does enhance your experience. I am not saying that you can't go to your local Walmart and purchase wine glasses and enjoy your wine, but a better glass can make the experience even more appealing. 
Once again, thanks to the social media world, I have become virtual friends with another amazing female entrepreneur. Julianna (Anna) also knows that this is true. Her glasses combine both elegance and functionality that helps your wine experience include all of your senses.  Her glasses were created after listening to input from winemakers and industry professionals. 
Because wine is not just a drink, it's a lifestyle. It's conversations over a glass of wine, dining with friends, good food and wine that connect people and are simple pleasures of life. 
~Sláinte!
When I was growing up, the family gatherings and celebrations were always something special! We would gather over great food and delicious treats served on a fine porcelain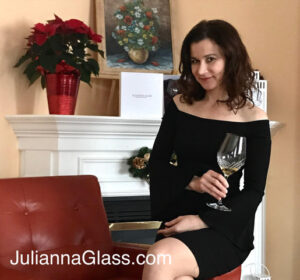 and wine poured into beautiful crystal. Fine dining was very important to my family. My grandma always said: "we eat and drink with eyes first". And I know she was right!
I come from Europe, Slovakia (former Czechoslovakia) where Bohemia crystal was made so we had lots of crystal at home. Whether for a special occasion or ordinary occasion, we would use crystal glassware often.  Especially when drinking wine. And drinking wine was a special occasion on its own when poured into a beautiful glass.
It wasn't until I visited Europe and discovered glasses with crystals. They were made from cut crystal and finished with shiny crystals. I instantly fell in love with them. I love wine and the experience of drinking wine out of a beautiful sparkly glass was amazing! It made me feel so special. So I b
ought few sets and brought them back home to Canada. All my friends who came over for a glass of wine would ask me to get them such glasses, so every time I visited Slovakia I would bring some glasses for my friends.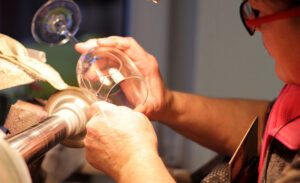 I visited the glass workshop and was fascinated with the production of the glasses. It takes great skills with lots of precision and patience to cut the glasses I was so amazed that I started reading and learning more and more about the glass production and glass cutting. And because Czechoslovakia has a long tradition in glassmaking and glasswork it was easy to find many resources. I learned to understand features of glass and a lot of information about different cutting and other glasswork techniques. From there it was only natural to start playing with my own ideas on designs.
Without realizing it I became passionate about glassware and creating new designs. To me the glass design is a reflection of emotion it creates when wine is poured into a glass.  Pouring, sniffing, swirling and sipping wine is an experience that awakens many senses and I want to create glass designs that take this experience to a new level.
The experience is what matters the most. Wine is not only a drink, it's a lifestyle. And glass becomes more than just a vessel to drink wine out of it.
A beautiful glass composes a symphony to our senses. It stimulates all our senses and creates an unforgettable wine-ing experience. The glass shapes wine, opens its bouquet but it also makes a visual statement. Holding and touching elegant glass gives us a feeling of luxury, grace and glamour and wine tastes better.
With that in mind I created Julianna Glass brand. It's the first North American brand that combines century old skills of glass cutting with modern glass technology, authentic designs and shiny Swarovski crystals. It is made from high quality lead-free crystal glass that is more durable than typical lead crystal and has high brilliance.
It's about details. Every piece is precisely hand cut and Swarovski crystals are applied one-by-one with patience and precision to make the glass so unique. The glasses are handmade by artists in Slovakia where glassmaking and glass cutting skills were mastered over centuries and passed onto generations. It is not only a sign of quality but also a piece of history cut into glass. Each glass showcases extraordinary craftsmanship of handmade glass cutting.
I am very proud that Julianna Glass is certified and endorsed by Swarovski under their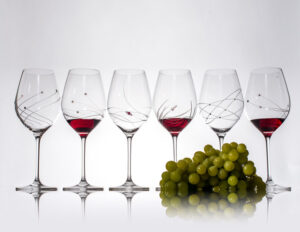 exclusive branding agreement. It gives Julianna Glass another status of uniqueness and quality.
Wine and wine glasses became my passion and I decided to follow it. It is exciting to create new glass designs inspired by wine and share them with the world. Once you taste the difference there is no way back because as my grandma said… "we eat and drink with eyes first"
Anna